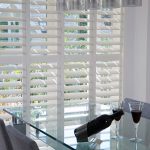 Even though it is important to be able to look out of your windows, home owners often want to ensure that they have an element of privacy from the outside world as well. There is also the fact that some people will wish to minimise the light in their room at certain times whereas at other points, they would be delighted to let as much light flood into the room as possible. With so many different demands being made on shutter blinds, it is just as well that there is a full range of products to choose from.
The most simplistic form of shutter blinds is also amongst the most popular, the full height shutter blind. This provides a greater deal of security, which is always going to be of benefit, but it can also transform the nature of any room in your house. The fact that fashion and functionality comes so easily with full height blinds is something that will be hugely appealing to many home owners but it all depends on your personal taste and the sort of windows that you have. Even though the full height blinds are ideal for many homes, they will be unsuitable for windows of irregular sizes.
This is where the range of custom shutter blinds will be of greater interest to a home owner, allowing them to make the most of their home without having to compromise on blinds and window dressing. You'll be surprised how easily professional blind makers will be able to conjure up blinds for your home regardless of what shape your windows are. Arch shape shutters, oval shutters, hexagon and circular shutters can all be created with the look and finish that you want, helping you to create the modern home that you have always dreamed of.
It may be that you are looking for something different to freshen up your house and it could be that cafe style shutter blinds are what you are looking for. These blinds provide a great deal of privacy for any home owner but they also allow a great deal of light to flood into a room. These two separate demands can often require a trade-off so being able to implement both styles into a home is something that will please many home owners. This style can be great in a bedroom or a lounge area where you like to relax with the sun shine pouring in through the windows.
When thinking about the shutter blinds that would be best for your home, it is best to not only focus on the shape of the blinds. The colour and finish of the blinds is also important to think about and again can play a huge role in finishing off a room in style. It may be that you would prefer a stained effect on your shutters and this can be achieved on a variety of different shutter types. No matter what sort of look or design you are hoping to add to your home, you should find that you can finish any room with the style you desire.