All you need to know about interior window shutters
Our range of interior shutter styles, materials and finishes is not only vast, but our whole collection is suitable for windows of all shapes and sizes. What makes our company different? Our plantation shutters are custom-made to fit your windows with complete precision.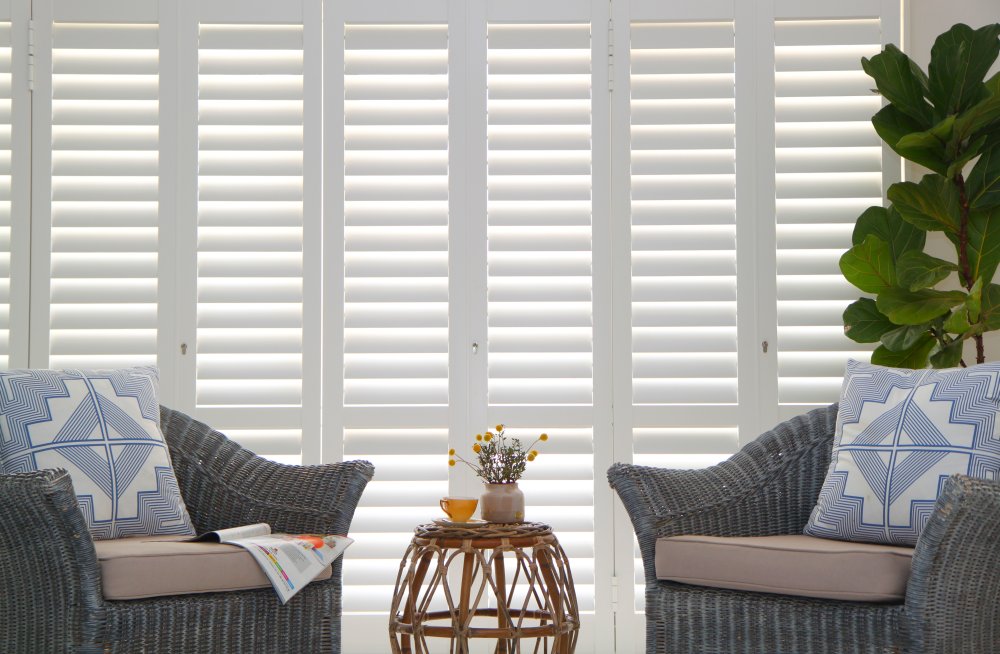 Benefits of interior shutters?
Achieve optimum style, durability and affordability.
Enjoy both natural light and privacy harmoniously. No compromise needed.
Add another layer of insulation to your windows during the winter to reduce heat loss and block out the direct sunlight and stifling air in the summer to cool rooms down.
Minimal cleaning and maintenance required.
Achieve uniformity no matter the size and shape of your window. Whether it's a large bay or an unusual archway, no window need be ignored.
Our expert fitting team will measure your windows with complete precision.
Enjoy a safer, securer home with our shutter locks and Porchester Aluminium Security Shutters.
Our wide range of shutter materials, colours and finishes enable our shutters to complement any look. Whether traditional, modern or contemporary, our shutters will enable you to achieve the look you want without compromising on practicality and style.
Our first-class range of shutter materials means you can protect your shutters from water, colour fading or humidity if required.
We offer customers a choice
of six main shutter styles:
Tier-on-Tier shutters
Tier-on-Tier shutters allow you to enjoy the best of both worlds. They cover the windows with two sets of panels (an upper and a lower set) usually of equal depth, but not necessarily (it normally depends on where the natural divide in a window sits). A Tier-on-Tier shutter style is the most versatile, allowing for maximum flexibility in regard to your lighting and privacy requirements. Panels cover the whole window, but with separate top and bottom panels operating independently of one another.
Café style shutters
Adopt a little continental chic by installing shutters on the lower portion of your window covering only. Café style is the perfect solution for ground floor living room windows that directly overlook a street or pavement. Similarly, they work well in first floor bedrooms and bathrooms where privacy and light are important in equal measure.
Full height shutters
Cover your windows from top to bottom with elegant and practical full height shutters. A timeless look that will stand the test of time in every room in your traditional or modern home.
Solid panel shutters
Light, noise and draft reducing, our solid shutters will deliver a high impact statement via their beautiful, traditional style that dates right back to their 18th Century roots. Choose from fully solid or half solid designs in either our Fiji or Samoa ranges.
Special shape shutters
The benefit of designing and crafting bespoke shutters is that we can serve shutters for all shaped and sized windows. Whether it's an awkward arched window, a large bay or beautiful French window, we can oblige.
Here's a selection of bespoke shutter
shapes available from ShuttersUp:
Angled
Arched Shutters
Arched
Circle
Double Half Round
Elongated
Eyebrow
Half Round
Octagon
Parallelogram
Quarter Round
Radiating Circle
Radiating Triangle
Sunburst Above
Trapezoid
Triangle
Sliding shutters
The perfect solution for large windows and expanses including Bi-fold windows and doors, wardrobes, room dividers. Sliding shutters are suitable to many applications that traditional window coverings would struggle to fit (or offer the same benefits), that shutters on a track system can.
How much are interior window shutters?
We offer quality shutters that are custom made for you and your requirements. Therefore, an accurate quote can only be provided once we know your window measurements, preferred shutter style, material, finishes etc. However, here are two recent customer specifications and final costs to serve as a guide, and help you budget:
Customer quote 1
This customer wanted shutters supplied and installed in all street facing windows.
Shutter style: Tier on Tier
Material: MDF
Colour: Pure White
Hinges: Pure White
Louvre Size: 76mm
Tilt Option: Hidden
Stile: Plain
Living Room = £988.00
Front Bedroom x 3 windows = £1,232.00
Office = £486.00
Subtotal = £2,706.00
Installation = £180.00
Total (including VAT) = £2,886.00
Customer quote 2
This customer only required us to supply and install shutters for their large living room bay window.
Shutter style: Café
Material: MDF
Colour: Pure White
Hinges: Pure White
Louvre Size: 76mm
Tilt Option: Hidden
Stile: Beaded
Living Room Bay = £750.00
Installation = £150.00
Total (including VAT) = £900.00
How to clean
interior window shutters
A quick wipe with a light, damp cloth keeps our interior window shutters looking ship-shape and hygienic. No heavy-duty lifting or extortionate dry-cleaning bills that can be associated with curtains.
Interior window shutters reviews
If you are thinking about bespoke quality shutters at a competitive price, don't be shy, simply contact us and we'll do the rest.