Bay window shutters
The lowdown
If your home is blessed with bay windows, then you are the lucky owners of a classic piece of architectural history. Since they burst onto the scene during the early renaissance period in a bid to make large rooms feel even more magnificent, the popularity of bay windows has remained constant. Primarily admired for their ability to bring flair and grandeur to a home (which was particularly appreciated by the Victorians and Edwardians) and for their ability to flood rooms with large amounts of natural light to create bright, fresh, sought after home spaces that boast an impressive sense of space. Bay windows continue to be a feature of many new build homes today.
If you have them, you will be keen to show them off and avoid covering them with heavy, dust trapping curtains. We take a detailed look at bay window shutters and why they are a great choice for your bay.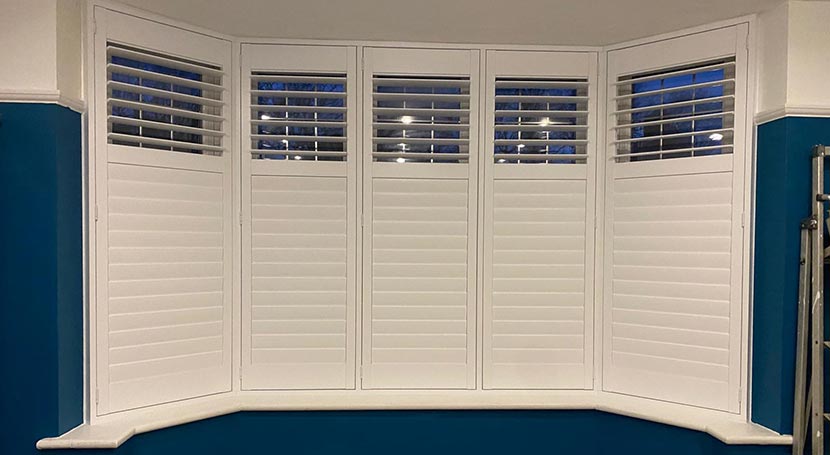 A brief history of
bay window shutters
Bay windows date back to mansions of the early English Renaissance era (15th century through to the 17th). Throughout history, window shutters have played a vital feature of many historic homes and properties, right back to medieval times when glass was very expensive and wooden shutters were used to protect residents from the elements and add a basic level of protection from intruders. During the 18th century, shutters became a popular choice for dressing the huge mansions sited on the cotton and sugar plantations of southern America, replacing the long, weighty curtains that were completely unsuited to the humid climate of the deep south. It was during this time the name plantation shutters came into fashion and marked the beginning of a fashion trend that the Georgians and Victorians even used to highlight their societal status.
Today, plantation shutters are as popular as ever, not just for their ability to manage heat, light, security and privacy for the home, but for their elegant, timeless style and low maintenance appeal.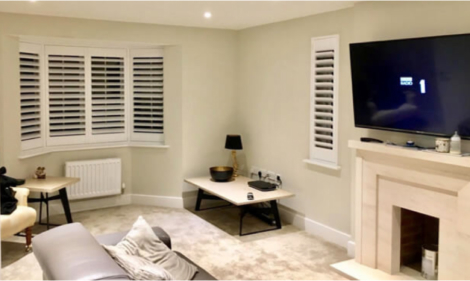 Why choose shutters for your
bay windows?
Bay windows have always been notoriously difficult to cover. Dressing their odd angles, configurations and size to showcase all their glory, whilst trying to fulfil all the essential practical duties expected of a window dressing, means off the shelf solutions are often difficult to find. However, custom made bay window shutters will not only fulfil all your practical needs they will create that warm and comforting ambient atmosphere that so many people desire.
Advantages of
bay window shutters
No matter the size, angle or shape, we can design and make shutters to fit almost any bay window.
Bay windows come in many different shapes and sizes and even traditional ones have varying inside angles, but we can measure shutters with such precision, it is never a problem.
Achieve privacy and light simultaneously.
On the days when you want your bay windows to flood your room with as much natural light as possible but, retain an element of privacy, you can. There is no need to compromise with window shutters.
Thermal efficiency.
With the size of bay windows, also comes energy and heating leakage, especially with older, thinner traditional windows. As a natural product, our hardwood shutters act as another layer of insulation, installed millimetre perfect with the frame to aid keeping warmth in during winter and out in the summer. Wooden shutters are well known for being the most efficient window covering, but don't just take our word for it, read what our customers say about heat loss reduction with their shutters.
Easy to clean and maintain.
A quick wipe over with a damp cloth is all that is required.  No heavy curtains to take down or spend a small fortune getting dry cleaned
Safe and secure.
No hazardous chords, just safe, lockable shutters. Our security shutters can add further protection against criminals and our fire-retardant shutters are a great choice for communal buildings.
Tailor to your design scheme.
We can custom colour and finish your shutters to match your interior style. You will not have to compromise on practicality either, our range of shutter materials cover all bases from waterproofing to sunlight protection.
Increase your kerb appeal.
Shutters often add value to a property particularly, when place somewhere highly visible like a street facing living room bay window.
Which shutter style best suits
bay windows?
All our shutter styles are suitable to bays but, in our opinion, full height or tier on tier shutters are a great way of covering the whole window whilst celebrating their grandness, be that a slatted or solid shutter.
Our most popular bay window shutters are our Fiji hardwood material with full height style.  Pure white is the most popular colour for bay window shutters.  They suit any interior style and colour scheme, offering a timeless but practical solution.
Full height shutters for bay windows tend to require a mid-rail (a horizontal rail within the structure of your shutter panel). Sometimes this is a design feature but, often this is a structural requirement to add strength to panels over a certain height. They are required on all shutters over 1750mm and a second rail is required on shutters over 3000mm. The mid-rail allows you to operate the slats within each section independently of one another.
Tier on tier shutters operate in a similar way, the difference being that you can open or close the top and bottom section independently of one another (rather than just the slats).
How much do bay window
shutters cost?
All our shutters made by us are completely bespoke so there is no one size fits all cost for bay window shutters.
There are several different types of bay windows and we custom make our shutter posts to suit the angles of a customers' windows by using a special tool that allows us to measure the angles precisely to the nearest mm (we do not use separate frames and stick them together). Therefore, the size and shape of the window will impact price.
Other factors that will determine the costs of plantation shutters for bay window include:
The shutter material you choose.
Your shutter size, finish and colour.
Type of tilt rod chosen and whether they are standard or hidden. All our hidden tilt rods are built inside the shutter panels completely hidden). Gone are the days where a hidden mechanism meant a metal rod attached to the back of louvres!
To help you budget, here are some examples of popular shutter specifications and price range.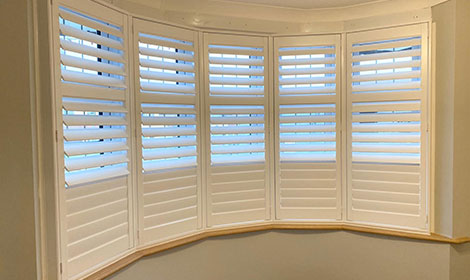 Full height shutters, pure white colour, Fiji Hardwood material, hidden tilt rods, hidden splits below mid rails (hidden split means you can move louvres independently), 89mm louvres (one of our big louvres which lets a lot of light through – not ideal if privacy is a priority for you).
Price range £1800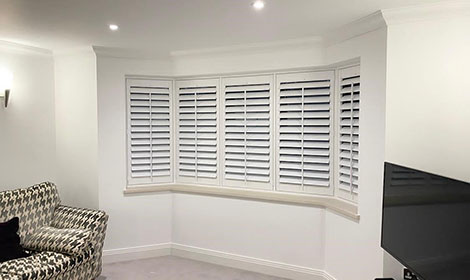 Full height shutters, pure white colour, Cuba hardwood material, centre tilt rods, 76mm louvres.
price range £1700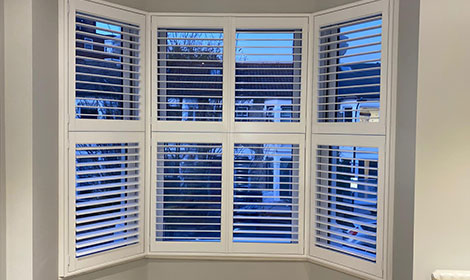 Tier on tier shutters, pure white colour, Fiji hardwood material, 63mm louvre (a smaller louvre allows more privacy as gaps between louvres are smaller), hidden tilt rods.
Price range £1500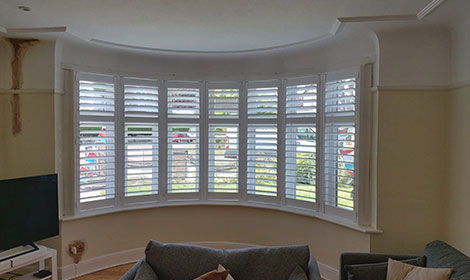 Full height shutters, silk white colour, Antigua material (mdf shutters), 89mm louvres, hidden tilt rods.
Price range £1500
What is the most popular colour
for bay window shutters?
Deciding on what shutter colour to go for will always come down to personal choice.  Our 5 most popular shutter colours requested by our customers are:
However, the best colour fit for your home interiors, taste and design theme could be one of the other 23 shutter colours and 20 stained finishes we offer.
In a recent survey we carried out with our customers, we asked "if you have/were to have wooden shutters installed in your living room window, would you choose a neutral colour or a bold colour?".  Out of the 556 customers that responded to the question, 99% said they would choose a neutral-coloured blind rather than a bold colour.
When we asked them, why they would choose a neutral colour the top three answers were:
Neutral colour shutters would allow them to easily change the décor of the room without having to change the colours.
Neutral colours make the most of natural light to make a room feel brighter and airier.
Neutral colours can be used for a range of interior looks and are easy to live with.
Of the 15 people that selected 'other' as their answer choice, 6 respondents said they thought having neutral-coloured shutters would make it easier to sell the property in the future if required.  The other 9 respondents chose other due to design and personal taste preferences.
The 1% of customers that said they would choose a bold shutter colour explained this was because they believed a bold colour would better match their design scheme, they wanted to make the shutters a statement feature or because they thought bold colours make the room look warmer.
With so many years in the business, we will be able to provide lots of tips on how to pick the right colour for you bay window shutters.
Our wide product range enables us to design shutters for people, not just windows. If your bay window needs a spruce up, we'd love to help. 020 3993 5089..
Visit Shutters to see more