With so many design combinations to choose from it can be tricky to decide what style shutters will look best in your home. Style is important, especially if your home was built in a particular era and you are keen to complement its original charm and character. The shutter style itself will help with this but, louvre size can also have a big impact on the entire look of the shutters. Let's take a closer look…
Louvre size
Before we look at different shutter styles and eras, let's just recap on louvres so we are all clear on what we are referring to – louvres are the slats within the shutter panel, and they come in five sizes. The smallest slat size being 47mm and the largest being 114mm.
Remember, a larger slat equals greater levels of light, but less privacy, so you will also need to take this into account too. For example, if privacy is a priority for you, smaller slat sizes will be the better option.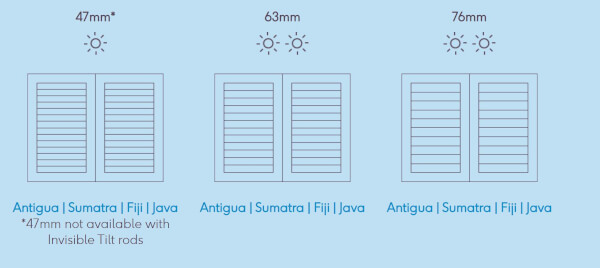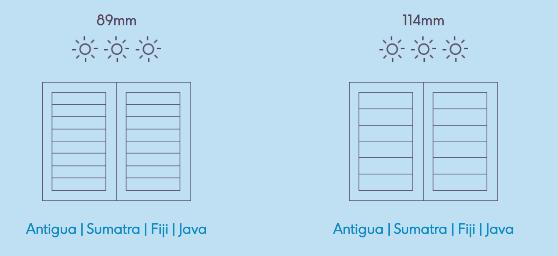 Shutters for Modern architecture homes
Modern architecture began in the early 1900s, at a time when hand-laboured craftmanship was being replaced with machine-made production, and ended around the 1960s when more contemporary designs came into play. The key features of modern architecture include clean lines, walls of glass and large windows, a sense of bringing the outside inside, asymmetrical designs and an open concept floor plan boasting well defined space within it.
When choosing plantation shutters to complement a modern or contemporary living space with large windows, we recommend choosing shutters with larger slats (such as our 89mm or 114mm slats). This means there will be fewer slats within the panels and therefore, a greater amount of light will be allowed into a room. Plus, a minimal number of lines will be visible from the outside of the home. Larger slats are a popular choice when the least amount of fuss and optimal natural light is preferred. Larger louvres are great for communal spaces such as living rooms or open plan kitchens that are typically the hub of the house and in need of very little privacy.
Homeowners of modern style properties tend to opt for full height shutters with hidden tilt rods to further minimise lines and create that open feel that is so popular in modern day living where less is definitely more. The tilt rod is the light controlling mechanism that allows you to open and close the louvres and adjust the louvres to the exact light levels required for the room.
Period properties and traditional style homes
Owners of period properties often opt to open their interior floor plan to create a modern interior style, but keep the exteriors as closely matched to the original aesthetics as possible. Our smaller size louvres (47mm, 63mm, and 76mm slats) tend to be more favourable with owners of traditional homes that boast period features such as smaller sash style windows. If you have smaller windows, larger slats can sometimes feel a little bulky. Plus, the smaller the slat the more privacy you would have – they are great choices for bathrooms and bedrooms where privacy is in demand.
The key with period properties is to fit shutters that look like they were made with the property. Solid shutters are another popular choice for period homes because they have a host of benefits such as sound absorption and insulative benefits, so if your house has single glazed windows, they can be a great investment to improve insulation and reduce your energy consumption. Alternatively, you could opt for a tier-on-tier design where the bottom shutters boast a solid panel, and the upper shutters have small louvres.
Don't forget, we make shutters bespoke for your windows, so if you have a Georgian house with beautiful arched windows, or a Victorian property with very large bays, we craft shutters that fit with exact precision.
Knowing what you want the room to feel like when it is complete is very important to your plantation shutter selection process. Do you want a contemporary feel, with clean, wide-open windows and large louvres, or are you looking for a traditional feel in the home, with classic double-hung shutters and smaller louvres? Whatever the look you are trying to create we have a design option and louvre size to suit. Book a design visit with us today and we'll go through all your options with you.
Get in touch!