When customers first come to us looking for shutters, they often wonder what style will best suit not only their needs but the rooms that they are to be installed in. Some customers come to us with an idea of the exact style they want based on taste, but it's really worth looking at other aspects including control of light, privacy, where they are to be installed and the size and shape of the window or opening. Every single one of our shutter styles can be customised to your exact taste with a choice of paints, stains, size of louvres, tilt rod positioning and a host of other extras. You can also pick from our ranges of materials to create your shutters in, which may also be dependent on the room or area you wish to have your shutters installed.
The Styles we offer
We offer many different styles to cater for all tastes and situations. These include Full Height, Tier on Tier, Café Style, Solid, Special Shape and Shutters created using Track systems for larger openings and room division. Our experts are on hand to help you decide on the best shutters for your needs but here is some more information about each one of them…
Full Height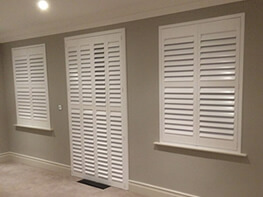 This style of shutter is one of the most popular styles among our clients, simple yet elegant and works well with many types of windows and openings. Full Height Shutters can be installed with a mid rail which allows for more flexibility in adjustment of the louvres, allowing for adjustment on the top and bottom section rather than over the whole panel. When most people think of shutters they think of full height shutters which look fantastic in all rooms and homes. This popular style also offers the best natural insulation when compared to our other styles and is also a great option for privacy. Find out more about this style!
Tier on Tier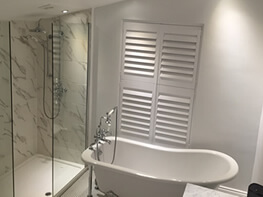 Like Full Height Shutters this style is also very popular with our clients. Tier on Tier Shutters offer much the same look as Full Height Shutters with a mid rail, but with the difference that the top and bottom sections can actually open and close independently. These shutters are our most flexible offering which can be adjusted, opened and closed in a multitude of different ways depending on the light and privacy you need. This is another style which works well over many different rooms and styles of homes and has become one of our top sellers due to the level of functionality as standard. They also look fantastic and can be bespoke made to look minimalistic or traditional depending on your tastes. Find out more about this style!
Café Style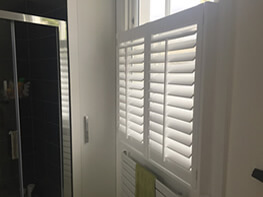 This style of shutters is one of our more traditional looks which normally cover half of the window, but we do regularly get asked for or recommend that they are fitted over two thirds of the window. You normally find Café Style Shutters on older period properties with box sash and bay windows, but many customers also look to have them fitted on more modern styles of windows around the home. The main difference with these shutters is that the top section is permanently open to the light. Customers sometimes combine these shutters with curtains that can be pulled across at night if required. This style is great for creating lower level privacy on windows that face out onto streets and has also become popular for creating privacy in bathrooms. Find out more about this style!
Solid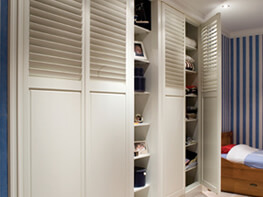 This style is another traditional looking shutter which works well as a window covering, as a room divider or free standing screen. They can be created either fully solid or as a mixture of solid and louvres on the other half and are perfect for creating near room darkening in any room and are the most robust styles we offer. Traditionally this style was found in older buildings with large sash windows and doors which had this style of shutters fitted that then folded into housing on each side. These days our clients can have them installed on any modern style of window or opening and are great for creating a specific look. Find out more about this style!
Special Shapes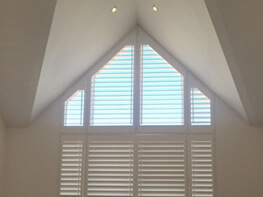 One of the great things about our Bespoke shutters is that we can design them to be installed literally everywhere. You may have an irregular shaped window or opening that standard window dressings just won't fit, but with our specially shaped shutters we can create the perfect solution for your home. We have many different shapes that we can create, from arches, angles, circles through to more complex shapes such as parallelograms and Trapezoids! These can be combined with our other styles of shutters and created with a finish to match with other shutters that you may be having installed in other rooms. Find out more about this style!
Track Systems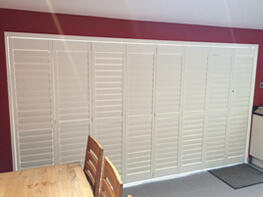 Our track system shutters are created using either By-Pass or Bi-Fold systems. These work by sliding back and forth and are great for openings, room division and long runs of shutters. We create these shutters in a way that allows full access to the room or doors behind them and when closed create the perfect look and privacy. The majority of our clients use this style of shutters for temporarily dividing rooms and areas of the home where privacy and blocking out of light and sound is needed, such as cinema rooms and access to kitchens and living rooms. It is also the perfect option for covering access and doors to patios and gardens. Find out more about this style!
Get in touch!