Many homeowners do not consider noises as an air pollutant, but living in a busy area next to roads, railways, noisy areas, or under flight paths can be a problem that many families face.  Constant noise exposure can become very irritating and, in some circumstances, harmful to those in the home.
Whether you live next to a busy high street or are concerned with long term unwanted noise such as traffic noise or passing trains there are lots of things you can do at home to help reduce noise pollution.
Install window shutters
Bespoke wooden shutters are one of the best ways to further reduce noise from entering the home.  These noises could be throughout the day or even worse, through the night and early hours of the morning which really affect your sleep patterns.  Regular sleep disturbance can have a detrimental effect on your health.
Although there are regulations and laws in place to try and keep noise levels at a safe level around homes, that doesn't stop distracting, annoying noises from entering the house on a day-to-day basis. Due to the materials our shutters are made from and the way they are fitted to window openings, you can be sure of an improved level of noise reduction. Many people think of the great insulative properties of window shutters when having them fitted, but the sound insulation benefits are often overlooked.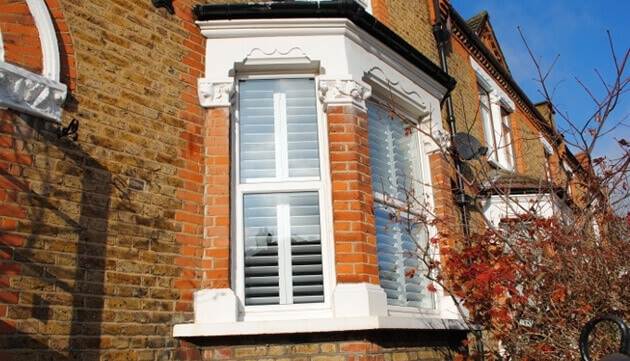 When shutters are combined with double glazing, they act as fantastic noise absorbers when fully closed keeping excessive noise at bay whenever needed. Plus, our shutters are all made to measure meaning there will be no gaps around the window frame allowing more noise to seep into the property.  Not forgetting that shutters are also fantastic for light control and insulation, as well as looking fantastic! These are just some of the reasons why window shutters have become increasingly popular with homeowners in recent years.
Install or upgrade your insulation
Investing in soundproofing is an effective, long-term solution when it comes to dealing with an excessive amount of noise. Sound insulation testing and assessments can help determine where the main areas of sound transfer are coming from which are causing the unwanted noise.
Acoustic wall panels are also effective in reducing street noise or unwanted sounds from elsewhere in the house or next door. Whether it's loud music from a bedroom, or noisy neighbours, acoustic wall panels should dramatically reduce the effects of noise pollution and therefore, your blood pressure!
Rugs and carpets
Rugs and carpets can absorb the sound of particularly hard floors. Plus, carpet helps to reduce the reverberation time by half compared to hard flooring.
Strategically placed furniture and furnishings
Placing a large bookshelf or set of drawers along adjoining walls which connect you to your neighbour's property can help absorb sounds transmitting from next door. Likewise, well chosen furnishings and wall hangings can help diminish unwanted sounds echoing around what would otherwise be large, bare walls.
Effective front doors
A good solid, front door will help block out unwanted noise pollution.  Our handcrafted security doors are a great solution.  The external and internal panels of these doors conceal a complex series of steel structures and components that also offer seamless operation too. While the steel security doors themselves offer protection from intruders, they are packed with insulation for notable noise and heat reduction too.
If you are looking to install plantation shutters or a new security front door, give us a call and we'll chat you through what we can offer 020 3993 5291.
Get in touch!