Sash window shutters for your period property
We explore why window shutters are perfect sash window dressings and outline which shutter we consider best for Georgian, Victorian, and Edwardian properties.

How to choose sash window shutters for your period property
The popularity of sash windows never seems to dwindle. They were an iconic feature of Georgian, Victorian, and Edwardian homes, and homes with period features like sash windows are still extremely sought after by home buyers. Sash windows are recognisable as two framed window sashes – one positioned in front of the other – which sit in frames with vertical grooves. This allows you to move them up and down to open and close the window smoothly. It is this seamless motion that explains why they are sometimes referred to as sliding sash windows.
Period properties boasting intrinsic features such as sash windows are admired for the immense amount of craftmanship that is required to construct them. It often means this group of homeowners are keen to preserve the originality of their windows as much as possible. For this reason, we are often asked if wooden shutters are a suitable choice for sash windows. In this article, we explore why wooden shutters are in fact the perfect choice as a sash window dressing and outline which style of shutter we consider to be best suited to your property's era.
Why should I choose wooden shutters for my sash windows?
Sash windows and shutters are a happy marriage. The traditional, elegant feel of shutters combined with their wealth of versatility makes them the perfect choice for achieving modern design without compromising heritage values.
Period style houses are known for their unusually shaped, large, decorative, and beautifully crafted windows. Whilst these architectural traits offer massive kerb appeal, they can also be tricky to find suitable off-the-shelf window dressing solutions for. Bespoke plantation shutters can be fitted to any size or shape of window, and all aspects of the window (and property type)will be considered when designing and installing shutters.
Shutters can be crafted to match the natural lines of sash windows and complement the style of property for which they are intended.
Many older character properties still house single glazing within their sashes and can be susceptible to draughts, particularly homes with large Victorian bay windows. By adding wooden interior shutters to windows (whether single, double, or triple glazed) you will be improving insulation and noise reduction within a property. Effectively, shutters add another barrier to heat loss, helping homeowners take a step closer to improved energy efficiency within the home.
Which shutter style is best for sash windows?
A wide range of shutter styles are available, from full height shutters that cover the entire window to shutters that are only fitted to the lower half of the window and are left open at the top. All shutter styles can be fitted to sash windows but, in our opinion, some shutter styles complement different sash eras better than others:
Georgian sash window shutters
The early 1700s to early 1800s is aptly named the Georgian era after the reigns of Kings George I, George II, George III, and George IV during that time. Properties built in that period are recognisable for their overall symmetry, where one side of the property reflects the other. Sash windows were at play during Georgian times and tended to be square or rectangular in shape to satisfy the symmetrical architectural fashion of that time. Sash windows within Georgian homes are characterised by being large windows that are made up of six or more smaller panes of glass and are held together by horizontal and vertical wooden bars.
Uniformity of shutters will be an important factor for Georgian homeowners who are keen to continue their property's symmetrical roots. If budget does not allow you to fit shutters to all the windows of your home, we recommend aiming to fit all street-facing sashes or, at the very least, all lower level (or all top-level) kerb-facing sash windows. This will help keep the property's reflection accurate.
If privacy is important to your household, full height shutters or solid shutters would work well for you. Plus, the simple, uninterrupted lines of these two styles will balance out the detailed six-over-six sash panes. Alternatively, if you want the six-over-six pane design to stand out, you could opt for Café style shutters. In this instance, shutters are installed to the lower sash only to provide privacy, leaving the top sash exposed to flood the property with plenty of natural light.
However, while rectangular shaped windows work the best with the traditional Georgian style, there are exceptions. Sometimes Georgian properties boast curved windows or curved window arches, making it difficult to get window dressings to suit. While all made-to-measure shutter styles can be crafted for any size or shaped window, we think Café style is a great look on arched windows. The lower, square element is covered while the upper, curved element is left untouched for the light to stream through and flaunt the beautiful arched feature.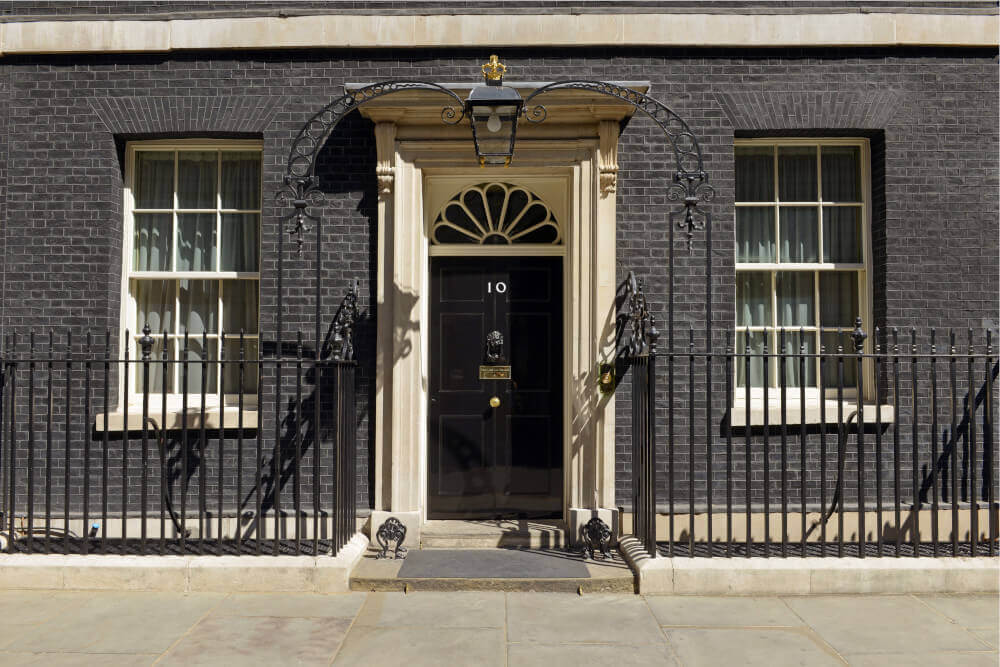 Victorian sash window shutters
Victorian architecture for the working classes consisted of rows of tightly packed terraces which were built back-to-back so that the rooms at the rear had no windows, or as through houses which usually had a two-storey rear extension containing the kitchen and a small third bedroom. The toilet was typically found in the back yard. In contrast, the wealthy enjoyed large Victorian villas comprising of remarkably high ceilings, so tall that horizontal lines (dado rails, picture rails, cornices above friezes) were used to create the illusion of lower ceilings.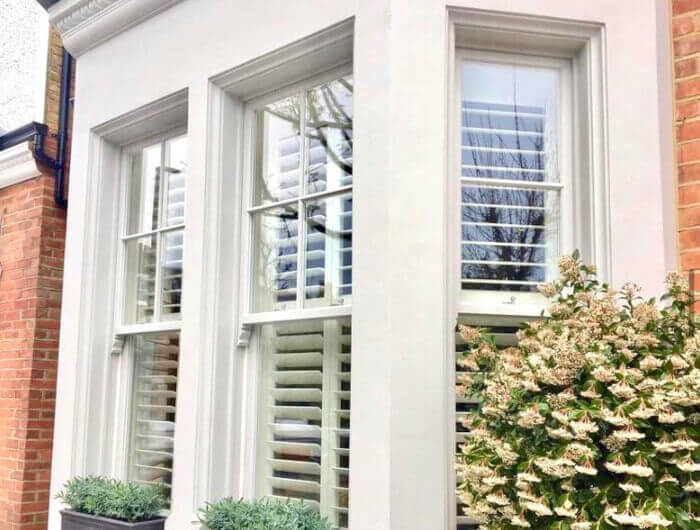 Windows during the Victorian era were one of the most important, if not the most important, feature of a home. Today, Victorian properties stand out for their characteristic large bay windows decorated with gothic and ecclesiastical motifs. But whilst sliding sash windows were still the norm during Victorian times, the availability of cheap glass during this period means that you will notice larger individual panes with fewer glazing bars within Victorian era window frames.
For owners of properties with bay windows we recommend full height shutters to aid privacy from passers-by. However, we would also recommend adding a mid-rail to the full height shutters. This will allow the household to manoeuvre the top and bottom slats separately. There is no extra cost involved to have a mid-rail fitted to full height shutters and we can match the rail height to the natural break of your window.
If you feel you do not need coverage for the whole window, café style is another popular option on large bay windows.
Edwardian sash window shutters
After the Victorian era came the Edwardians. Houses built during the Edwardian period are classically redbrick with lots of sash windows. Edwardian sashes can be recognised for their combination of features from both the Georgian and Victorian periods of history. The top sash is usually inspired by the Georgian design of multiple glass panes separated by timber bars. The bottom sash is Victorian in style with greater glazed areas, featuring one bar or none. As well as sash windows, casement windows are found in properties built during this time and it is common to see stained glass in the windows and sidelights.
Edwardian style homes would suit a tier-on-tier style window shutter. Tier on tier shutters house twin shutter panels which can be opened independently like stable doors. You will not only have ultimate control over light and privacy in your room, but you will also be able to parade the multiple glass pane design of the top sash when you want to.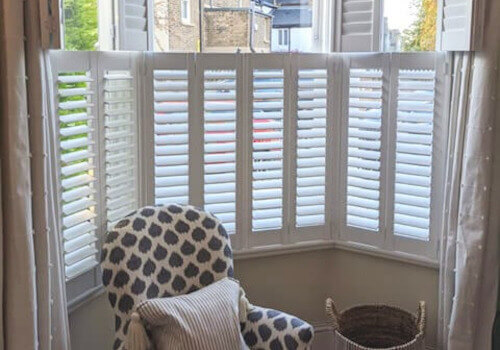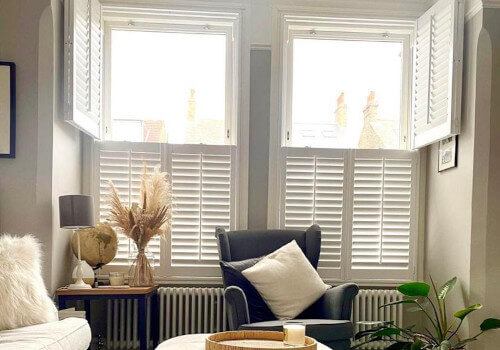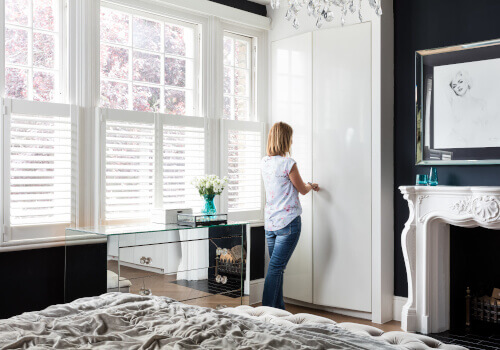 Most homeowners are keen to ensure their sash window dressings complement not only the style of their property, but their interior design scheme too. Practicality is also important. You need to make sure your interiors are functional as well as aesthetically pleasing. Luckily, there is a shutter style for every sash and, besides their incredible versatility, window shutters are energy efficient and beautifully crafted.
Our
expert Design Consultants
can advise which of our shutter ranges and finishes will work best with your window style and property type, as well as your own personal interior design style and practical requirements. We measure, craft, and install shutters with the utmost precision to ensure our quality shutters are tailored to your home for a timeless elegance that will last a lifetime.