A view of Shutters from outside of the property!
Everyone is of course aware of how shutters transform the look of your rooms, but we don't often think much about the view of your new shutters from the outside! In fact one of the main reasons for picking plantation shutters is often to stop people looking through into your rooms, privacy is a very important aspect for those that live in built up areas or next to busy streets or paths.
Shutters transform the outside of your home, creating a luxurious look, whilst also protecting what's inside from view. From full height shutters which cover the whole window to café style which covers just enough so that passers-by can't see in but lighting is free to enter at all times.
When we design your shutters, we work through every aspect which includes how they will look from the outside of the home, which is why we make sure to design the lining of the shutters to match the windows of the property. Something which is very hard to achieve with off the shelf solutions.
The look
Whether you have a new build or period property, it's hard to deny that shutters are not a major improvement over standard window dressings. We can style all our shutters in traditional or modern looks, with so many different variants and details that not only make your shutters unique to your property, but work with your homes interior and exterior style.
When looking at a home from the outside, shutters may be one of the first things you spot. Typically finished in a shade of white, but available in a huge amount of different paints and stain finishes to work with your own tastes and property. We even offer a custom colour and matching service, so picking out the perfect colour is easier than you think.
Some customers prefer their shutters to subtly blend in with the home, with most windows having white framing, white shutters look perfectly matched in place, but some prefer more of a contrast. Darker wood shutters against white framed windows, or bright white shutters against dark window frames. Other colours can work well against any window frames creating more of a focal point from inside and outside.
Added security
All our shutter ranges act as another layer behind your windows. With windows flung open in the summer, closed down shutters can stop the temptation of opportunists thieves, keeping valuables out of site and making it harder to get in.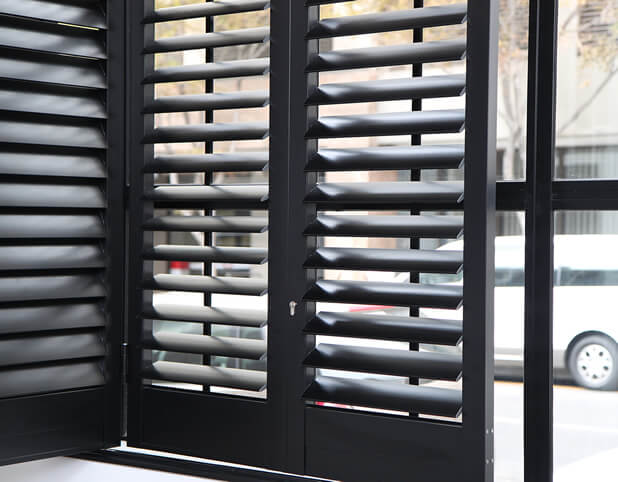 For even greater security we have the new Portchester range of shutters, which are designed with home security in mind, in the same style as our hardwood shutters but crafted from tough aluminium, complete with lock and keys! These shutters really will make it tough for people to enter through the windows.
Designing shutters that look amazing from outside
Our expert team, with many years of designing and installing shutters are here to help. We have created shutters for every property you can think of, from family homes and businesses through to castles, boats and garden sheds! We have worked with properties of all ages and with private customers and also interior designers. So we will have a pretty good idea what will work with your home, but taking on board your own ideas and tastes the ultimate, made for you shutters can be offered.
We want out shutters to create the wow factor when anyone looks at your home, creating an inviting look to come back to day or night, matching our shutters over different windows and areas of the home, so you have a uniform look throughout, looking like they should have always been there! So why not get in touch with us and see what our team can offer?