When it comes to window dressings, shutters are by far the most flexible option. Shutters can fit any window in your home, regardless of size, shape, or position. Some property owners who have unusually shaped, awkwardly positioned windows, or no window recess at all, often enquire whether we can install windows outside of the window recess. The simple answer is yes, whether it is necessary or simply preferred, we can fit shutters outside the window recess.
What does recess mean?
A window recess (sometimes called a reveal) is the distance between the surface of a windowpane and the edge of the architrave or wall that the window is built into. A window recess is NOT the same as a windowsill.
When thinking about shutters for your windows, it is necessary for us to know whether your window has a reveal and, if so, how deep it is. During our design and quoting consultation with you we will determine if your window has a recess, take measurements to determine the depth of your window, and check to see if there are any obstructions in the way of the recess such as an inward opening window.
The depth of the reveal will also help us determine which type of shutter frame would be best to use for your shutters.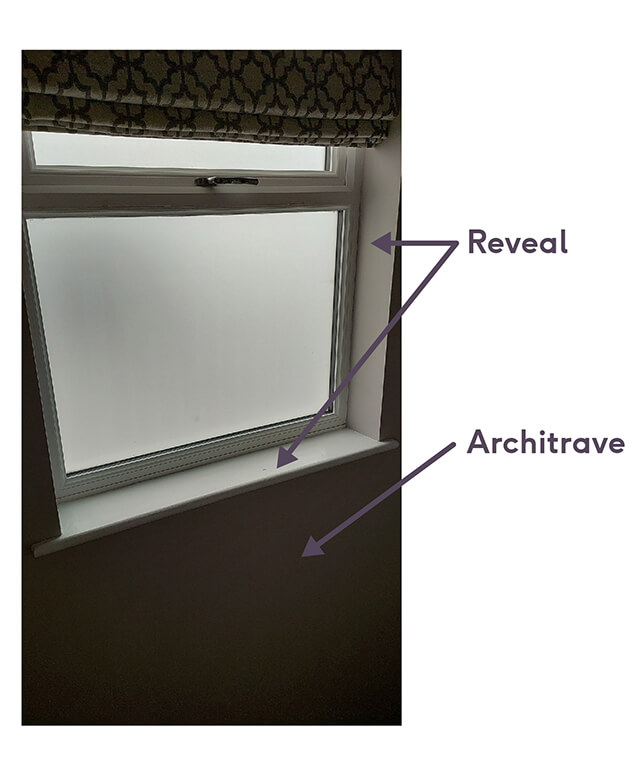 When fitting plantation shutters, it is possible to install the shutter frame inside the recessed depth of a window opening, like this: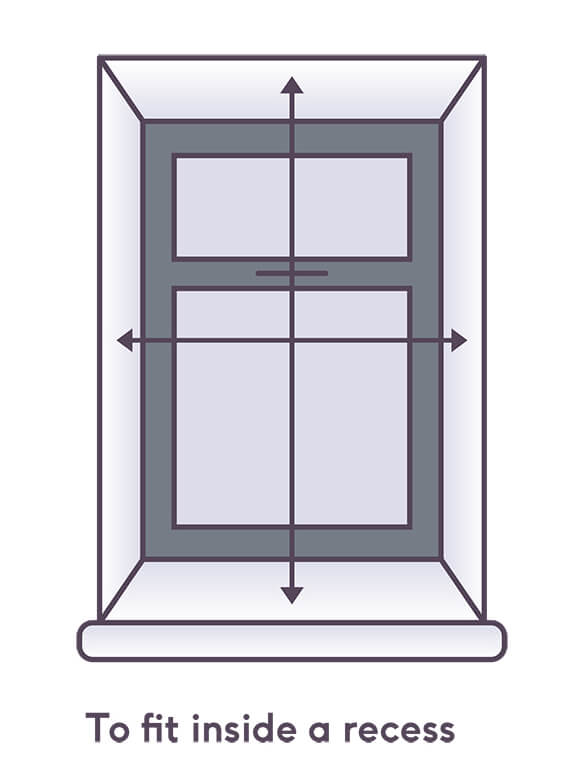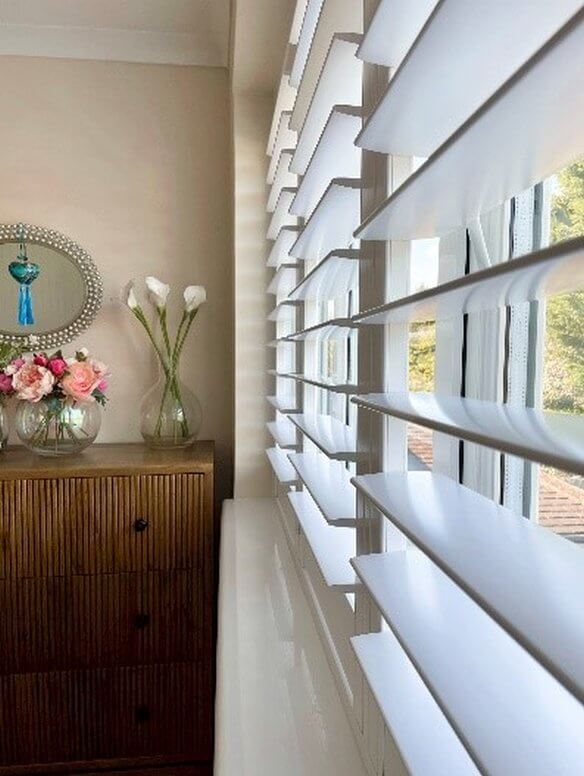 Or attach the shutter frame to the wall or trim surrounding a window opening, keeping the inside of the recess completely clear, like this: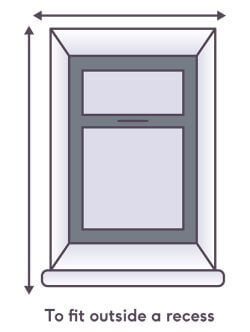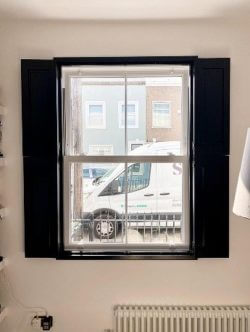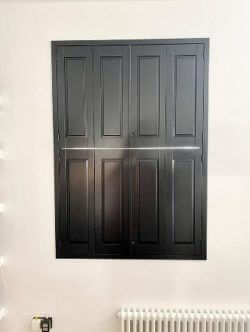 How are shutters fitted when there is no window recess?
In some instances, windows will not have a recess at all. Sash windows, for example, do not have a recess and this is generally the case for unusually shaped windows (like portholes on boats) and conservatories too.
If a window has no recess, we usually have a couple of options when it comes to installing shutters. We would either look to mount the shutter frame onto the wall around the window or, we would fit the shutter frame directly to the window frame – we would screw through the front of the frame into the window itself on the other side.
In some conservatories, we can fix the shutters upwards into the soffit at the top and fix down into the seals, and sometimes onto the walls next to it. We will always try our best to make attaching to windows our last option. Fitting to the window itself is straightforward when attaching to a wooden window frame because it is easy to fill and paint, but if the windows are uPVC we try to avoid it if possible.
Our shutters have special frames that will cover any fixings, so everything will be hidden away once fitted for a seamless, sleek, quality finish.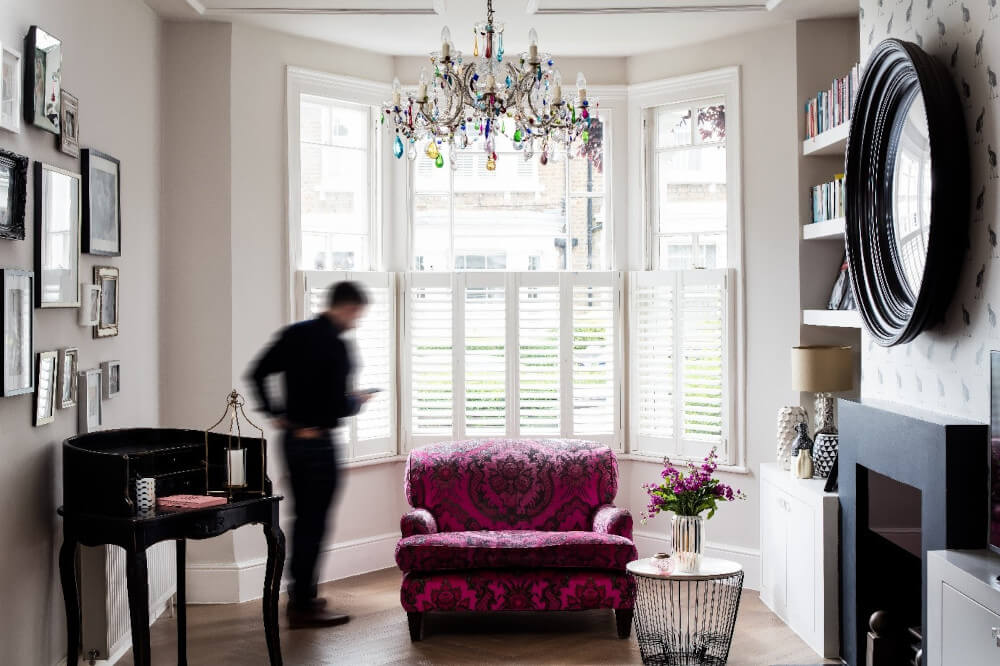 Inside vs outside mount
While many customers ask for their shutters to sit inside the recess, so they sit neatly out the way and do not intrude onto the wall of a room, there are many customers who ask for their shutters to sit outside the recess. For some, this is a requirement due to a shallow (or absent) recess, while others simply want to benefit from one of the other advantages of an outside mount. Let's take a closer look at some of these benefits:
Hide imperfections or gaps

Not all windows are level. When measuring a window opening in multiple spots, it is quite common to find that it is not perfectly square. If the variance is quite drastic, some customers opt for an outside mount frame to hide the variance and avoid having to caulk the gap. Similarly, you may want to cover an old trim or replace it with a decorative shutter frame. An outside mount is perfect for this since you can cover the undesired area with the frame.
Allow tilt-in windows to function effectively
If your windows tilt in for cleaning, inside mount frames can sometimes restrict the tilt-in function. However, outside mount frames which sit completely outside of the window recess, will allow you to simply open the shutter panels to gain access and tilt the windows in.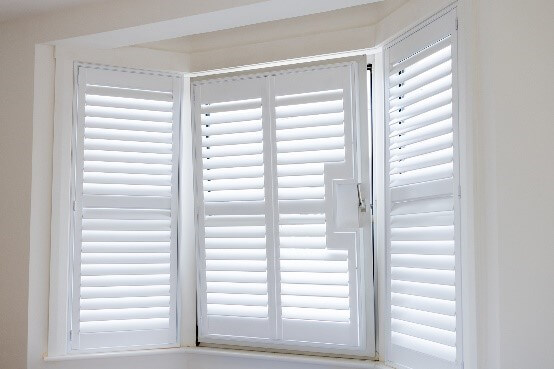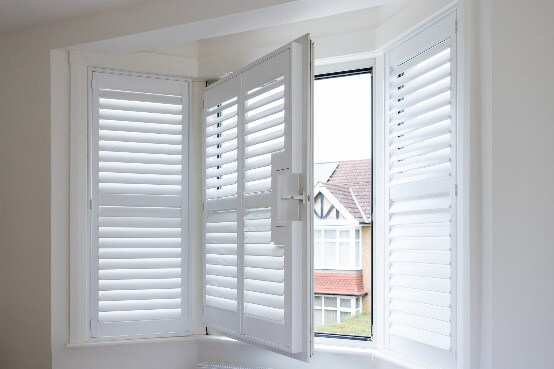 Avoid obstructions
A window (or door) may have a deep recess, but it may also have obstructions to deal with that can get in the way of an inside mount installation. Crank handles, alarm sensors and locks are all common blocking culprits.
Sliding glass door handles usually prevent an inside mount for patio door handles, but you can use an outside mount frame around the left, right, and top sides (keeping the bottom clear to allow you to step outside).
Minimise light blockage
For windows which are very short or narrow, an inside mount shutter can cover too much of the opening. Consider the space the frame takes up, plus the solid top and bottom rails, and solid vertical stiles on each panel. Smaller windows may benefit from an outside mount because it will extend the size of the shutter and cover a wider area. This can increase the number of slats, or width of each slat, allowing more light to flow through when the slats are open. It's small tweak which could make a noticeable difference to light levels.
Our expert team of Design Consultants will always discuss all the shutter options with you at your initial quotation visit. Together you will find the best shutter solution for you home. Take a look at some of our customer reviews for peace of mind you'll be in trusted hands.
Get in touch!