Our shutters come in many different styles and colours to suit all types of rooms and homes. We can finish the shutters in a wide range of paints and stains depending on the type of look you are trying to achieve, with the added option of colour matching them to an exact colour! There are many options to consider when choosing the finish, from flat or glossy paint colours through to rustic or weathered staining.
The five most popular shutter colours requested by your customers are:

In a recent shutter colour survey conducted with ShuttersUp customers, 99% of respondents said they would opt for a neutral colour shutter rather than a bold colour, the most popular reasons being:
Neutral colour shutters would allow them to easily change the décor of the room without having to change the shutters.
Neutral colours make the most of natural light to make a room feel brighter and airier.
Neutral colours can be used for a range of interior looks and are easy to live with.
Let's take a look at some of the other considerations that you might need to factor in when choosing the colour of your window shutters…
Complement the décor of the rooms they are to be installed in
Some clients wish to have the same finish and colour of shutters throughout the whole home, but for those who are looking for only one room to have shutters or are creating an individual look for each room, you can get really creative with the colours. White colours look fantastic with most interiors and can work well across the whole home. Many customers are also selecting darker colour paints and stains to stand out in certain rooms.
Matching can also be done to other parts of the room so the shutters highlight features you want to stand out, for example if you have an unusual piece of furniture or a painting that you want to highlight, matching your shutter colour can help achieve this – and make a real statement in the process. On the other hand, you may want your shutters to grab all the attention within your room, in which case, choosing a bold, vibrant colour is key. With a good eye for design, you can make this work with the other colours and décor in the room or add pops of the same vibrant colour into the room via soft furnishings and well chose ornaments to ensure everything blends.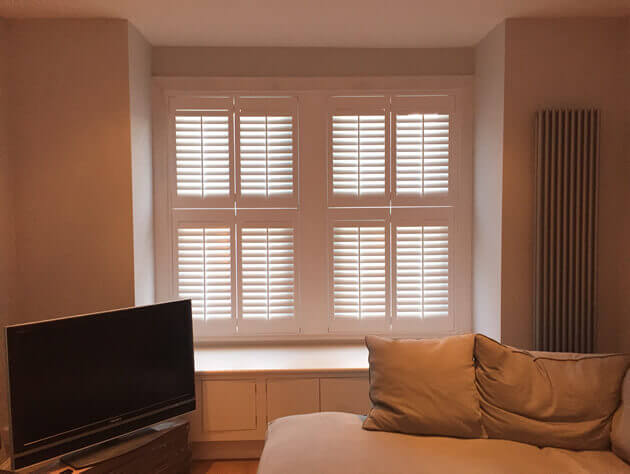 The colour of the window frame and ledge
Unless you are planning to change the colour of the window frame, it is also worth noting how the shutters will work once installed within the frame. For example, there is no point having white shutters installed in a cream frame when we can match or find the correct colour. Contrasting the shutters and the frame can also look amazing, but again plan out exactly how the colours will work together before picking!
Harmonise with the style of your home
Is your home traditional or modern in appearance? This is something to keep in mind when designing your shutters. A traditional period home may look great with classic white colours or a natural wood grain, with modern homes more susceptible to bolder colours and finishes.
If you own a period property with oodles of character and old English charm, it is doubtful that you will want to lose it by adding bright red window shutters. Instead, you will want to opt for a more discreet colour shade that will not steel the thunder of a stunning, original sash window or beautifully made timber front door. Similarly, if your home is more contemporary and you have a big open plan, multi-functional space with a minimalist edge, you may want to choose a lighter colour to keep the space light and airy, with all zones in keeping with each other.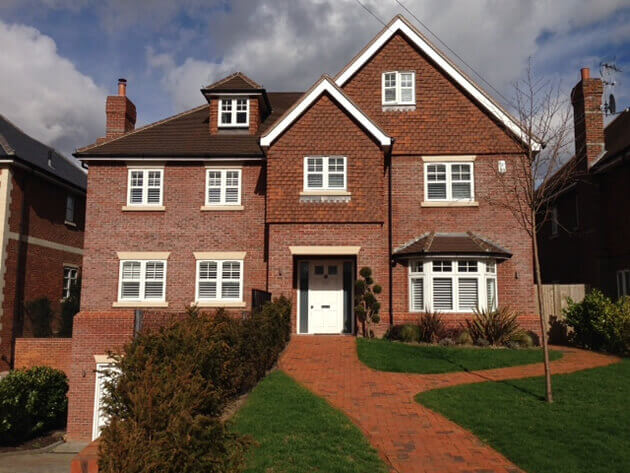 Consider your homes exterior style and colour
The colour of your home and brick work will look good with different colours of shutters, so needs to be taken into account when deciding on a finish. Many customers are focused on the look of the shutters from inside the home, but with the shutters drawn and louvres closed they really become a focal point from the exterior and will be seen by your neighbours and passers-by!
Can the slats on shutters be a different colour to the frame?
Yes, it is possible for us to make shutter slats a different colour to the frames and panels, but it does incur an extra cost. We have even supplied and fitted a full height rainbow shutter into a child's bedroom. The customer wanted each slat to be a specific colour that was not available from our standard colour palette, which meant the customer incurred the cost or each custom colour as well. However, this is an unusual request, and most customers find what they need withing our choice of 28 standard paint colours!

Work with us to select the correct colours
We have designed and installed so many shutters to different homes with different interiors that we have a pretty good idea what will work for you. Together with your own ideas, we can help you produce the ultimate colour combinations and a look that works. With custom colours available through colour matching or using colours from Dulux, Fired Earth, Farrow & Ball, Paint & Paper Library, Little Greene, and RAL there is a perfect colour out there for your home!
Get in touch!