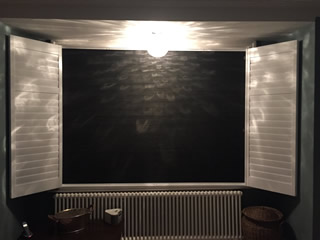 For those looking for near complete room darkening in your rooms throughout any time of the day or night, our shutters with integrated blinds are one of the best solutions available. Combining both shutters and a blind, you have the flexibility and looks of the shutters we offer, but also an integrated blind which can be pulled down between the shutters and the window. The blind itself is built into the top frame of the shutters and can be operated using a pull chord in exactly the same way as with a standard blind.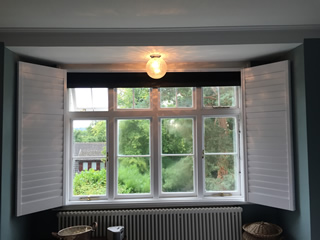 This solution offers near complete room darkening at any time of the day, which is perfect for bedrooms where incoming light can be a distraction for those trying to sleep. Many of our clients who approach us for this window dressing often work late shifts, sleeping throughout the day and need a way of blocking the light. There have also been cases where street lighting and other external light sources have been entering the windows of properties and require this solution to stop the light from entering. Other areas of the home where we have installed these shutters for customers include cinema and games rooms where room darkening is required for watching movies, but there is no limit to the rooms where these can be installed. We see the integrated blinds as a worthwhile extra which can be used in combination with the shutters at any time if desired! Sitting behind the shutters and directly attached from above, the blind can be operated when the shutters are open but can be used with the shutters open or closed. With the shutters fully opened the blind acts as quick privacy solution, but with the blind pulled down and then the shutters closed in front you gain the maximum in privacy and room darkening. It also acts as another barrier between the shutters and window, helping with insulation and noise reduction. When pulled back to the top the blind sits neatly out of view with a minimal stacking depth. Pulled down the blind sits neatly behind the shutters allowing for the stylish shutters to be on view from the inside of the room.
In conclusion having an integral blind fitted with your shutters helps to provide near room darkening, an additional layer of insulation and sound pollution reduction all completed in a professional looking shutter solution in the style and finish of your choice! The blinds are available in our Purecell Honeycomb colour range which includes 15 fantastic colours to pick from. You can find out more about our integrated blinds here!
Get in touch!