Although we all know that shutters are a far superior looking window dressing compared to curtains, many of their day to day advantages are a little less clear. For many of our clients having shutters designed and installed is a welcome upgrade to their drab curtains.
People aspire to kit their home out with new shutters, completing the perfect look which can be enjoyed for years to come! In some cases made to measure shutters might be the only perfect solution for certain types of windows, but we will go into that in a bit more detail later…
The ultimate in styling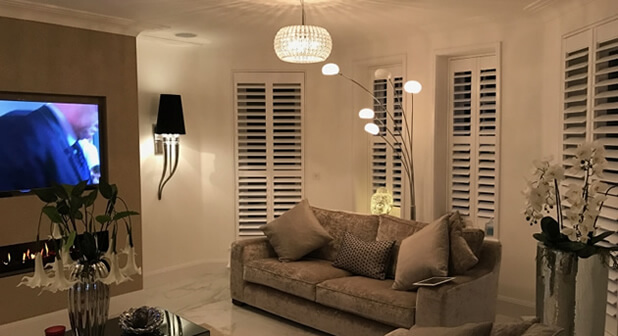 You really can't beat the look of shutters. They are traditional, yet contemporary and have elements that can be designed to match your own home and preferences. From the panel shapes, through to the sizing of the louvres, materials and shaping as well as many extras and finishing touches, your shutters can truly be made for you!
They look great from inside and outside of the home and can work with your changing interior and exterior of your home well into the future. Our shutters can be used on windows, doors, openings, wardrobes and any other place you can think of! There are no limits to the areas of your home that can be transformed with our shutters.
Curtains on the other hand can become outdated quickly, you would normally want to replace them each time you change your décor and they can become quite stale looking! Curtains can also only be used to style the windows and even then they require a sightly curtain pole, whereas shutters sit perfectly flush.
A true solution for irregular windows or unusual openings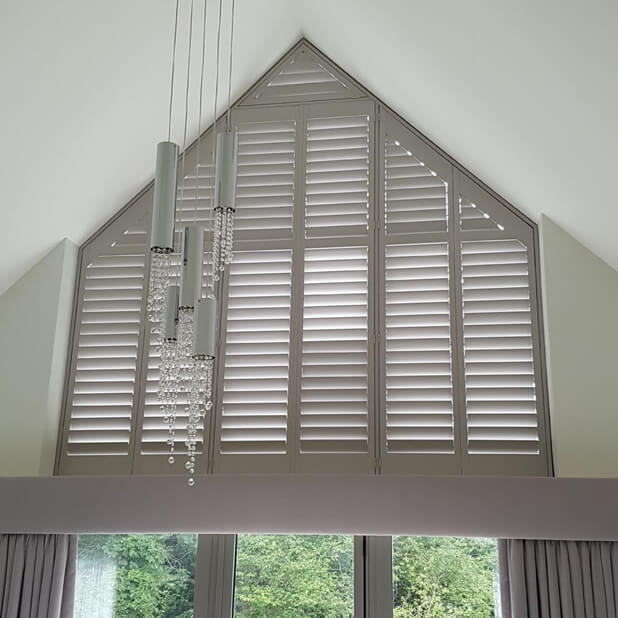 Because our shutters are made to measure and can be crafted in special shapes, they will go places where curtains just would not work. Because they are firmly attached they also work perfectly in places such as skylights in loft conversions and places such as conservatories.
Even on common bay windows shutters trump curtains. Specially made curtain poles can get the curtains around the curvature of the bay, but they will never get the true fit that shutters can achieve.
With this comes the advantage of better insulation and lighting control, because the shutters are such a perfect fit for the irregular windows that they will perfectly seal light and keep warmth in the home.
Durable and long lasting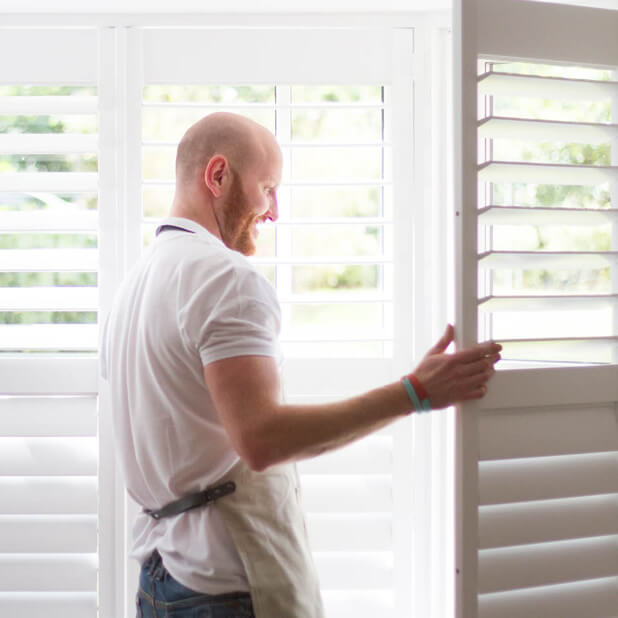 Being made from hardwoods, our shutters are robust and expertly fixed to your window areas. The panels and framing are securely in place ready for years and years of use, curtains can sometimes be pulled away from the window or ripped down even by small children.
We show all our clients how to use their new shutters, but they are designed in a way that if handled normally will operate and function perfectly throughout the years with little worry of anything breaking due to the way our shutters are expertly built from factory to installation.
Easy to clean and maintain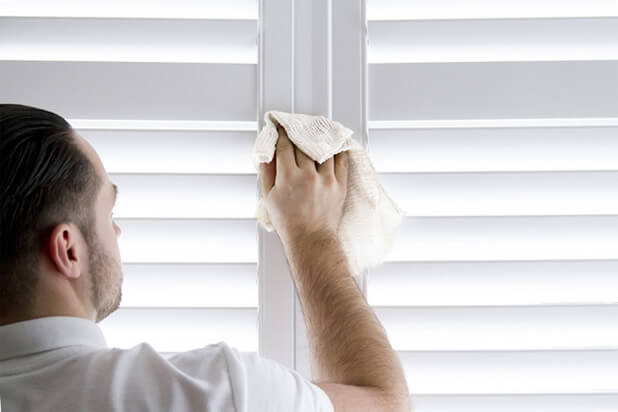 All our shutters are a doddle to clean and keep nice! A simple wipe every so often with a slightly damp cloth is enough to keep your shutters clean and free from dust and allergens. Perfect for those in the house who have allergies and protecting younger children and babies. Some of our shutters designed for bathrooms and kitchens even have a PVC coating making them even easier to keep clean!
Curtains are well known for harbouring dust and other nasties, which not only build up quickly, but require regular cleaning. Let's face it, many people will forget to clean their curtains and this can lead to allergens building up and the actual curtains tend to look older and dirtier as time passes.
Perfect mix of light and privacy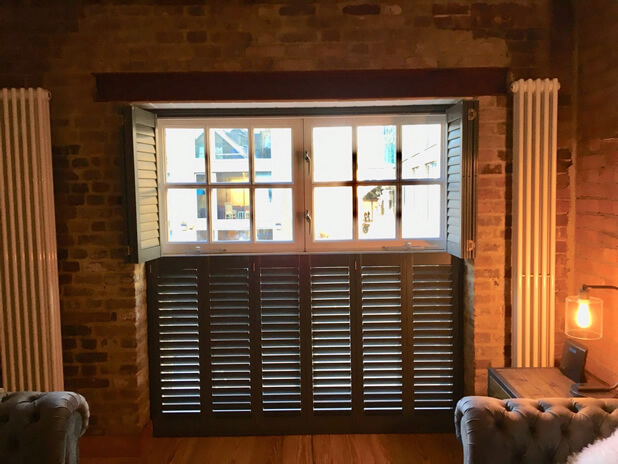 With shutters you can quickly and easily regulate the lighting and privacy into your home at any time of day or night. In fact our tier on tier shutters are the best style of shutters to achieve this, with separate panels and louvre control over all sections of the shutters! Even our standard full height shutters easily control lighting and privacy, something that curtains are no good at.
Curtains require pulling across, either open, closed or a bit in-between. There is no real adjusting that can be done with curtains and all levels of the window are treated in the same way. For example with shutters you could maintain perfect privacy at the lower level, while still allowing sunshine to stream in through the top.
Bathrooms and kitchens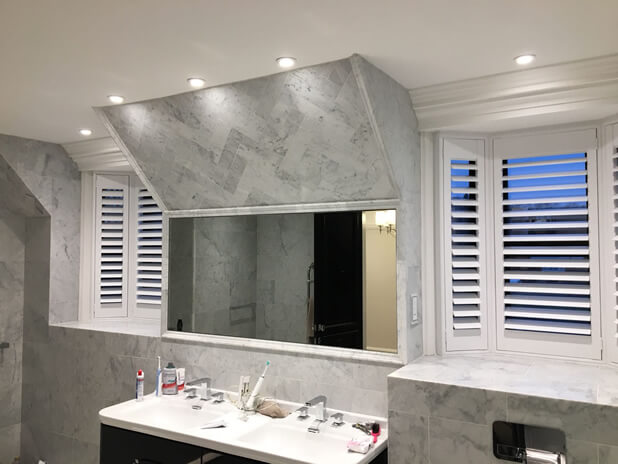 Just like having carpet in your bathroom or kitchens, curtains are just as bad! Many will opt for plastic blinds, thinking that because shutters are made of wood they cannot be used in these areas.
That could not be further from the truth as we have ranges and materials of shutters perfectly suited for this job, using a PVC outer shells that are designed for moisture and coming into contact with water. So now you can take a soak in the tub and adjust your shutters at the same time!
Energy efficient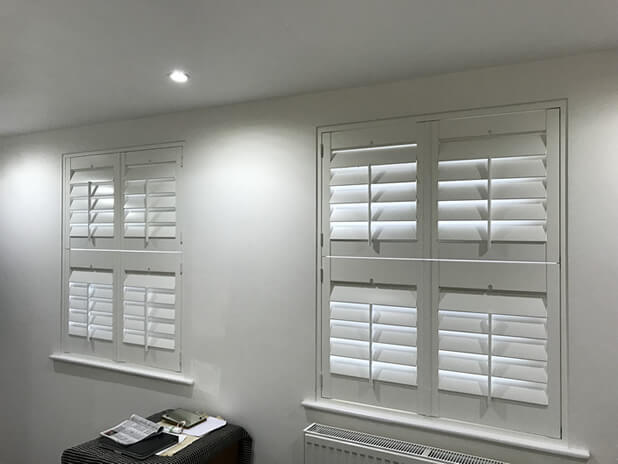 Because our window shutters are built millimetre perfect to your windows there are no gaps which limits the cold air getting in or warm air to exiting. Combined with double or tripled glazing you really do have the ultimate energy efficient home!
Obviously with curtains there is a major gap between the window and back of the curtains. There is no seal and energy is free to escape the home. Studies have been carried out which show the great improvement that shutters have over traditional window dressings when it comes to energy usage in the home.
Extra security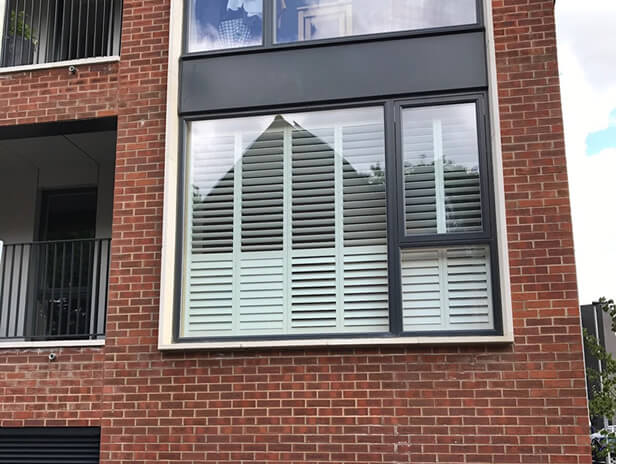 You may not have thought about this, but shutters can even act as a deterrent to burglars. They are another barrier in the way of getting in through a window to your rooms. We can even fit your shutters with closing and locking mechanisms for extra piece of mind.
And that's not all…
Above we have touched on some of the main reasons to pick shutters over curtains, but there are many more reasons that we would love to discuss with you. If you are interested in the benefits of our shutters please do contact us and one of our experts can have a no obligation chat with you about what we have to offer!
Get in touch!