News
Posted on 19 July 2021
Small office
space design tips
With so many more people joining the work from home brigade lately, we have witnessed many homeowners try their best at optimising the space they have or adapting their home space to accommodate an office or work area.  Business owners, including ourselves, continue to recognise the benefits that flexible and home working can have on the productivity of their employees (thanks to a reduced commute, better work/life balance, and the flexibility around family commitments that working from home allow) and therefore, it's inevitable that more of us are needing to design a home workspace that promotes the best working environment possible.  With the help of some professional interior designers, we provide some great design tips on how to make a home office or work area that is perfect for your needs.
Location, location, location
Finding the right spot in your home for conducive working can be tricky. In an ideal world, working from home would mean having the luxury of taking ourselves off to a dedicated room or outbuilding within our property grounds, shutting the door and enjoying an undisturbed day of work in a room filled with natural light and ample ventilation.  If you're rolling your eyes reading this, fear not, we know this is just a pipe dream for many of us! 
Not everyone has the space for a separate home office, and if this is the case for you, you will need to be creative with your layout and space.  Charlie Avara, Managing Director at All Done Design adds:
When planning your home office, think about how you live as a family and when you're likely to have to take work calls.  If you are planning on taking 7am Zoom calls in the kitchen, it will make breakfast time hard to navigate for the rest of your household.  Create your office space in its own little alcove in the dining room or make use of the space under the stairs – a cubby area under the stairs can feel like its own separate space even if it is open plan.  Having a designated space will help you get into the mood for work and help you walk away from it at the end of the day.  My other top tip?  No matter what size of space you're working with, make sure you set up your office somewhere with a good source of plug sockets!.
Utilise natural light
If possible, placing your desk in an area where there is natural light available will offer you a great office perk. Not only will you save on energy but, you will gain some great health benefits too. You can take all the vitamins and supplements you want, but nothing beats the natural thing. Sunlight is a great source of vitamin D whether your outdoors or in. Experts say that being exposed to natural light for a significant time during the day can help promote better sleep and generally help an employee's overall health and wellness. In short, you can expect yourself to be much more productive when exposed to natural light rather than ugly fluorescents for example, that can trigger headaches and eyestrain over a prolonged time.
Juliette Thomas, Director at one of London's prestige interior design firms, Juliettes Interiors says:
The light coming into a room is obviously a really important factor to consider when designing the layout of any space, but particularly a working area. One of the golden rules is to try and face a window rather than have the window directly behind you. This avoids the light shining directly onto your screen, making it difficult or impossible to see. Personally, I like to be able to look out of the window when I'm working, but for some, this may be considered a distraction. If you are working in a conservatory, you will have light streaming at you from all directions, from above, from the back of you and from the front. On a sunny day, you will find it very difficult to see the screen and will not want to be moving around your table all day to escape it!
One way to tackle a window positioning dilemma when your dream layout does not comply with the golden rules, is to incorporate window shutters into your design. Window shutters can divert the light up, down and side-to-side giving complete flexibility, which from an interior design point of view, is invaluable. They not only allow you do design or sit wherever you want, but shutters provide a lovely backdrop too.
Desks for small spaces
Choosing the right desk for your needs is vital. It has got to be big enough to house everything you need but small enough to fit your space. How big do your really need your desk? Be realistic. Do you really need space for two or three desk visitors when in reality nobody is ever going to be actually sitting opposite you? Nowadays, there are so many options that accommodate small working spaces, even that awkward, unused corner that you thought was redundant. Whether you opt for a narrow writing desk, a wall-mounted variety, a floating table or a corner-shaped solution, there's a desk option out there for your home office.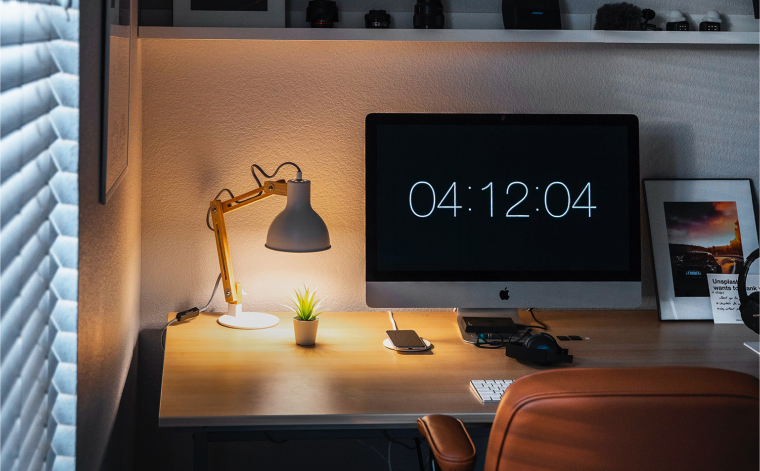 Colour, layout and furnishings
If you are trying to add a work area to an existing room or multi-purpose area then 'zoning off' sections using colour or layout may not always be straightforward or even possible. Juliette Thomas of Juliettes Interiors explains that she considers the zoning method to be unrealistic when a room is already designed and completed,
I think spatial planning is the most important aspect when designing a room. Good spatial layout ensures that the furniture is arranged in a cohesive design that flows throughout, allowing a room, or open plan area to be used in the most effective and practical way.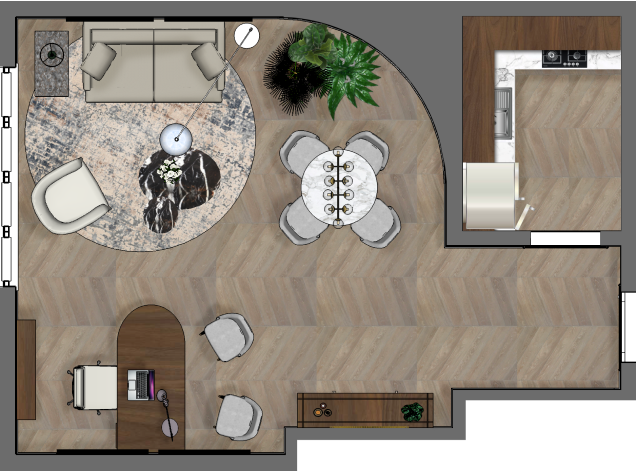 She adds:
Our team are currently working on a grade II listed property in London at the moment, where the client intends to use the one-bedroom apartment solely as an office. The brief was to create a contemporary and comfortable luxurious working/living space offering a corporate environment in order for the client to focus on business without external interference. You can see from the office/living design layout below that the living and working area is completely open plan. The living room and office area are all in one open space. We have created dedicated zones by carefully positioning furniture but, the floors and the walls will all be in one colour. I prefer to use positioning to distinguish areas and use furnishings, colour and individual pieces that complement each other and keep the fluidity of the space running all the way through.
You will notice the window is situated indirectly behind the desk and is dressed beautifully with interior shutters. We recommended rich walnut stained tier-on-tier shutters (76mm louvre and hidden tilt rods) to this particular customer in order to complement the high end, luxurious, dark timber, marble and brass details and interior finishes used throughout and that are in-keeping with the period feel of the listed property. Alternatively, a pure white shutter with 76mm louvre and hidden tilt rods would work well too.
The tier-on-tier aspect of the shutters will allow the top and bottom panels to open separately to allow light in through the top while working or to be open completely when socialising with clients. Hidden tilt rods help to create a streamlined, minimalistic look – a grooved mechanism is fitted within the side of the shutters to allow the owner to simply adjust one shutter to operate all the louvres in unison. There is no visible rod connected to the shutters.

Choosing the right colours is an important design aspect, not just to suit a person's taste and style, but to create the right atmosphere conducive to productive working. If you have a creative job for example, orange tones will serve you well to evoke vibes of enthusiasm and energy. Yellow is uplifting and great for providing a lift during afternoon energy slumps. Blue is said to stimulate the mind which would be a great choice if your work is quite repetitive, while softer blues and pastel shades will have a calming effect if you are required to really concentrate – writing for example. Earthy greens are great for promoting balance and reassurance so would be a great choice for accountants or those in financial industries.
Colours should be considered in all aspects of interior design from the wallpaper, paint, fabrics, the finishes, the furniture and accessories such as the mirrors and ornamental, and decorative pieces. We can see from Juliette's proposed furnishings for the apartment she is working on (above), she has used a colour scheme inspired by her client's Nigerian heritage that creates a professional and calm environment perfect for the line of work of this particular customer.
Surrounding your workspace with some well-placed artwork or any pieces that inspire or motivates you, will help keep productivity levels high particularly if you work in a creative niche. Mirrors are perfect for opening up smaller areas, they create the illusion of space, as well as providing decorative appeal.
Storage ideas for small spaces
Any homeowner will tell you that storage is key to maintaining a clutter free, organised home. Depending on the type of work you do, an office space can become cluttered very quickly.
When you're working with a small space, hidden storage solutions are the best way to make use of it. We've built secret storage under steps and walls that pop out so your clients can make use of their attic eaves. Whatever your storage solution, make sure you get someone who knows what they're doing to install it. Your shelving and cupboards are going to get heavy, and if they're not secured properly, that will be a disaster
says Charlie Avara at All Done Design.
In summary, layout, light, hidden storage are key considerations when planning a cohesive design that enables your office space to integrate into an existing or multipurpose room seamlessly and allow you to work both effectively and practically.