Superior light control throughout the home with Shutters
Bespoke Shutters are the best method for controlling light that enters your home. They can be installed not only to windows, but conservatories, patio doors and any other recessed entry. The many styles of bespoke shutters allow us to tailor a design based around the exact area and room you wish to have them fitted. We take into account the amount of light that the room naturally receives, the type of privacy you require and many other factors that allow for the perfect solution to be built and installed. At the moment here in the UK we are starting to experience some great weather, which leave many looking for a more suitable window dressing. Traditional curtains and even many blinds do not give the same great results that shutters can achieve. With both these window dressings the control of light and ventilation is quite simplistic, whereas our shutters can be precisely adjusted to suit any time of the day and season.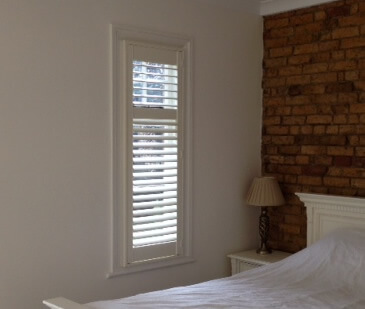 We often suggest, or are asked to fit shutters featuring a mid rail. This basically means that the shutter is split into two sections, which can be adjusted separately from one another. This is very popular with many of our clients as they can adjust the top section to allow for light entry, while still maintaining privacy on the lower section of the shutters. Great for areas such as the bedroom and other rooms where privacy may be required. This is also a perfect option for summer weather as you can escape the overpowering sunlight and UV rays, whilst still allowing some light and ventilation to enter through the top section. With all our shutters simply moving the shutter louvres or operating the tilt rods can quickly and easily control the light within your room. We also offer remote control as an extra, which makes it even easier to control your shutters in all rooms of the home including hard to reach areas.