We see so many amazing looking bathrooms when we are out installing our bespoke shutters for homeowners and interior designers. There are many popular trends that we have picked up on so far this year and hopefully by sharing some of them with you, it will inspire your latest bathroom makeover!
Free Standing Bath Tubs
From modern to vintage claw foot tubs this trend has been big recently. For those with some space to spare having the bath perfectly placed and free standing can create the ultimate dreamy look to any bathroom. The great thing about free standing tubs is that you can style it around the existing look of your bathroom whether modern or classic.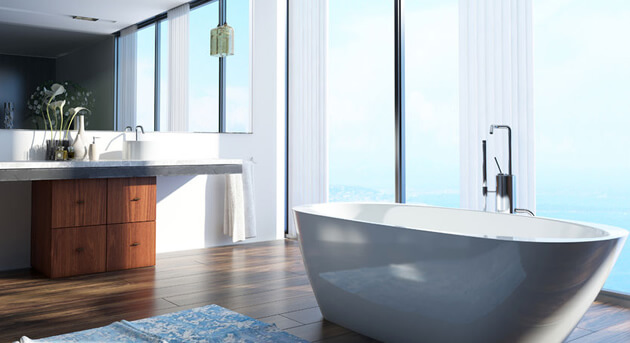 Showers without borders
Walk in showers have been popular for a while, but now more than ever is the perfect time to create a borderless shower in your own bathroom. Simple and elegant, walk in showers remove the enclosed space you would normally expect with a shower. You may have experienced this kind of shower area at trendy hotels, so why not bring it in to your own home? Just make sure that you cover the entire area top to toe with tiles.
Dark and Moody Colours
No matter the size of your bathroom, even smaller bathrooms can work great with darker and black colours. Paint the cabinets and décor to match the darker walls and tiling and the combine with flashes of whites and colours to create the ultimate statement look.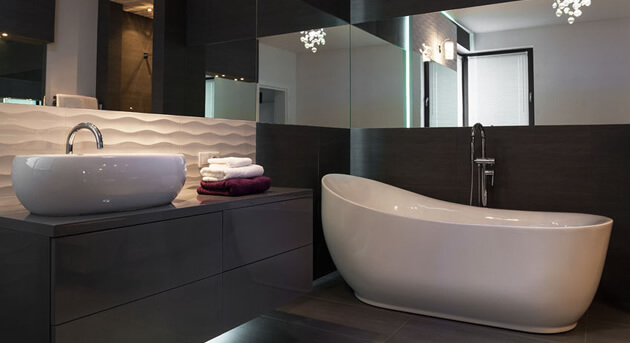 Rustic Furnishings
Wooden and industrial furnishings can create a unique look to any bathroom and adds one of a kind style to your room which is normally furnished with bright white sink areas and fittings. A timeless look that should hopefully keep your bathroom on trend for years to come!
Statement Furniture
If you have the space, use it! You may not think a bathroom is the ideal place for a chair or ottoman but placing statement furniture in the right places can really help create the ultimate bathroom look and practicability. Sometimes a cosy bit of furniture for doing your nails or curling your hair can be the perfect addition.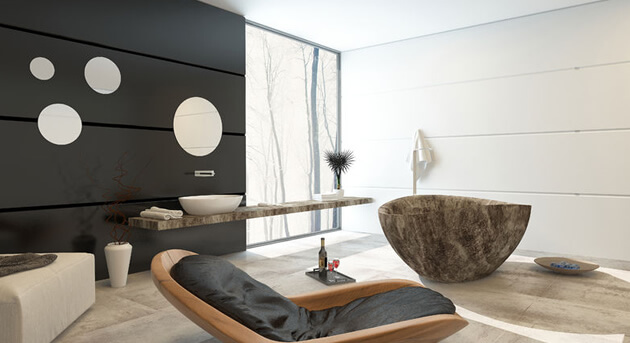 Minimalist Cabinets
Keep your bathroom in balance with minimalist cabinets that create plenty of storage to keep your bathroom looking uncluttered. Combined with bold tiles and colours this look can help keep your bathroom interior in balance. Using simple handles or none at all it can also help to create a less overcrowded look no matter the size of the room.
Round Mirrors
Mirrors are a crucial part of every bathroom, with this year favouring round mirrors! The key is to get the most oversized mirror you can fit and then decide whether to frame or leave natural depending on the look of the room. Circular mirrors create a grand look in any space and make a difference to the usual square and rectangular mirrors found in most homes.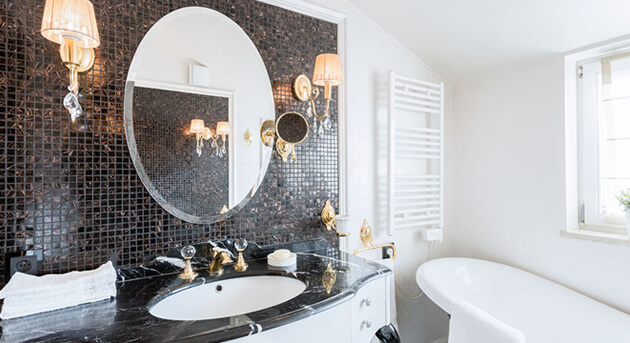 Wall Mounted Faucets
Perfect for smaller bathrooms in apartments or on suites where space is key. Mounting faucets onto walls for the sink and bath can not only save space but looks amazingly stylish especially when combined with this year's trending finishes including matt brass and blacks, sat against white or bold coloured tiles.
Creative Light Fixtures
Why should the bathroom always have boring bathroom style lighting? Add amazing light to your bathroom with chandeliers, pendants and other unusual light fixtures which will help to add personality and the ultimate lighting to the room.
Black and White Retro Floor Tiles
A trend that has bounced right back, usually found in period style properties black and white bathroom floor tiles are back for 2017 in a big way. For interiors with neutral designs it can really add a pop of colour without going to over the top, while also creating the ultimate vintage charm.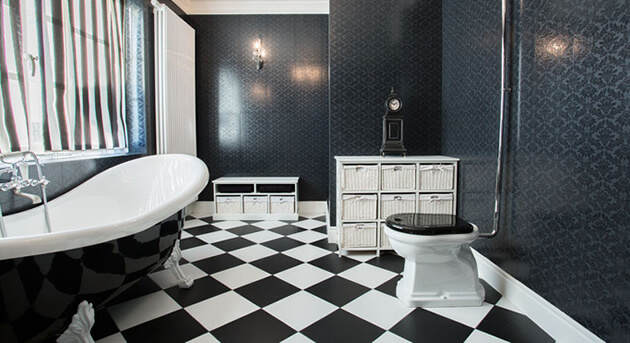 Fish Scale Tiles
A popular alternative to subway style tiles, fish scale tiles create a fun and vibrant look to any bathroom. Used in pastels and sea colours brings the ultimate style to your mermaid style bathroom this 2017!
Patterned Tiles
2017 is the year of patterned and encaustic bathroom tiling. Mediterranean motifs and patterns which help bring style to your bathroom design will really help to make a statement! Encaustic tiles are making a big comeback this year whether you are into intricate or modern geometric shapes they tend to create an everlasting rustic charm to the room.
Mismatching Tiles
Create a totally custom bathroom look with multiple types of tiles over your bathroom walls and floors. Pick different finishes, styles and shapes of tiles including subway, hex and square tiles however you see fit. The combination of colours, finishes and shapes can really transform the look of your bathroom.
Last but not least… Bathroom Shutters!
Adding some of our bespoke shutters to your bathroom is the perfect finishing touch. With fully water resistant shutters they can be installed to any size or style of window in the bathroom without worry of coming into contact with moisture. They can be tailor made to match the exact look and style of your new or existing bathroom!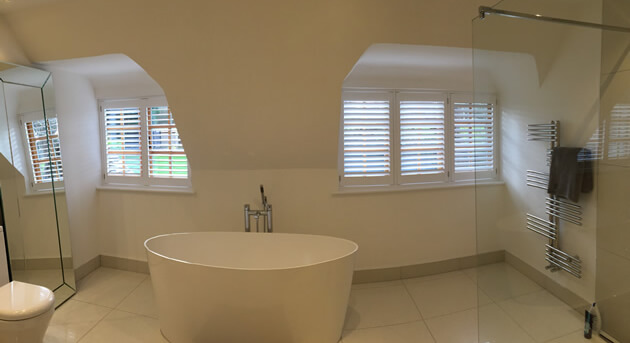 Get in touch!