Having window shutters installed throughout your rooms is one of the best ways of improving your interior and getting the most from your window areas. Many customers approaching us are looking to replace outdated blinds or curtains and take advantage of all the features our shutters offer.
There are many different reasons why shutters are better than both blinds and curtains, which we will discuss in more detail below!
Shutters vs Blinds
Both shutters and blinds are used for creating not only visually attractive window coverings, but a way of regulating and adjusting privacy, lighting and airflow into your rooms. That being said there are key differences between the two, that we feel makes shutters the ultimate solution!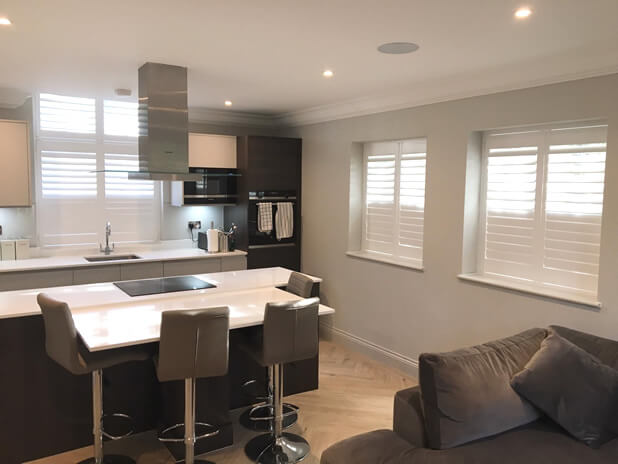 Shutters are of a far better build quality and a permanent solution which are custom made to fit your windows perfectly. Because they are installed to or within the actual window frame, there is virtually no light leakage as you would get with blinds and this also drastically improves energy efficiency and noise reduction at your windows. We can also install shutters with integrated blinds for an even better room darkening solution!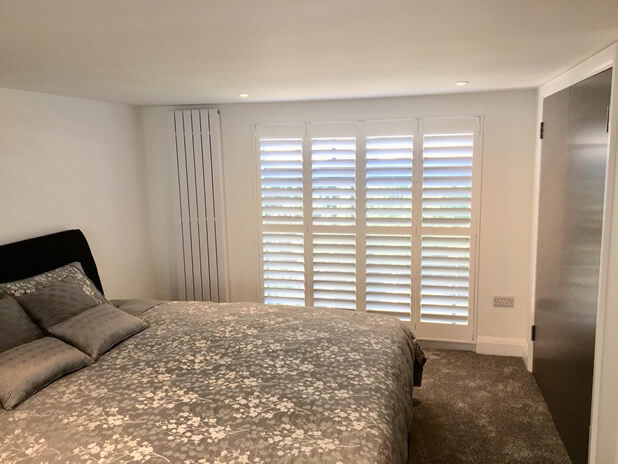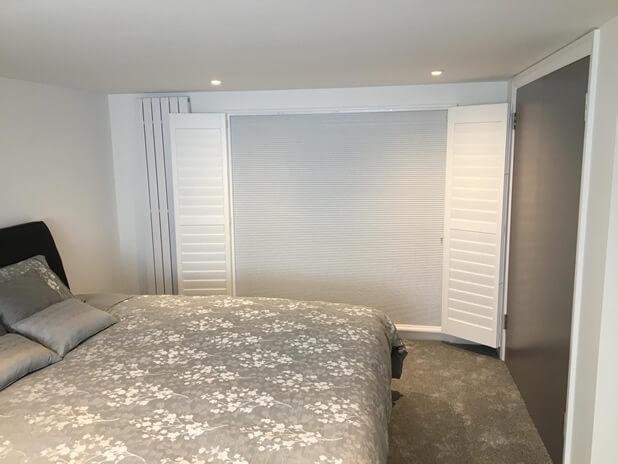 Whether you have bought blinds off the shelf or had some custom created, they will never fit anywhere near as close as our bespoke shutters, often being installed just inside the window frame or to the wall area above. Shutters can also be crafted into special shapes for any size or type of window.
Another point we feel is definitely worth mentioning is the safety aspects of our shutters over blinds. It is well known that blind cords can be hazardous, especially with young children in the house. Because shutters are fixed in the frame, the only method of adjusting is a tilt rod or hidden tilt system, which are both child friendly.

Shutters vs Curtains
Curtains are seen by most as the "standard" window dressing, but with their simple design and outdated look, comes many disadvantages over a set of shutters!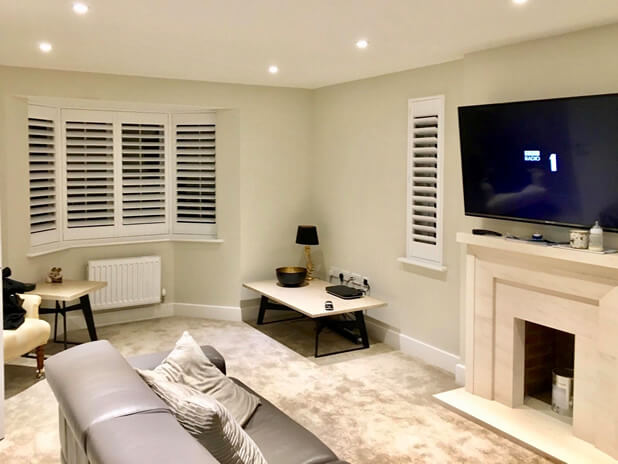 One of the least hygienic window dressings, curtains are notorious for harbouring dust and other nasties, that many of us do not even think about or realise day to day. Because of the size, material and pleating in curtains, they can be very difficult to regularly clean, so many do not. This also quickly leads to curtains looking older and dirtier as time passes.
Shutters on the other hand can be regularly and simply wiped down with just a slightly damp cloth. This is enough to keep the shutters not only looking great, but hygienic for you and your family. This is one of the very reasons why our shutters are so popular with places such as care homes and children's rooms.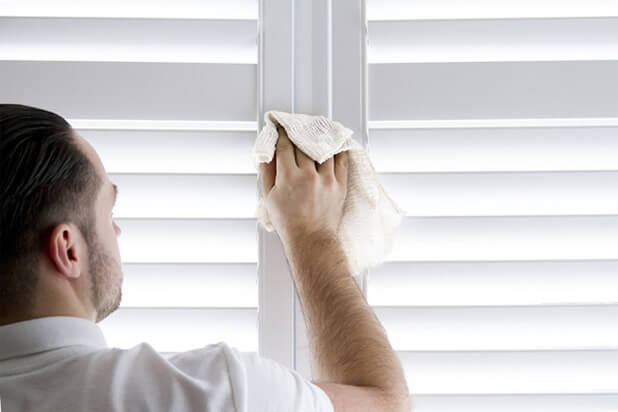 Curtains sit away from the window, allowing heat to escape and natural light in around the edges. There is no way of truly adjusting curtains, they are simply pulled across open or closed with no flexibility when it comes to getting the perfect lighting and privacy. Shutters are worlds apart from this, allowing for different panels to open, louvres to be adjusted and can be designed for your exact window, room and needs. We discuss with you your exact requirements for lighting and privacy, which we include within our design. If you are looking for the ultimate in flexibility why not check out our tier on tier shutters?

There is even more to our shutters!
Shutters are timeless and can look fantastic in a period property, or a brand new home. They can be styled however you desire. From a more neutral white painted design, through to dark shades, custom colours and natural finishes. Bespoke shapes also allow us to get really creative with designs for any window.
We also don't just sell hardwood shutters; we offer shutters with water resistant coatings (perfect for kitchens and bathrooms) and more recently architectural grade aluminium security shutters, perfect for helping to protect your home without compromising on style!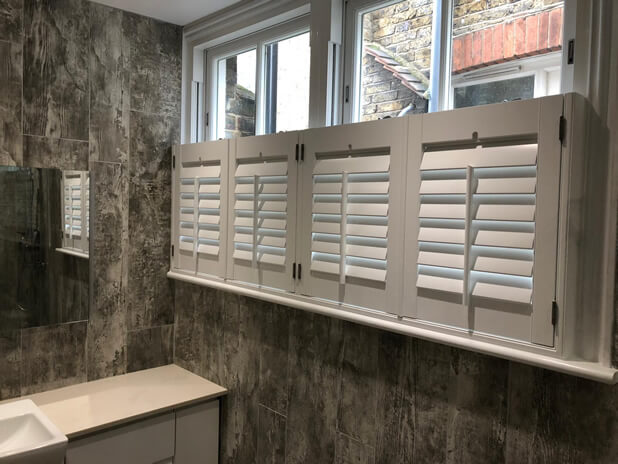 We can offer upgraded features such as remote control, hidden hinges, colour matching and room darkening shutters amongst others. We truly believe in our "Made for you" motto, which is why all our shutters are designed, finished and installed to work perfectly for you! If you would like more information about our shutters and how they can improve your home, then please do contact one of our friendly team!
Get in touch!