For families the living room is the most sociable area of the home and when creating a design you need to ensure that each member of the family finds the room inviting and practical for everyday use. For most families the main aspects when designing will include the seating, décor, furniture, storage, flooring and placing of technology such as the TV and family gadgets!
Seating
Crucially there needs to be enough seating for the whole family, plus if possible a few guests for those times when you have extended family or friends around. If space is limited make use of ottomans or pouffes which can then be used as footstools at all other times.
Be sure to make a large sofa or sofas, the main priority of your room. Good quality 3 seater and 2 seater sofas will fit in the majority of living rooms, with corner design sofas a great way of accommodating everyone without taking up as much space. This kind of setup also allows larger floor area for children and babies to play in view while the parents use the seating.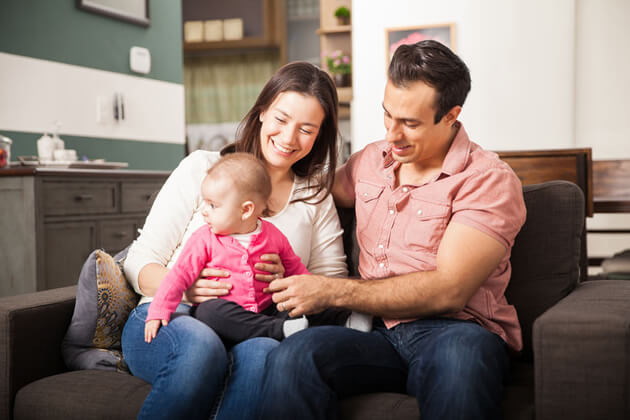 Most people will start by looking to arrange the seating in a way which allows the family to communicate and view the TV, while still allowing room for people to move through the room and use floor space when required. Get the tape measure out and visit your local sofa shop to check for comfiness before ordering them in! Ordering in neutral colours like light grey will work with most interiors but for those really planning out a living room design, there are many fabrics and colours to pick from to work with any new décor!
Décor
Personalise your living room in a way that all your family can enjoy, discuss wall colours, feature walls and wall papers. This will be an area you all spend most of your time year round, so try and select colourings that will work for you in the summer and winter months. Look to add photographs and family moments on dedicated areas of the walls or on cabinets. This will help instantly bring your families personality to the room and can be added to or changed up as time goes on. A bare wall with a grid formation of picture frames can make for a real visual impact!
Think of the kind of furnishings, seating and flooring that will be in the room when picking colours and the look. Will you be using modern furniture or vintage and rustic woods? Will there be carpeting or wood or even tiled flooring. All elements of the room need to be considered when picking the overall décor to avoid clashing and mismatching that stands out negatively!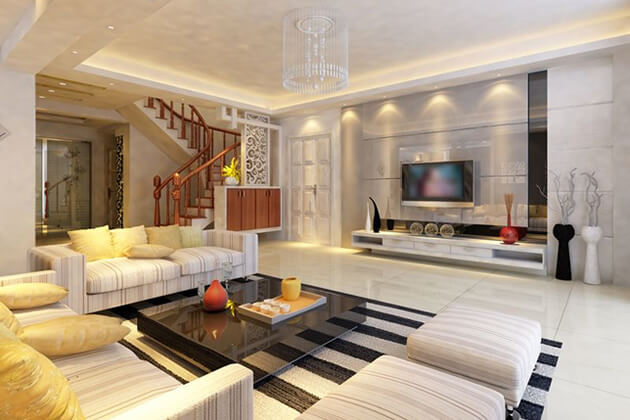 Furniture and Storage
When picking furniture for the living room, you need to work out a way of cleverly creating enough storage and furnishings without having a major impact on space. If you have young children in the family this task can be even more daunting but will be equally rewarding  when you are quickly able to pack away their toys and books with minimal fuss in the evenings! Getting the furniture and storage solutions just right can keep clutter and mess down, which I think we all agree leads to a more enjoyable space for the adults.
The furniture needs to be practical and also look the part. Consider what you want in your living room and how best to store and display it. Will the items be easily assessable from where you are planning to put that shelving? Will you soon outgrow the furnishing for example when storing books/DVDs? If the furnishing is to house electricals such as a cd/media player are their wall points and plugs nearby? As you can see from just a few of these questions the practicality of your new furniture is just as important as how it looks!
Family friendly flooring
Consider the advantages and disadvantages of carpet vs wooden flooring when picking the type of flooring you need. Wooden floors create a classic look in the room which is easy to clean and a lot less likely to pick up stains and damage compared to carpeting, yet carpeting offers a soft warm and textured look to the flooring which wooden floors just can't achieve. For the best of both worlds cover in wood with a large rug which can be easily removed and cleaned as required!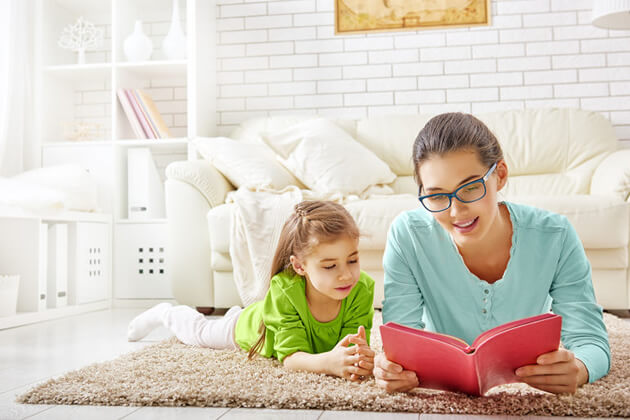 Incorporate your technology
Creating a media friendly living room is becoming more of an importance these days, but also keeping the gadgets out the way and less intrusive is important to many people. Hiding away all the boxes and wiring can be part of the overall design and for those who are completely remodelling their living room now is the time to build and hide wiring within the walls for a real minimal approach to your tech. Use wireless technology wherever possible and run cabling within the walls or even under the flooring to the areas where the technology is required in the room.
Technology comes as part and parcel now with everyday life, allowing you and your family to enjoy the latest entertainment together in one room. Control from apps and ever changing media solutions will transform in your room year on year for you and your kids, so make sure that your living room can easily adapt as new media boxes and technology get replaced over time!
Get in touch!