With spring upon us, what better time to start thinking about improving your summer house or even plan out ideas for a summer house you are thinking of buying this year. Here at ShuttersUp we are big fans of garden buildings and rooms and have designed bespoke plantation shutters for many throughout the UK!
Many people find that a summer house is a cost effective way of adding more space to your property without the cost of an extensions or adding an extra room. They also act as a great escape from the sun (when we get it!) and a place where you can relax, work or play. Everyone has a different idea of what to use their garden building for, from reading/writing, carrying out business from home or as a place for children to use or games area.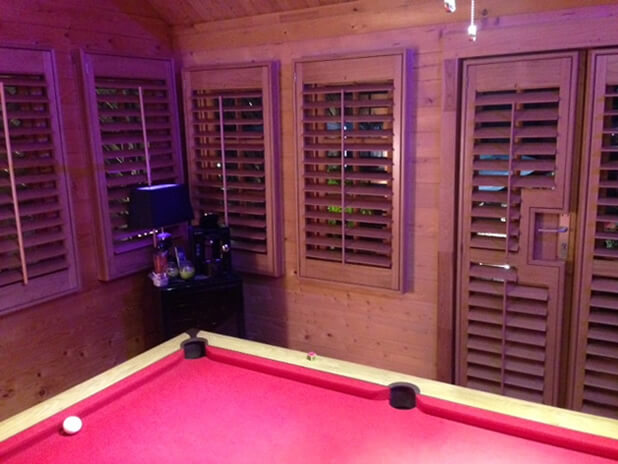 Where to place your summer house?
Finding the best place for your summer house is a crucial factor of making it work for you and your family. Generally placing the out building at the very end of your garden is ideal, but for those with less space to the side, or out the way as much as possible so you can still utilise the garden space. Placing it in the middle will restrict your lawn space and become more of an annoyance when you, or your family and friends want to use the garden!
Picking a spot far away from the home also creates a retreat which allows for you to momentarily escape from everyday life and enjoy the garden and light. Many choose to surround their summer house with trees in the garden or flowers and plants of their choice, to create an even more secluded feel.
Furnishing the summer house
Some choose to theme the building, but we also think that mix matching furniture can create a great look. You may be able to upcycle old furniture such as sofas, tables and chairs from the home or buy second hand. Using easily moveable furniture from your home also allows for you to take it back inside and use in the winter months when the summer house is not used or used less frequently. We also think that buy not focusing too heavily on the furnishings, you can more easily change the use of the summer house whenever required by.
Styling the summer house
Decorating the summer house inside and outside will help transform the building for you to enjoy. Some decide to leave it in its natural brick or wood finish, with maybe a light varnish or stain.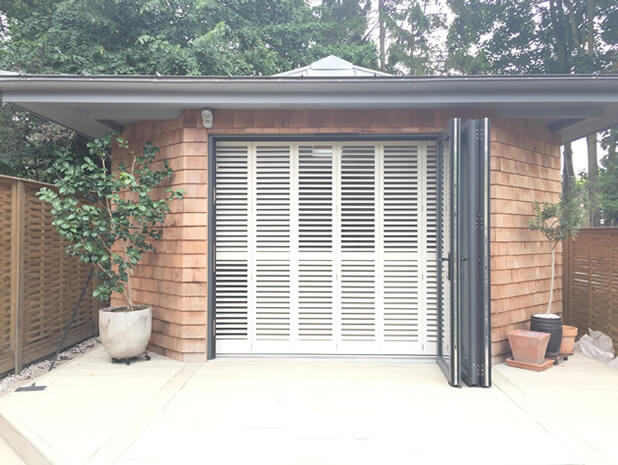 But by getting creative with paint you may be able to match the look with your home or create a completely different look with bold and exciting colours. Greens, blues and whites are a great colour option for any out building.
The perfect space for dining
Make the most of your summer house inside and outside if you have decking or grass area buy creating your own little dining area. Chill out in the spring and summer with family and friends for lunch or dinner. By using quality made fold up furniture you can store the table and chairs in the summer house ready to use whenever you need, or if it is something you use the building for regularly a more permanent solution may be a better idea.
Build your own home office
Summer houses make the idea home office permanently or only at certain times of the year. You may be looking to create a more modern, contemporary look to the building to bring a feel of a modern working environment to the home. Sometimes working from inside a gloomy home or in a area of a room can leave you hard to focus, but taking your work out into the garden in the brighter months can totally lift your productivity!
Finish off your summer house with some shutters!
Being an outdoor building doesn't stop use from installing shutters, we can create the same look and quality installation as we would inside your home, to all types of outbuildings. Shutters look marvellous from inside and outside of summer houses and we can completely match the window shaping and style of your summer house as part of our design and installation.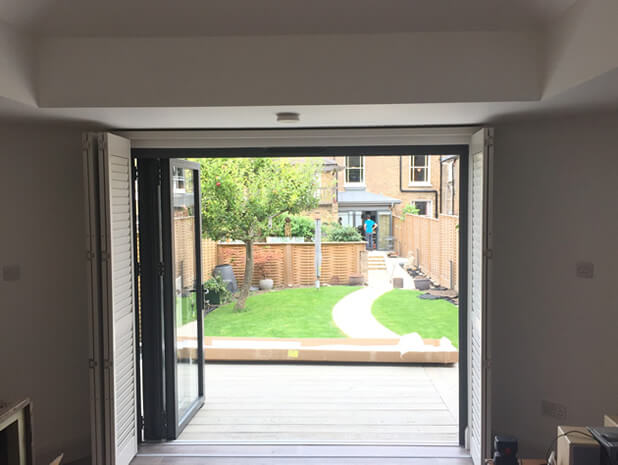 Garden buildings are a great example of places that can really benefit from plantation shutters, with natural sunlight beaming down on the building adjusting the shutters helps with regulating natural light and because they are installed made to measure also really help to keep the warmth in the building when the temperature drops. Adjusting the shutters throughout the day when using your summer house allows you to use the building for anything you please, without having to contend with strong direct sun light or privacy. Contact us today to find out more about how we can help transform your summer house or outbuilding!
Get in touch!