If you are lucky enough to have a spare room in your home, it may be worth considering using the room as a guest bedroom. A well thought out room can really make family and friends feel welcome when they are staying over. For loved ones that travel long distances to come and see you, it may also save on hotel costs and allow more time to be spent with them.
Showing your guests to their own beautifully decorated room gives a great impression and truly makes them feel at home! With that in mind this guest bedroom needs to be a home from home for multiple people and personalities, with bedding, storage and décor suitable for different people.
Think of great hotel rooms you may have stayed in
Good hotels know how to get the perfect mix of design, style and functionality to suit guests from all over the world. This can be a great starting point when designing your room as hotels make use of great designs, yet still stay neutral enough for the room to be enjoyed by people from different cities, countries and cultures.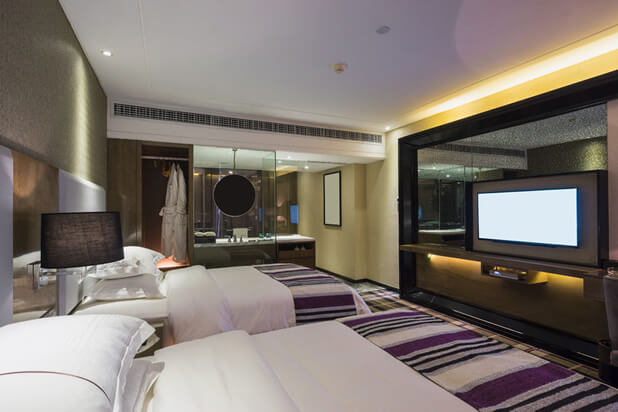 Look for stylish and elegant, even textured wall paper for a feature wall or the whole room and a crisp, fresh finish to any paint scheme used in the room. Use neutral colours but with bolder colours in places so that the room does not feel too bland. A quality plain or striped carpet which feels comfy to the feet will also help, but try and stay away from anything with unique patterns or too much texture. If you are not keen on carpet a good quality wooden floor may look great but may not create as much warmth. Quality and practicality is the key here!
Factor in some of your own taste
Friends and family will appreciate the touches of your personality added to the room and it will make their stay more memorable. Add some of your own ideas to the look and furnishings which not only represent your own spin on the room design, but you feel your guests will need and enjoy. From tasteful ornaments, canvases and art through to flowers and other accessories!
A bed fit for a king or queen
The bed is probably one of the most important parts of the room. While it is common to have a low quality bed or pull out sofa, if you have the space and really want to impress, go for a quality queen sized divan bed, much like you would find in a hotel. There is a reason why hotels put so much emphasis into their beds, even in most budget hotels you will be sleeping on a well-made bed with a top quality mattress, as without a good sleep it doesn't matter what the room décor looked like!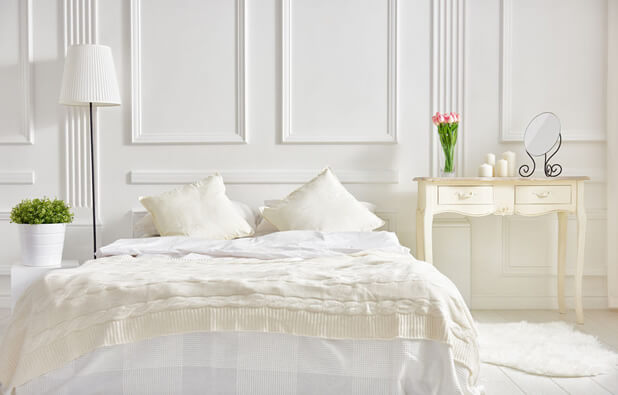 Investing in the best mattress you can, will undoubtedly be the best decision you make for your guest bedroom. Explain to the shop that the mattress is for a guest room and they can show you mattresses that are perfect for a multitude of different people. Remember that it is not what you find comfy, but one that is suitable for people of all different ages and sizes and this will influence the kind of firmness and design you need to buy.
Practical Furniture
Your guest room needs furniture that can be used by all. A mid-sized wardrobe with hangers for your guests to put clothing for a few days in. If possible some kind of desk with power outlets maybe handy with so many people bringing laptops, tablets and phones on their journey and smaller bedside tables with a few drawers and lighting if possible.
Depending on your ideas for décor, you will need to pick either traditional styled or modern furniture. It may be wise to buy the furniture all at the same time so that it matched in look and style, but for a more shabby chic look you could find older furniture from around the home or even second hand vintage pieces.
Getting the lighting right
Remember to provide multiple sources of lighting for the guest bedroom which is intuitive to use, so that guests not only have a main room light, but desk lighting and if possible lighting next to the bed for reading. Many people opt for traditional lighting such as lamps, but if it fits with your design, think hidden LED strips of lights and ambient lighting! This can become a real feature of the room and create an unexpected feel to the room for your guests. This even allows for you to create different colours and light temperatures that can be adjusted from a switch or remote, making the stay unique to each guests own taste.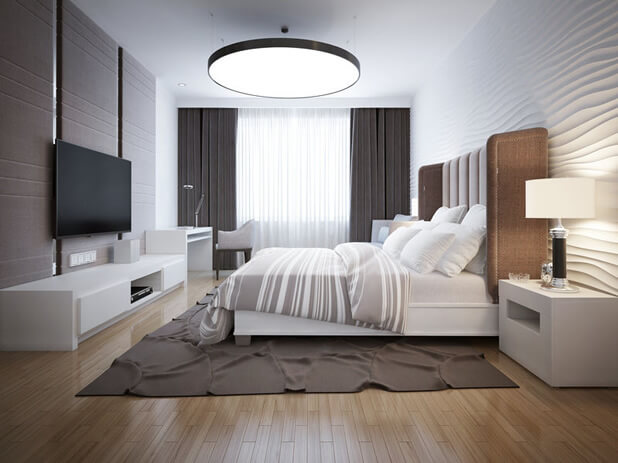 When it comes to natural lighting into the room, of course you can't go wrong with our wooden plantation shutters, which allows the guest to adjust the lighting quickly and easily when they wake up in the morning. We suggest going for a nice quality full height or tier on tier solution in a neutral paint colour dependent on the type of windows in the guest room.
Get in touch!