The sun is finally here throughout the UK and many of you are taking to the garden and your gardens outbuildings to enjoy the weather and entertain guests. Those who are lucky enough to have an outbuilding in their garden whether it's a large shed, log cabin or garden office will realise how important it is to get the correct window dressings if you are to spend your time in there. Our shutters are not just limited to inside your home, with our bespoke design and installation service we can and have fitted shutters to a multitude of different outbuildings which are used at many different times by you and your family. For some it is a place to escape, somewhere to entertain, or even a garden office.
Many clients come to us requesting shutters for these kinds of buildings as the weather gets nicer and they are looking to spend more time using it, but the shutters we create are great for all year round and in all seasons. In the spring and summer they act as a fantastic way to regulate light and airflow, then acting as a great insulator in the colder winter months. With our shutters available in so many different styles and finishes we can tailor them around the exact look and feel of the outbuilding, as we would with shutters for the home. We can fit window shutters, door shutters and dividers to all parts depending on your requirements.
Many people are surprised at how individual our shutters can be created and at just how many different uses they have. They can be created in a way that is a perfect match for your wooden log cabin, shed or brick structure. The shutters can be finished in a natural wood, stained or painted depending on the look you are trying to achieve. Using a sample we can also colour match them to match certain aspects of your outbuilding! This summer may be the perfect time to look at having some of our custom made shutters fitted, helping to make your time spent in the garden buildings more enjoyable, safe and creating a better look and feel to the areas that you enjoy spending your time. If you would like more information on shutters for this type of use, please don't hesitate to contact us for a chat and no obligation quote!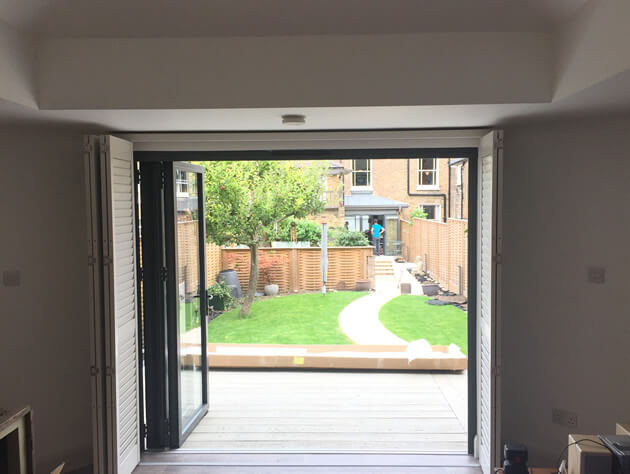 Get in touch!