When it comes to picking the style and design of your shutters, there are three main louvred types of shutter to choose from. Full Height, Tier on Tier and Café Style!
Each style has their own unique benefits and work well or better in certain situations and in different rooms. We work with clients to create a practical solution which is also in a style which suits the look they are trying to achieve. It may be that you already have your eye on a specific style, but we can talk you through the benefits and uses of each type before you place an order.
Below we will summaries some of the pros and cons of each style to help you on your new shutter journey!
Full Height
When people think of shutters, they usually envision our full height range. A classic yet practical solution which looks the part on any window or opening, the full height shutter sits proud from top to bottom of the window area with no break.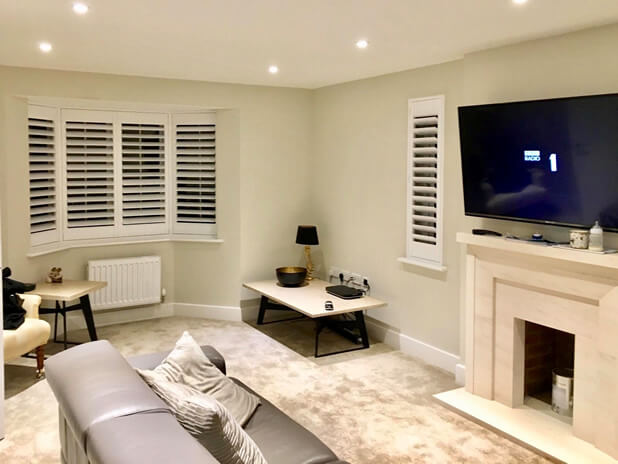 The louvres run from top to bottom, with the option of having a mid-rail installed which allows for the louvres to be separated for adjustment, but the shutters are still physically one unit.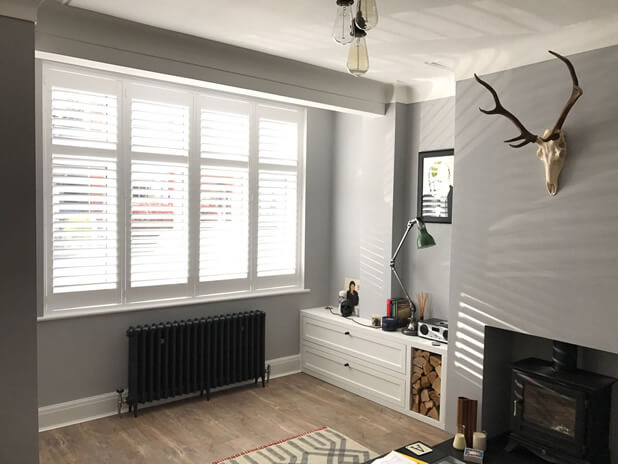 Full height shutters are definitely the most installed style, working well anywhere in the home and offer a stylish and simple window dressing with minimum fuss. They can be finished and created in a multitude of different paints, stains and materials to suit all applications.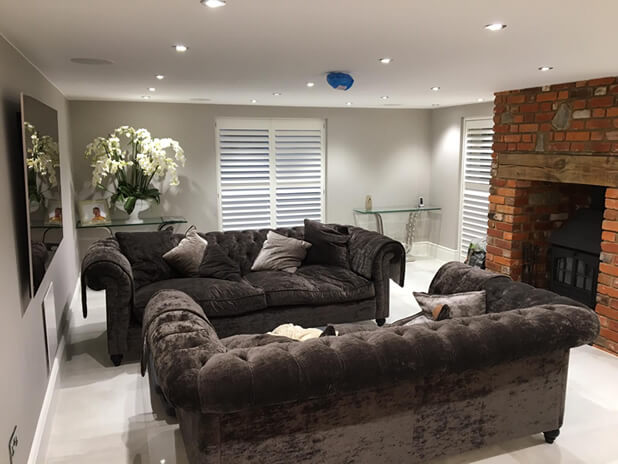 Tier on Tier
All the properties of full height shutters with the added advantage of a physical break in the shutters. Usually separated directly in the middle, but can be bespoke split where required and also designed in a way to match the lines of the windows behind.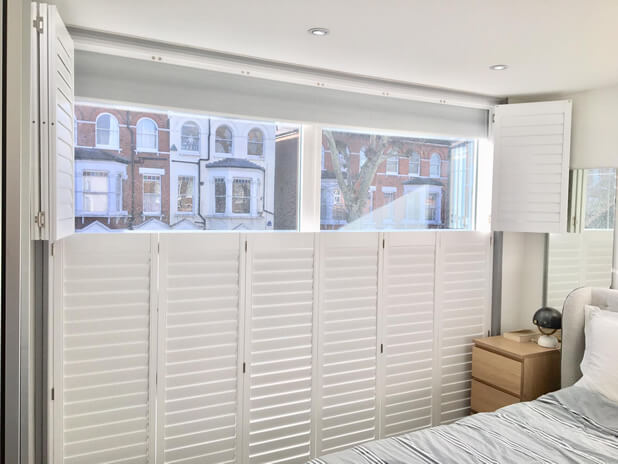 The top and bottom tiers allow for amazing adjustment, not only of the louvres (like with full height and a mid-rail) but also with the actual opening and closing of all tiers. This really does mean that there isn't much limit when it comes to getting the perfect light and privacy in any room of the house.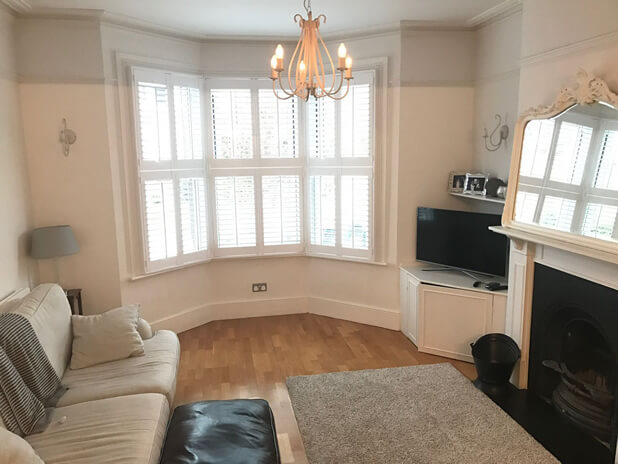 Designing the shutters around your windows and home means that we can have the tiers neatly open or fold to the sides, creating an elegant look which works for your specific room and needs. As with all our shutters they are available in many different materials and finishes to suit.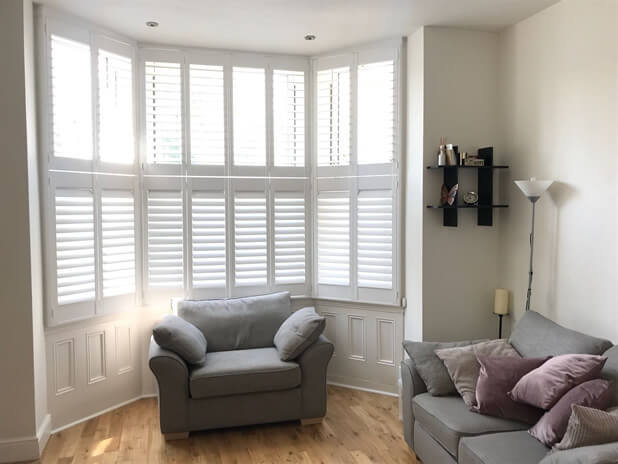 Café Style
If you have been looking through our installations you may have seen quite a few bay windows adorned with café style shutters!  They our created much like full height shutters, but stop midway up the window like tier on tier shutters would. The difference with these is that there is no top tier and the top section of the window remains visible and open to light.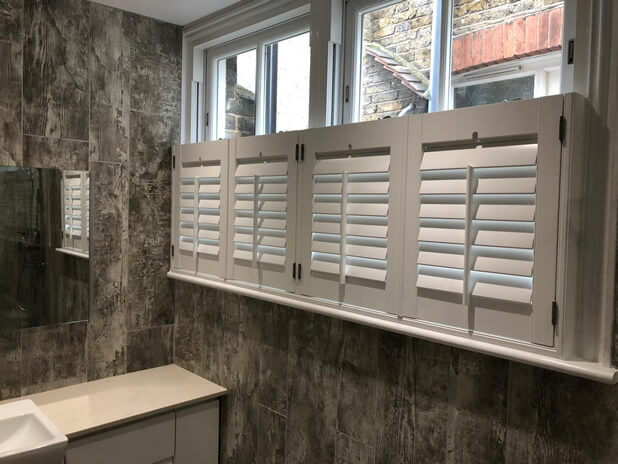 In the right room these work fantastically, allowing natural light in through the tops at all times, but where privacy may not be a problem there can be no need for the top sections. We design and install these to windows facing out onto streets where only lower level privacy is needed to simply stop people looking in, or in areas such as bathrooms upstairs where there is no chance of people peering in through the tops!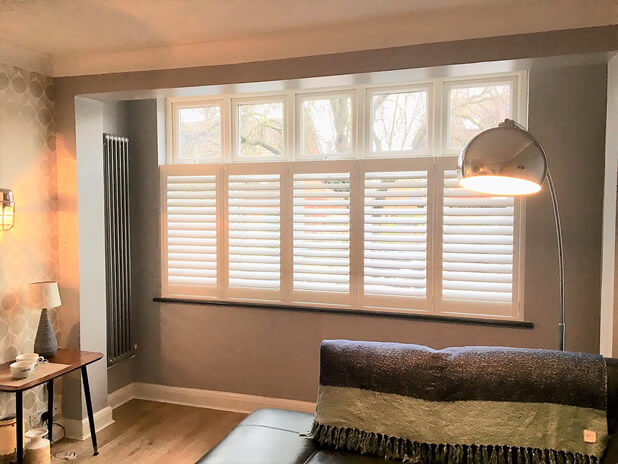 Our café style in the right situation makes for an amazing look, but need to go in the right areas. We sometimes have customers who combine this style with curtains that can be pulled across at night and other clients who simply use the shutters as they are! Café style can go as high as needed with a small gap at the top if preferred.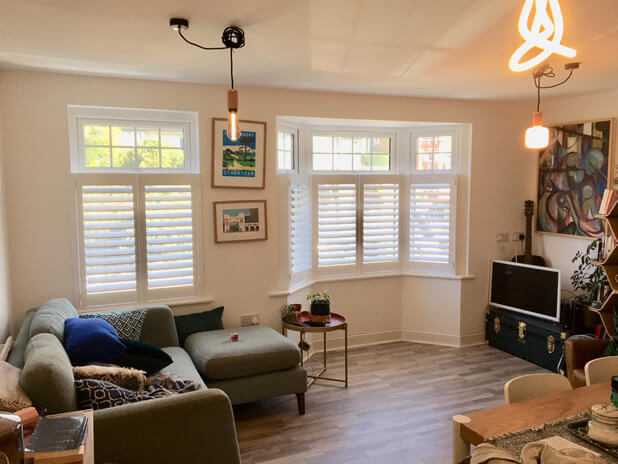 Get in touch!