Over the years our company and staff have grown from a small team to our current team of 14 skilled people including some amazing surveyors, fitting technicians and in house sales and office assistants. With this comes the ability to spread even further throughout the south of the UK from our head office in Bromley. We now find a regular flow of work coming from the heart of London as homeowners and businesses recognise our fantastic product and workmanship. We are only too happy to visit inner London to help create bespoke shutters for your property, no matter where you live or the type of home you live in, we can design and install the ultimate solution for any area. As the years go by we have worked on some great projects in London, from lovely homes, apartments, office buildings, hotels and even house boats! Here are just a handful of projects we have carried out in the area:
Shutters fitted to Hotel Suite in Kensington We were asked to fit these full height shutters finished in a lovely natural grain cocoa colour to a hotel suite in Kensington. Our shutters needed to not only look the part, but operate perfectly for guests of the hotel. The shutters allow for great regulation of light into the room and also help with privacy from overlooking rooms.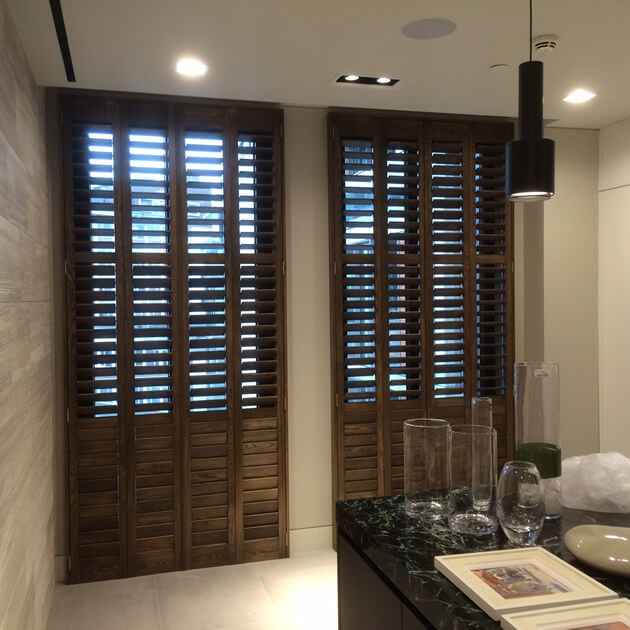 Shutters for Kitchen and Bathroom in Chelsea Even working with smaller spaces such as this apartment in Chelsea, we can get the most out of your existing windows and openings. We fitted these lovely bespoke black shutters to the kitchen and bathroom perfectly blending them with the existing black colours used in the décor. We used a naturally water resistant hardwood as these shutters may come into contact with water and moisture.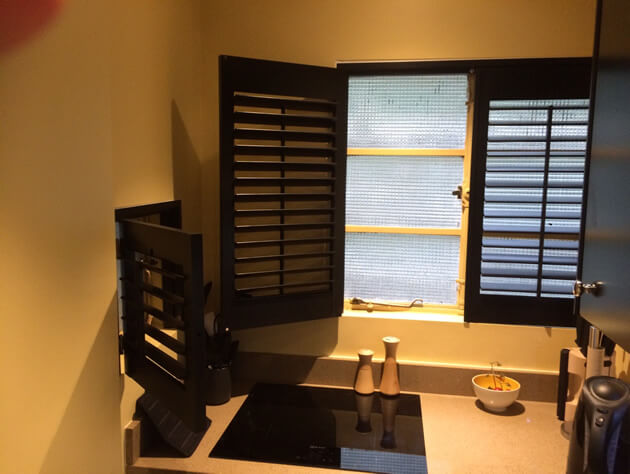 Shutters for Office Reception in St James Square We helped transform this regal office in St James Square with some new shutters for their windows which looked out onto a busy street, so maintaining privacy for clients and those in the building was important. The customer also wanted the shutters to match the interior and exterior of the office building. These shutters were created in a tier on tier style allowing for the top and bottom to be opened and adjusted separately and were finished in white helping make them in keeping with the building and original room interior.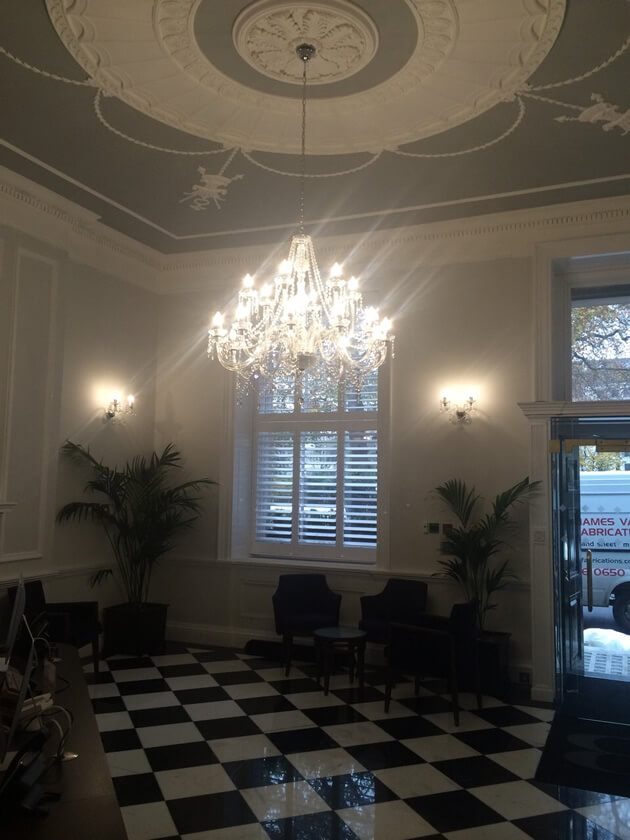 Shutters for House Boat on the Thames in Chelsea Harbour A unique job for us includes this house boat located on the Thames in Chelsea Harbour. A great experience for us and the owners, we helped transform all windows running down the side of the boat, replacing drab net curtains. The shutters were installed seamlessly to the shape and length of the boat windows, demonstrating just some of the interesting jobs we are asked to carry out!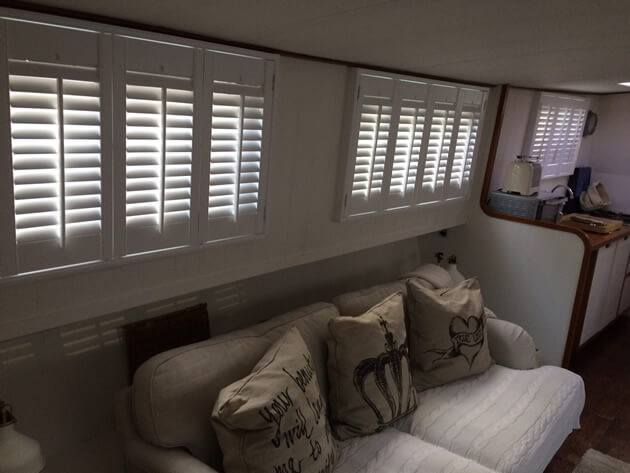 Choose us for your Shutters in London!
Check out some more great examples of our shutters fitted in and around London here. If you are looking for new shutters and are based in London, we would love to help you with the bespoke design and installation. We work with you to create the ultimate solution for you and your family no matter what style of home or building you require them for. We have years of experience fitted shutters in all rooms and areas with the ability to create custom shutters for any windows no matter the size or shaping! Please do look through our site and see what we have to offer including many pictures and examples of recent client work that we have carried out. We would love to talk you through what we can offer you and if you require, offer you a no obligation quote!
Get in touch!