Plantation Shutters Add A Touch Of Class To Any Home
Applying the proper finishing touches to a room or home is often the most difficult aspect for people when they are trying to create a look or style to a home. It is often easier to think of the big products that will take centre stage but there are also many smaller decisions to take on board in order to make a room as cosy and comforting as it could be. The right style of curtains or shutters will often make or break the style of a room and this is why many people are turning towards plantation shutters to ensure that their room is perfect.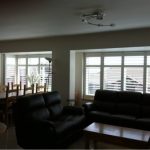 One of the reasons that plantation shutters can be the perfect addition to a home lies in the fact that they block out much of the noise. If you live close to a busy road or built-up area, your peace and quiet can be disturbed by the goings on outside. Failing to get a good night's sleep or feeling as though you cannot properly relax can leave many people feeling that their home is less than perfect. This is why being able to use shutters to minimise the impact of the noise outside can make people feel happier about their home. Impacting on noise pollution is not the only benefit that comes along with using plantation shutters. The ability to adjust the shutters allows different amounts of light to be let into the home, allowing people to create the right ambience and mood for their day. Natural light is often the best way for people to unwind and relax so allowing as much or as little light in as you would like is the perfect way to feel in control in your own home. These functional benefits go a long way to making people feel happy in their own home but there is always a need to focus on looks. No one would be happy with functional shutters that looked terrible so it is of benefit that there are so many visually stunning plantation shutters to choose from. No matter what style or finish you prefer, you should find that the right style of shutter can be found to make your room come alive. This is as true for houses that have unique or awkward window shapes as it is for homes with traditional windows. No matter what style you want to have in your home, the right type of shutter will bring elegance and class to any room. Even though wooden shutters can bring a notable touch of style to a room, they may also carry another benefit. Aromatherapy is an area which many people have an interest in and certain smells are said to make people feel certain moods or it can help them to relax. Wooden plantation shutters will often carry an aroma into the room, creating a greater sense of connection in the home and bringing another sensory benefit to the owners. A Western red cedar shutter not only carries a beautiful scent, it can help act as a deterrent to moths, bring a further benefit for home owners.