We are often asked to fit shutters for client's bay windows in a range of different properties. This style of window works fantastically with shutters which not only provide a stylish window dressing but a highly practical solution. We create our shutters bespoke to your bay window to ensure the perfect fit throughout, which is great for older properties where the window lines may not be completely straight! Bay windows are quintessentially British and found in a huge range of period properties and modern homes. They can be difficult and limited when it comes to dressing them, which is why having bespoke shutters created for the area, is one of the best decisions you can make. No other window dressing is as maintenance free as wooden shutters, they are fantastic for allowing the perfect mixture of light and privacy through minor adjustments.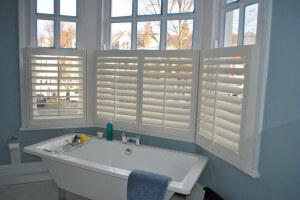 Shutters are one of the most light efficient solutions for any bay window. By simply changing the angle of the louvres you can regulate light perfectly around the whole room. For those living against a busy street the bottom section can be closed for privacy while still allowing light in from the top. This just can't be achieved with curtains or blinds. There are a wide range of styles and materials which you can pick for your bay windows. Popular choices include café style, tier on tier and also full height. Our bay window shutters can also be combined with curtains depending on the look and feel you are trying to achieve.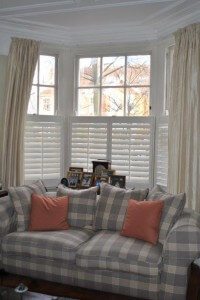 One of the main purposes of bay windows is to bring in maximum amount of light compared to a flat window, helping to ensure great light at all times of the day. Using shutters you can regulate the amount of light and privacy from different sections of the bay window quickly and easily. Due to the size of bay windows many find that more heat is lost through this area in the colder months. Another benefit of our plantation shutters is that they act as a natural, millimetre perfect barrier which in turn helps the loss of heat and energy from any room they are installed. For more information or a quote on having shutters fitted to your bay windows, please do get in contact!
Get in touch!