The bathroom is one of those areas in the home that people like to keep looking great. A place to relax and soak in the bath or have a hot shower and an area where privacy is a priority. Many of our clients are looking for the perfect window dressing for their bathroom having experienced problems with other dressings such as blinds becoming wet, mouldy and not providing the flexibility and adjustment which is needed to make the most of natural light and privacy.
We recommend two of our Ranges for the Bathroom and other areas of the home where they may come into contact with water and moisture…
Java Range
Our 100% water resistant shutters, created using a hardwood inner with an ABS plastic coating on the outside. Because of this coating water is unable to penetrate into the wooden core, stopping the shutters from being damaged and warping which water can cause over time. The ABS coating also allows for quick cleaning simply wiping them clean and mould is unable to permanently adhere to the coating as it will on other material. There is also no worry about having wet hands when making adjustments to the louvres and panels. These shutters are available in 6 white waterproof colours. Find out more…
Fiji Range
Created using a beautiful hardwood which is renowned for its waterproof properties and used by companies making small boats and rafts. Unlike the Java range these shutters are far more versatile when it comes to custom shaping and finishes. We can create a range of different shapes for nonstandard windows which can then be finished in your choice of 11 paints and 15 stains depending on the look you are trying to achieve. These shutters can also be used in all other locations throughout the home. Find out more…
Style of Shutters for the Bathroom
Another main decision to make when having shutters designed for your bathroom is the style that they will be created in. There are many styles that we offer, which all create different looks and function in different ways. Your decision will ultimately be based on a mixture of the look you are trying to create combined with the functionality that you require. Here is a bit more information about each style…
Full Height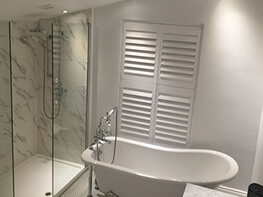 One of our main styles which looks great with all decors. These shutters are simple to use and great for privacy. Simply adjust the louvres depending on the privacy you need as you would with blinds. They can also be fitted with a mid rail which allows the top and bottom sections of the shutters to be adjusted separately. Great for keeping lower level privacy and having the top adjusted to let in maximum light. Find out more…
Tier on Tier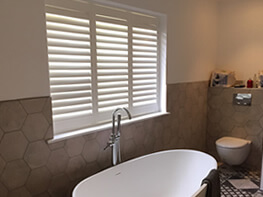 These are our most flexible style of shutters and look much like our Full Height Shutters but with the added advantage of a split in the shutters mid way (or at another point if more suitable). This means that not only can the louvres be adjusted separately on the top and bottom, but the shutters are also split when it comes to opening and closing the shutter panels. With these shutters you can keep the lower shutter panels closed with the top fully flung open to reveal the full window or opening behind. Find out more…
Café Style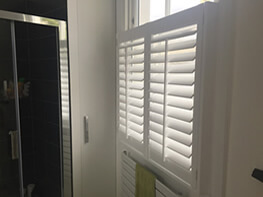 A shutter style which only covers the bottom half of the window. This is a great option if you are not concerned about the top of the window being covered and want to let natural light stream in. These shutters help to create a unique look which doesn't take up the full height of the window, but still allows privacy and adjustment where you need it. Find out more…
Special Shapes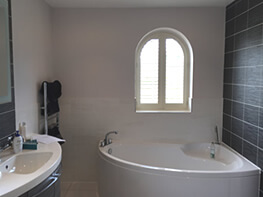 If your window openings are of a non standard shape you will need us to create your shutters using many of our special shapes. The great thing is that if you have multiple windows in the bathroom we can match the look and finish of your special shape shutters with your standard size shutters. We most commonly find circular and arched shaped windows that require this style. Find out more…
Why pick our Shutters for your Bathroom or Wet Room?
Our shutters are the ultimate window dressing for any room of the home and with our waterproof shutters you simply won't find a better solution for these areas. You may be looking to completely renovate your bathroom, or simply rejuvenate you r existing bathroom with some shutters. By working with our team of shutter experts we can help you pick the ideal style and finish to create the best look and just as importantly functionality in this room. We have designed and installed many shutters in bathrooms over the years for a range of delighted customers all over the South of England. Contact us today for a no obligation quote and discussion!
Get in touch!