News
Posted on 1 October 2021
How to prevent crime in your neighbourhood
Burglary offences in and around London may be the lowest we've seen in over ten years, but that doesn't mean we should rest on our laurels particularly as the nation gets back on its feet again after all the challenges resulting from the Covid-19 pandemic.
As an independent business, we love being part of our community and will always do what we can to help our local friends, family and business colleagues. So, with the help of some contribution from local residents, we put together some great tips on easy and safe ways to help prevent crime in and around your local area.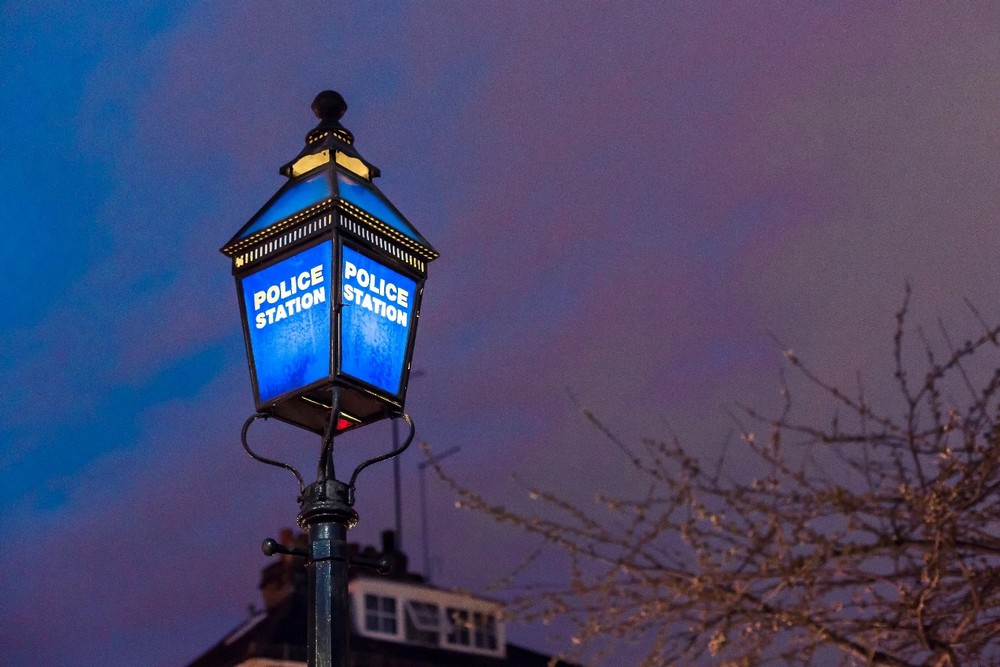 London burglary statistics
In the last ten years, there have been obvious peaks and troughs in numbers of burglaries committed in London. The data below, taken from the Metropolitan Police Crime Data Dashboard shows that while burglaries peaked above average during 2011, 2012 and 2013, a clear drop in reported burglaries followed, with numbers remaining below average until late 2017. At this time, numbers increased again until unsurprisingly, the UK population went into lockdown in spring 2020.
London burglary statistics (all 32 London boroughs)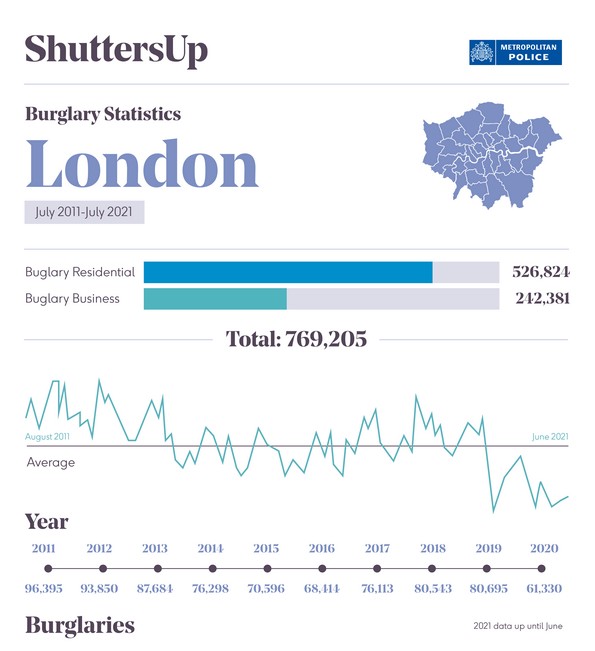 Bromley burglary statistics: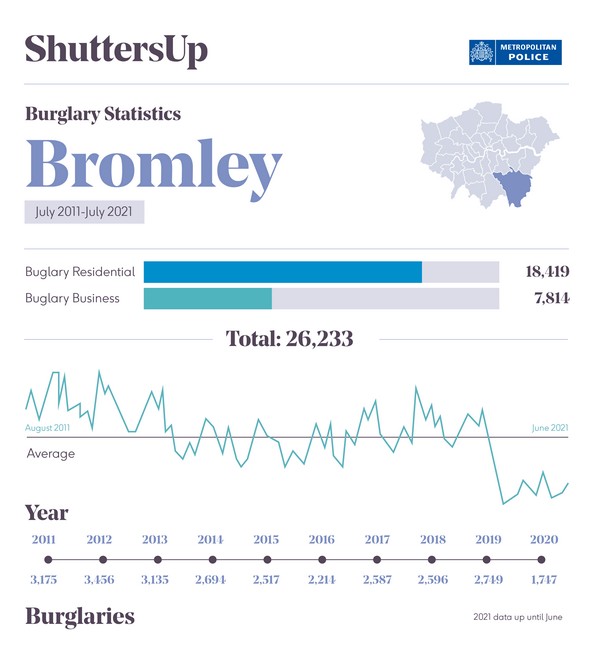 The reduced numbers in 2014 could be explained by the technological advances made in home security systems, lighting, CCTV, security lighting, window and door locking mechanisms, and the like. As well as more affordable systems that the majority of people could take advantage of. The rising numbers from 2017 onwards would suggest that intruders were starting to find alternative, smarter break-in methods that outwitted the mainline products available in the shops.
The lockdown of 2020 seemed to make breaking and entering a much harder task, which is reflected in the figures.
What can you do to protect your home?
Ex burglar advice and neighbourhood tips
Neighbourhood Watch offer some great crime prevention advice including insights from convicted burglars sharing the tips of their trade and a comprehensive burglary prevention toolkit. Former burglar, Bob Turney who left the burglary scene behind many years ago and is now a respected Probation Officer and Government Advisor, revealed in a report with Sky News how putting in place a few simple security measures in our homes could really make a difference in preventing intruders from targeting a property. Turney's advice includes:
Installing good locks on windows and doors.
Chaining up wheelie bins to prevent intruders using them as climbing frames.
Talk to your neighbours, ask them to keep an eye out, and encourage information sharing.
If you are going away, invite a neighbour to park in your driveway.
Look after your property. If your property looks a bit run down, a burglar may assume you are lapse on your security too.  A well-maintained house may deter burglars from thinking your house is an easy target.
We were also intrigued as to what security prevention methods are used by our local community in Bromley, in an attempt to reduce crime.  Here's what some local residents had to say…
1. Beware of social media. If you are planning a weekend away or a long-awaited holiday, don't over share on social media.  The reality is you are advertising the fact that your home is empty.  Four out of five burglars are now using social media to track their victims and select possible targets . "In fact, simply sharing excitement about a holiday could be all the incentive a criminal will need to consider a trip to your house" reported online safety experts, Get Safe Online.
As well as alerting potential burglars, oversharing on social media accounts could even invalidate your home insurance policy, meaning you would be unable to make a successful claim if there were a break-in.  Home insurers expect homeowners to take "reasonable care" when it comes to security in the home which means things like leaving a window open or a door unlocked at night would be make your insurance company reduce the pay-out or not pay out at all.  Advertising your absence could be another example.
If you simply can't resist using social media to tell friends of your antics, make sure your social media profiles are set to private so only your friends can see what you post and avoid using the location and check-in features.  Try and save holiday posts until after you are home so criminals are not tempted to visit your vacant lot.
2. Install a Ring Doorbell. You can pick these up now for less than £100 and you can use it instead of a wired doorbell or using its rechargeable battery. You can view motion that's been recorded via the app when you are not at home, and you'll be alerted as soon as it detects movement outside your property.  It's great piece of mind when you're away as you can check your car is still on the drive and view anyone hanging around your house or looking through your windows.CCTV cameras are also a good option.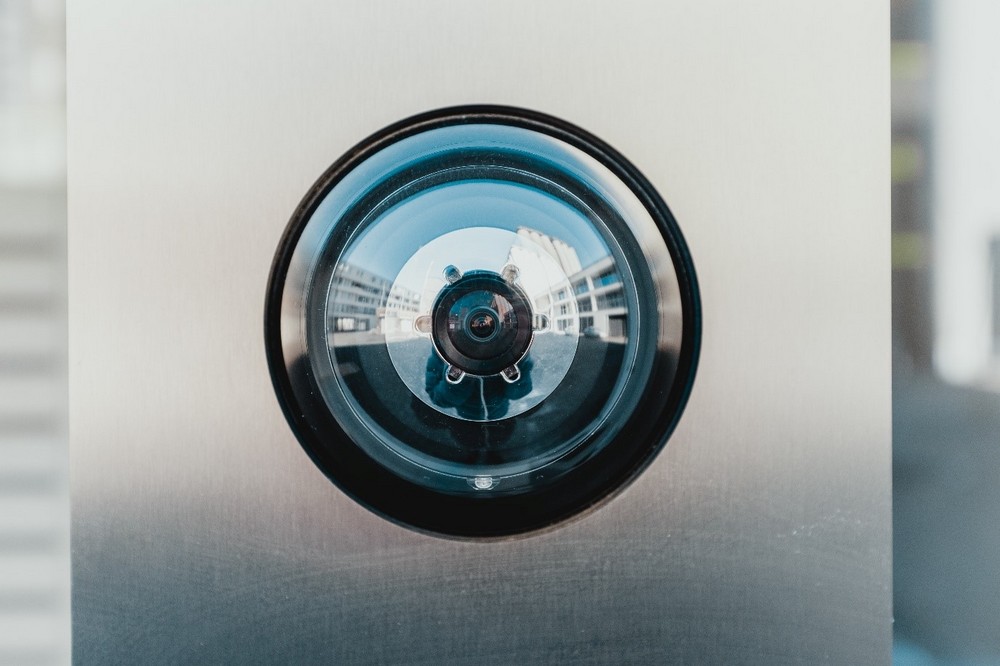 3. Stay connected. Many of our local residents have formed road WhatsApp group chats to alert other residents that someone suspicious is loitering nearby, or that there are unusual happenings in the street.  It is a great way of staying connecting and looking out for each other.  There are also lots of community Facebook groups now that are also perfect for alerting others in the neighbourhood to suspicious activity and sharing information and advice.  You may even want to go one step further and set up a local volunteer initiative like Love Your Doorstep's Community Patrol Project.  The project was initially set up to bring local parents and the community together with a local school in Enfield town to help tackle a wave of muggings and robberies in the area. The scheme proved so successful it is now being rolled out into other areas.  The local volunteers who patrol the streets lunchtimes and afternoons act as eyes and ears for the local police and are proving a real deterrent to criminals, particularly those targeting children on the streets.
4. Smart lighting. Motion sensor lighting serves as a decent deterrent as do Smart Lights.  Smart Lights with away modes will turn lights on and off at random instead of sticking to set times every day.  This can help keep your home safe – if your house is being monitored, burglars could get wise to there being a set pattern.
5. Join your local neighbourhood watch group. As they say, there is strength in numbers. Joining a local neighbourhood watch programme will keep you abreast of what is going on and will provide you the opportunity to voice your opinion and make a real difference in your local area.
Other tips we encountered were to ask a neighbour to draw the curtains in the evenings and open them again in the mornings if you go on holiday, and contact the local council if you spot broken street lights.  The most popular recommendation by far was to get a dog!  Apparently, they are more effective than alarms or lights!
Don't forget, our security plantation shutters  and security front door range are a great step in the right direction if you are worried about your home security and want to invest in improving it.  Our architectural grade aluminium shutters are designed for durability with a robust locking mechanism for increased security and a powder-coated, corrosion resistant finish.  They are custom made for both indoor and outdoor use so you will not have to substitute style for substance!
Our security doors, handcrafted in Britain, offer the ultimate in security and protection and offer unrivalled door safety.  The external and internal door panels conceal a complex series of steel structures and can be designed to fit seamlessly with both the exterior style of your house as well as your interior décor.