Here at ShuttersUp we are often asked the question "What are the best window shutters?"
This is a great question as there are many shutter ranges to choose from and all have their own unique benefits.
When helping to decide which shutters will work best for a customer, we take our time to find out important details such as light (blocking out and letting in), privacy, material limitations, moisture levels, style and functionality.
If our client is looking for bathroom shutters, our Java range which is 100% waterproof will be the best solution. However, this is not a material we would recommend should they also require a track system to use as a room divider.
When it comes to materials, we offer various wood options (hardwoods and fibreboard), aluminium (for security) and ABS coated shutters for rooms such as bathrooms and kitchens.
Our styles include, full height, tier on tier, café, solid and bespoke shape solutions. All of which work better depending on the type of windows, rooms plus individual tastes and requirements you may have.
The ranges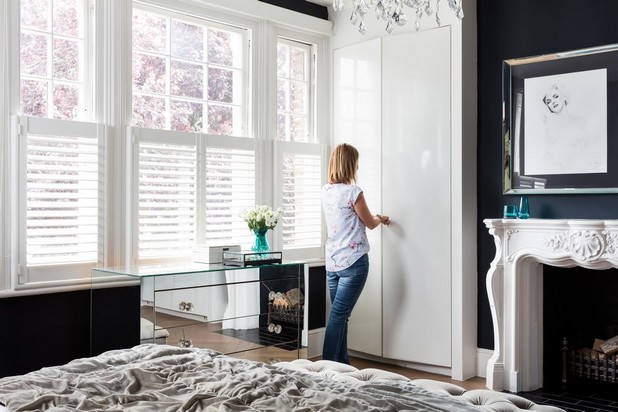 The Antigua range is created using fibreboard wrapped in a water resistant polyurethane coating making for a robust, yet affordable shutter. It is also resistant to colour fading whilst also staying child and pet friendly – perfect for families and high traffic areas. This range is limited when creating custom or bespoke shapes and is fairly heavy.
Our hybrid solution, mixing hardwood shutter panels with fibreboard frames. This range is a great option for customers who would prefer their shutter panels to have a painted look due to the woods linear grain. This range is limited when creating custom or bespoke shapes.
When it comes to hardwood, Fiji is very light and durable. Great for wide expanses and also perfect for making bespoke custom shapes. These shutters are created from Paulownia hardwood and are the fastest growing trees in the world – an ideal reforestation solution. We can also create these shutters with a hidden hinge system!
Manufactured using a hardwood core but finished with hard wearing ABS plastic which is 100% water resistant. This is the perfect solution for kitchens, bathrooms and wet rooms where there is high moisture content. Due to the coating they are also very easy to wipe clean making them ideal for places such as nurseries and schools. This range is limited when creating custom or bespoke shapes and is fairly heavy.
Premium hardwood shutters which are 30% thicker than any other shutters so amazing for insulating your home. Made from Ayous when painted and White Teak when stained, this hardwood range has a tight grain and smooth texture which makes for a beautiful finish. We can also create these shutters with a hidden hinge system!
Our aluminium security shutter offering, which look as great as wooden plantation shutters, but have the added benefits of protecting your home. Complete with patented strip proof Italian locks, our Portchester range is created from architectural grade aluminium and powder coated for a perfect finish.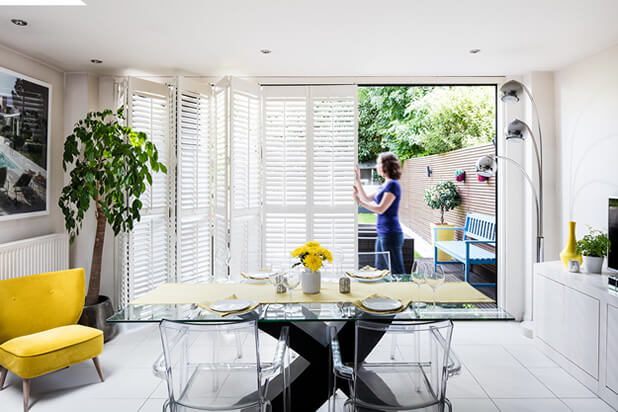 Other things to keep in mind when picking…
We create bespoke shutters for every one of our customers, tailored towards their own personal needs and tastes. When talking to us about the best solution for you, it may be worth thinking about where the shutters are to be installed. For example: the type of lighting and privacy you are looking to gain, the desired finish and appearance of the shutters against your home and interior, whether you are looking for a classic or modern design and also how you want them to function for you and your family.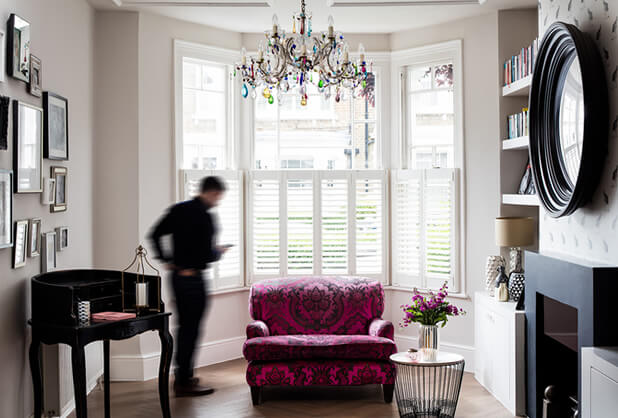 As passionate experts in the shutter industry with many years of experience, we would love to create your shutters for you, why not reach out to us for a no obligation chat? One of our team members would love to hear from you and discuss what we can offer in more detail!
Get in touch!