When it comes to getting the perfect fit with window dressings, made to measure shutters are renowned for not only looking and functioning better than any other but fitting perfectly. Before designing and fitting your shutters we take highly accurate measurements of the recesses where your shutters are going to be fitted. Whether this is standard windows, bay windows, irregular shaped windows or arch and doorways, we can get the perfect fit every time. With curtains and off the shelf blinds there is just no way that you can achieve this correctly. Made to measure shutters offer the perfect solution for light control in both homes and commercial environments. They also allow for control of airflow in and out of the property and great insulation throughout the colder months. When our shutters are fully closed they can offer near enough total room darkening which is perfect for complete privacy and those that need to sleep while light could enter the room. Perfect for young children and those that may work on night shifts.
In the winter made to measure shutters are proven as one of the best insulating window dressings. Combined with double glazing you can keep the warmth locked into your house, meaning less time that you have to keep the radiators on or turned right up. In turn this really can help drive down your energy bills year on year and provide ultimate comfort for you and your family. Because all our shutters come bespoke to your needs and taste, not only do you have a made to measure fit but they will look and function exactly how you need. This means that taking into consideration your tastes, décor and the type of window recess you have we can come up with the ultimate plantation shutters that fit perfectly to your window recess, look the part and function just how you need them to. This simply cannot be achieved when buying standard shutters online trying to fit them yourself!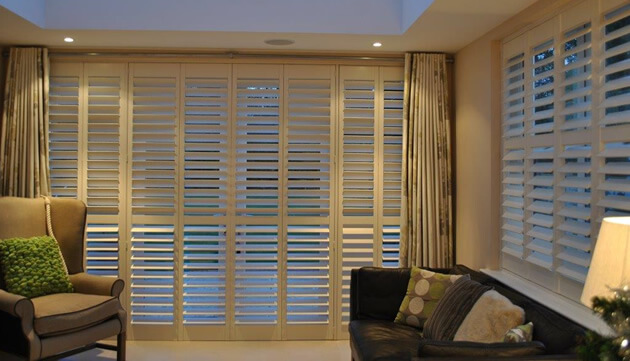 We take pride in every single one of our made to measure installations. We have carried out many fantastic installations throughout the south of England, some of which we have shown in our client installations section of the site for you to see. If you would like to discuss your requirements with us we would love to give you some more information and a no obligation quote!
Get in touch!