At ShuttersUp, we are experts at measuring, designing and installing plantation shutters on all kinds of window shapes and sizes in various settings including living rooms, bathrooms, bedrooms, kitchens, conservatories and offices. Our made to measure offering means that we can craft shutters to fit any shaped window – even the most awkward ones such as bay windows, arched and porthole windows. Rising rent prices has seen many Londoners opting for a floating home in recent years. In fact, narrow boats along the Capital's waterways have even become a bit of a tourist attraction.
As specialists in supplying window shutters across London and the Southeast, we love being able to assist owners of houseboats, yachts and other boats with wooden shutters for their vessels. In this article, we explain why we believe shutters are the most stylish and practical window dressing for the ultimate in boat interior design with the help of two of our recent installations.
Fit awkward shapes
Whatever shape shutters you need, we can deliver. Most boats have portholes and other irregular window shapes as you will see in our installation pictures below. Our ability to measure and manufacture shutters to your precise needs, whether that be octagonal, circular or any other special shape shutter will provide you with a fit so snug, that it will not be surpassed by venetian blinds or curtains.
Timeless and stylish design
Whatever design you choose, whether it be tier on tier shutters, café style, full height or other shutter styles your shutters will offer your floating home some serious towpath appeal!  For a touch of individuality, you can choose from our palette of 28 paint colours and 20 stained finishes, as well as our extensive range of shutter materials.  With so much choice there is not an interior design scheme that we cannot complement.
With a boat being at eye level, window shutters help to create a modern and trendy window covering compared to traditional net curtains. There is no need to compromise on style when practicality and efficiency is a priority when planning your boat interiors.
Free up space
Unlike curtains, the precise fit of shutters mean they fit perfectly within their frame that will sit flush to your window. Curtains often sit lower than the window ledge and bulk out further into a room taking up precious space, making the space feel smaller.
Privacy and light adjustment at all times
Canal walks are enjoyed by both local residents and visitors alike. With your houseboat at eye level, you will be keen to avoid passers-by peering into your living, sleeping or bathing quarters on their daily stroll. Shutters are great at providing privacy, which yacht owners will also appreciate when they are docked.
Louvred plantation shutters are also unrivalled when it comes to both light and temperature control. Adjusting the angle of the slats (louvres) will not only ensure privacy when you need it but, you will be able to keep the sun out whilst letting air in when you want it (to cool things down), without losing your privacy. Alternatively, if you want to allow natural light to flood your living space, you can.
Window shutters can also provide protection too, both from UV rays, as well as from petty thieves on the prowl when you are not on board.
Waterproof and sunproof
If well cared for, shutters will last you a lifetime. Our shutter materials offer protection from water, sunlight, pets and intruders. Meaning they will withstand colour fading, water, humidity, and will be durable enough to cope with the antics of both children and pets! Shutters are easy to clean and maintain.
 Shutter solutions for London based houseboats:
Pure white, full height Shutters for a Houseboat in Chelsea Harbour
For this project, shutters were fitted throughout the sides of the boat in runs complete with centered tilt rods and hinged for easy opening of each panel.  The shutters feature 47mm slats which can be adjusted quickly and easily using the tilt rod for various levels of light and room darkening if needed.
The shutters were finished in Pure White with matching white hinges which blend seamlessly with the boat's interior and exterior. The new shutters have helped bring elegance not only to the inside of the boat, but from the outside as well.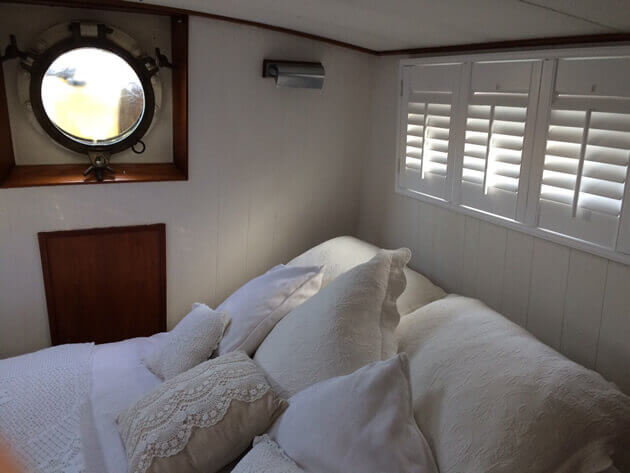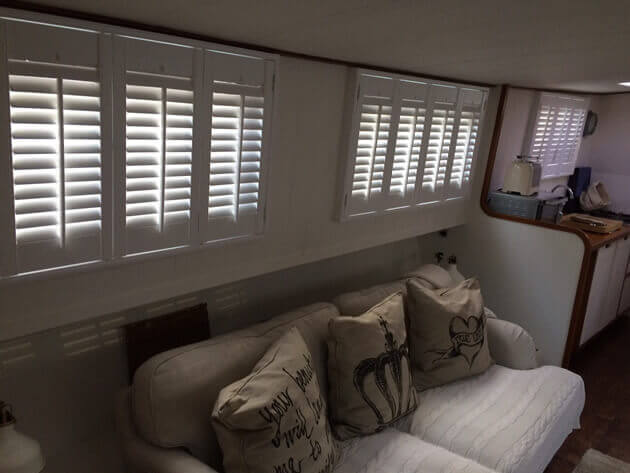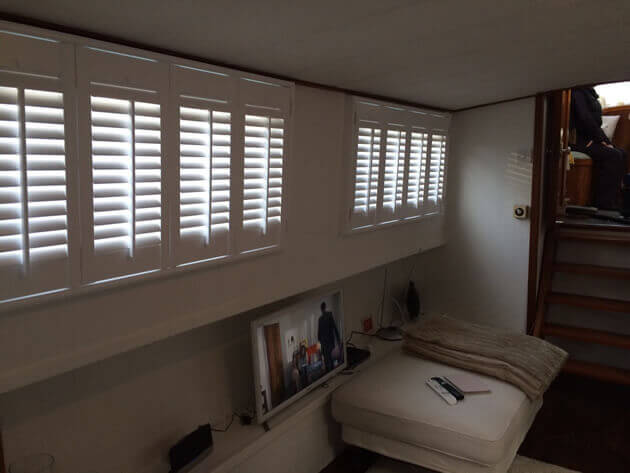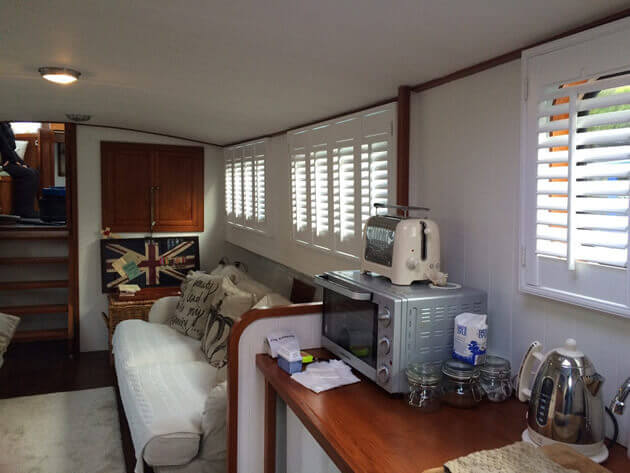 Java waterproof shutters for a London Bridge based houseboat
This project required us to craft waterproof shutters from our Java range complete with stainless steel hinges (to prevent rusting), 64mm slats with hidden tilt rods. We also added optional extra safety locks to the top and bottom as the customer wanted extra security for peace of mind. We think you will agree they are both practical and stylish.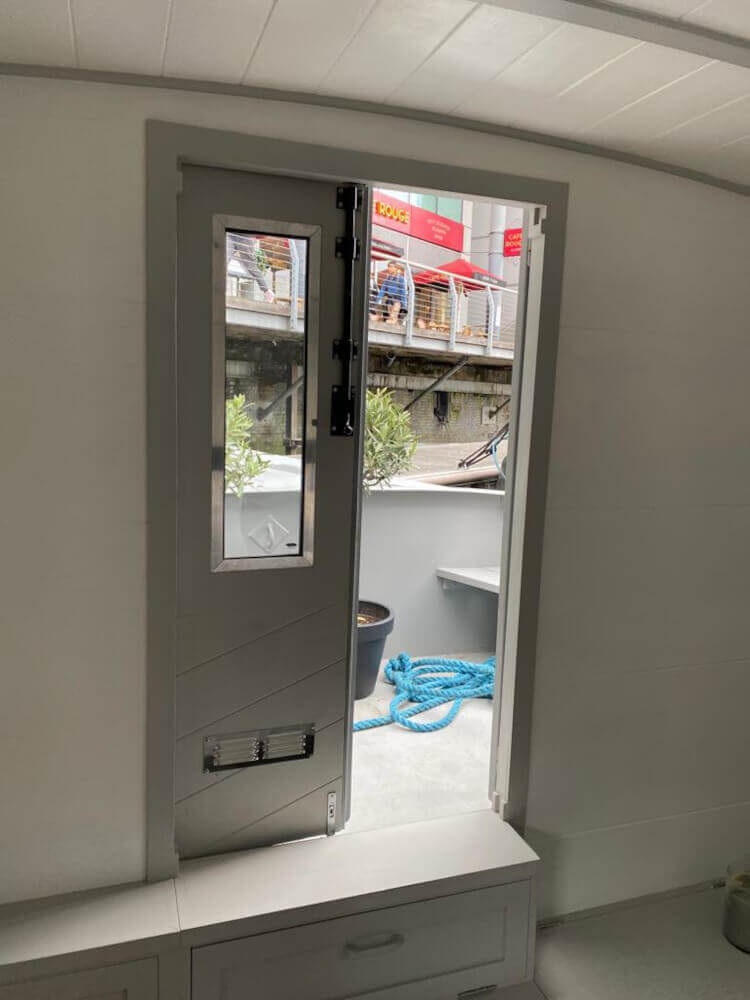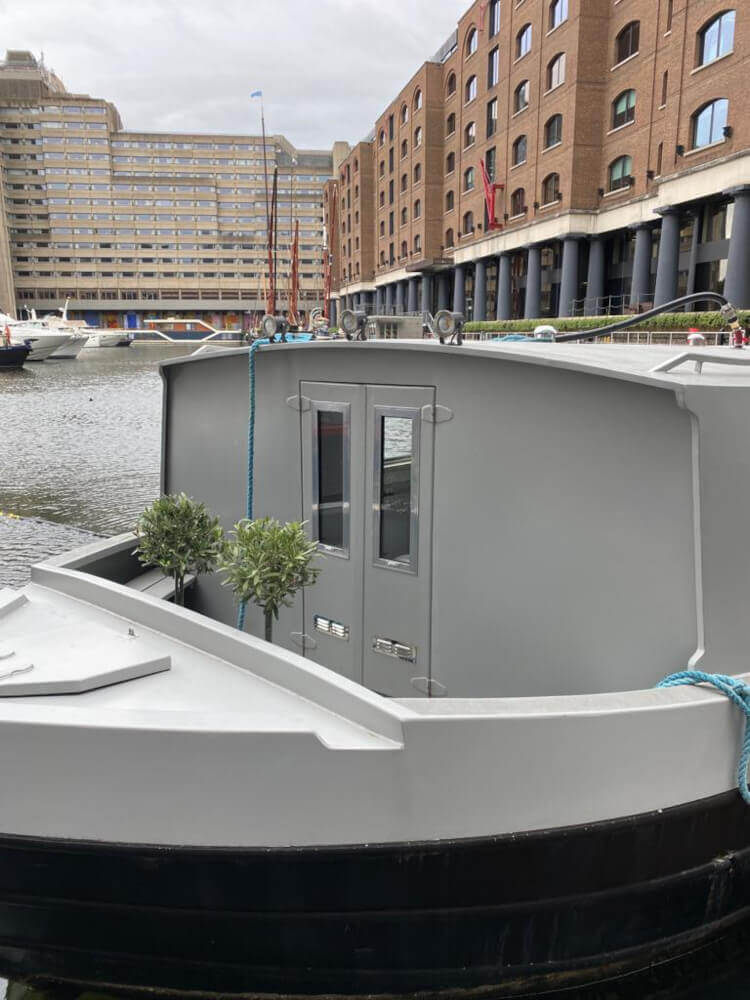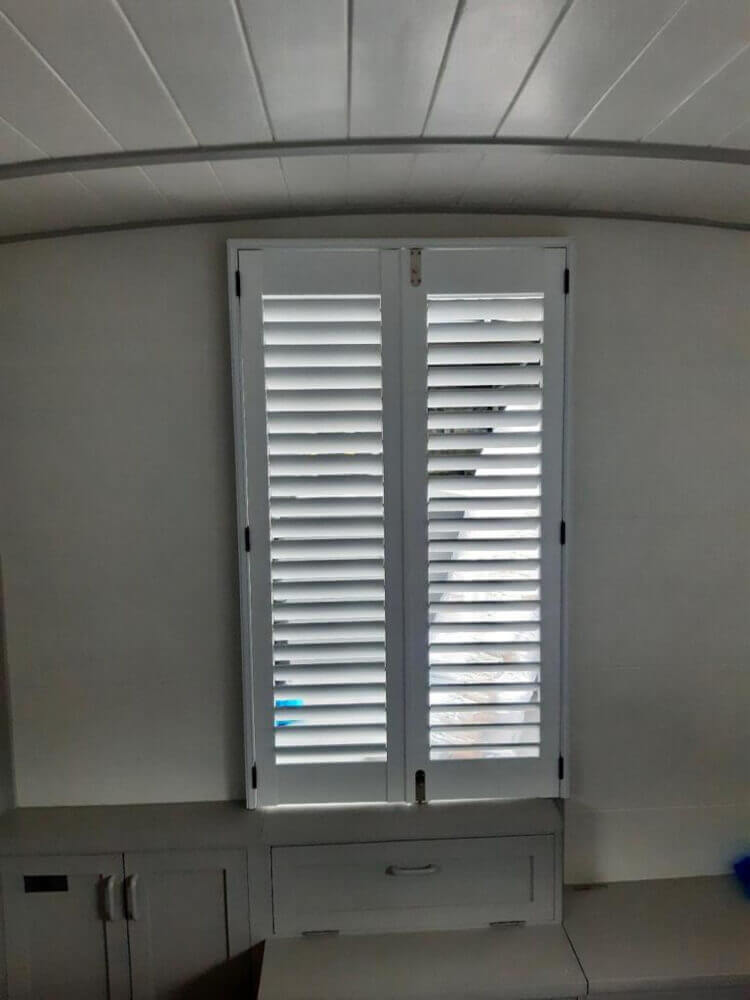 Get in touch!