No matter the age, your child will spend a lot of time in their bedroom all year round. Used for sleeping, playing and studying the area should be comfortable, unique to their personality and a great place to be no matter what time of the day. Sometimes it can be quite daunting deciding on how to decorate a child's bedroom, with many parents finding it hard to create a room which is not based on their own tastes, but is fun, practical and stylish for their baby, young child or teenager!
Of course being one of the leading shutter companies we think that any style of children's bedroom should include some plantation shutters, which not only can be designed around your new décor but are a practical solution day or night for getting the mix of lighting and privacy spot on for your child! For now though we will share with you some of our favourite styles for creating the ultimate child's room…
The perfect look for a baby's nursery
When it comes to a babies room we always think that a light and airy room with some colourful and exciting details spread throughout is the way to go. Light pastel colours including whites, blues and pinks depending on if you have a boy or girl, with accents and details around the room which create a more exciting atmosphere for the baby. Space is an important factor in the room with unrestricted areas to play and favourite toys dotted around the room or storage for those that prefer a tidier look. We believe the key is to find the balance between calm and liveliness for those times where the baby is in need of rest and at other times keen to play!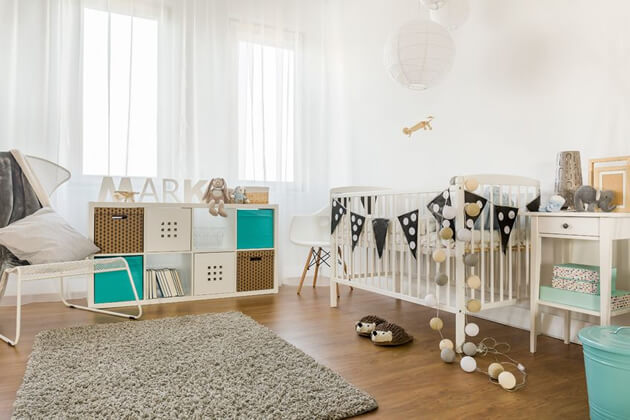 Wall prints can work great in these rooms. They are a temporary solution that can be changed at any time to revamp the look of the room. As the child grows and shows interest in different things wall decals can be a great way of creating a changing look without having to completely strip all the décor or repaint.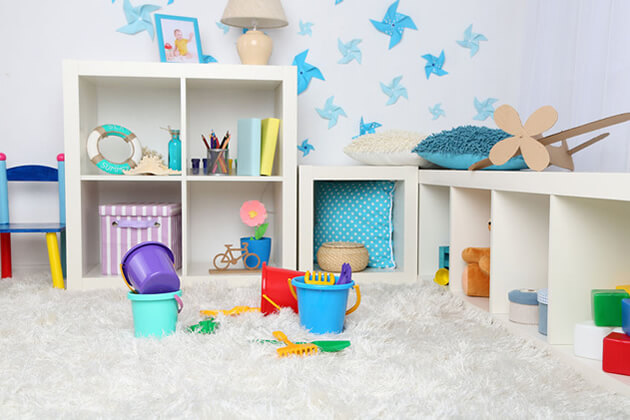 When it comes to furnishings we recommend quality wooden pieces either in white or smooth natural wood grain which will work with most decors and are completely gender neutral. They can be draped with other items and include brighter and exciting bedding. Wooden block storage units can be a great way of keeping toys and baby items out the way, whilst also having them displayed as part of the rooms look.
Creating the perfect look for a young child's bedroom
Young children are at that age where you are really starting to see their unique personalities and needs when it comes to decorating the room. We are sure that they will have a good idea of some of the things they want in their new room, but you can also help guide them in the right direction with some of our ideas!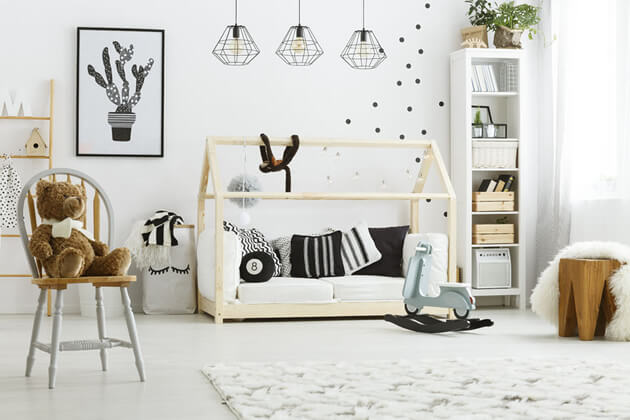 Your child may have a good idea of the type of colour they want for their room. Start by working out if they are to have a bright vibrant room or a more neutral and lighter room. Bright colours and different coloured walls make for a great look, but also lighter and plain rooms can work well with accents of colour through the things they have and want in their room.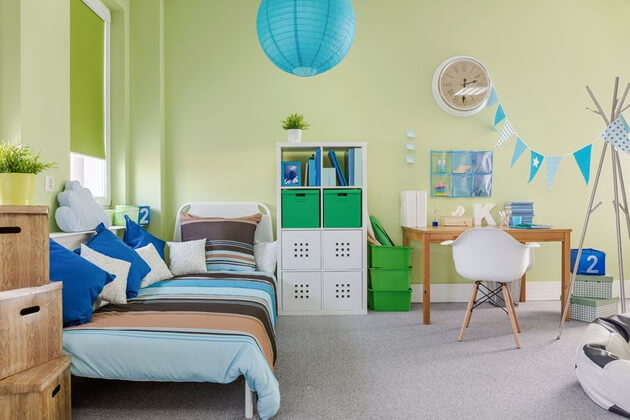 Again see if your child can pick out some great wall decals or wallpaper to bring their own personality into the design of the room. They may have certain interests that can help theme the room. From animals to pirates or even spaceships, each child has a love that can be brought out in their new room! Using solid or neutral colours the theme can be changed at a later date without the need for major redecorating as one thing we all know is that children like to change their mind!
Create plenty of room for play and toys but also an environment which lends to study and schoolwork as the child gets older. With storage space dotted around the toys can be put away when more focus is needed and maybe a desk area or place to do school work and learn can be built into the design. For those without much space cabin beds work a treat for this!
Room décor fit for a teenager!
The main centre point of a teenager's room is probably going to be a trendy desk area, not only as a computer/laptop space but can be used as a dressing table and storage for girls and also a central point of the room for boys. Storage is a must for all the "stuff" they will accumulate over the years. No matter what they are into the room the room can soon become over cluttered so storage solutions for DVDS, computer games, makeup and everything else is a great idea!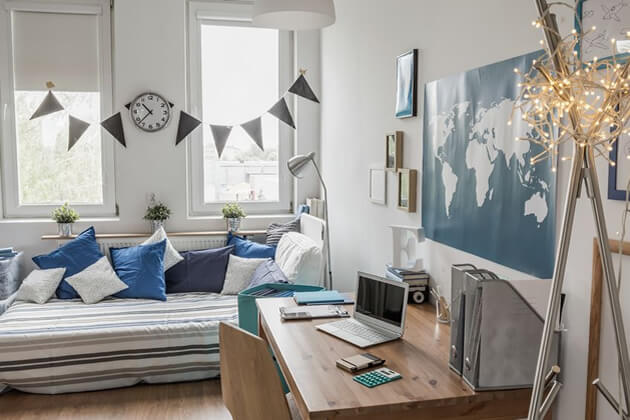 Teenagers need their personal space, so a comfortable and inviting room is what is needed here. Somewhere that they are not only happy in but can invite friends around to enjoy! A room which is enjoyable and relaxing to be in and reflects their personality creates somewhere that they enjoy being. We think the main idea here is to help them create a look based on their ideas and then allow them to gradually create their own feel of room based around the area that you have created.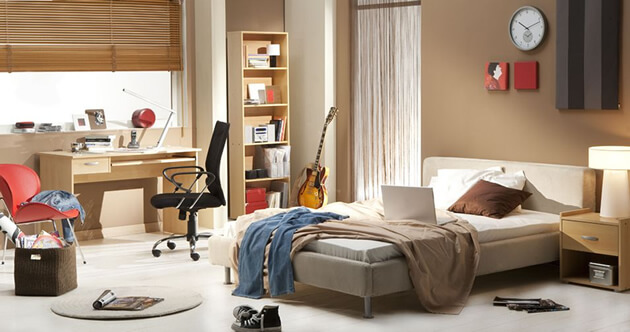 Get in touch!