With wholesale energy prices reaching an all-time high, it is no surprise that energy providers are having to pass on the cost to us consumers, and there doesn't look to be a reprise anytime soon. When you combine this knowledge with the global effort to improve energy efficiency and preserve our precious natural resources, it is no wonder so many of us are eager to improve the thermal performance of our homes in order to make energy savings, improve heat gain and save money.
The best way to increase energy efficiency and help prevent heat loss is to insulate your home. Aside from insulating your loft to stop or reduce heat loss through the roof and insulating your walls to keep heat in, you can also add insulation to your windows.
How do you insulate a window? One way could be to replace the entire window with a more energy efficient solution in terms of glass, window frame and locking system, but this can be expensive. A simpler and lower cost alternative is to install window shutters to add an extra layer of insulation to your windows.
Let's talk U-Value…
A U-Value measures how effective an insulator material is and therefore how successful it is at reducing heat loss. Basically, the lower the U-Value measures are in your home, the more energy efficient it is. According to The British Blind and Shutter Association (BBSA), a standard double-glazed window typically has a U-Value of 2.9. By adding wooden shutters, you could improve the U-Value to 1.9 – that's a 35% improvement. Plus, here at ShuttersUp we can go one step further, as an optional extra we can add an integrated blind that is built into the shutter frame removing any gaps around the extremities. The blind has a foil inside which helps further with trapping heat in.
Our entire range of shutter styles will provide you with a more energy efficient window. Whether you opt for full height shutters, tier on tier, solid shutters or café style you will notice an improvement in keeping cold air out and heat trapped in your rooms.  Plantation shutters are proven to offer more insulation than that of curtains or blinds, or other window coverings as you can see in the graph below: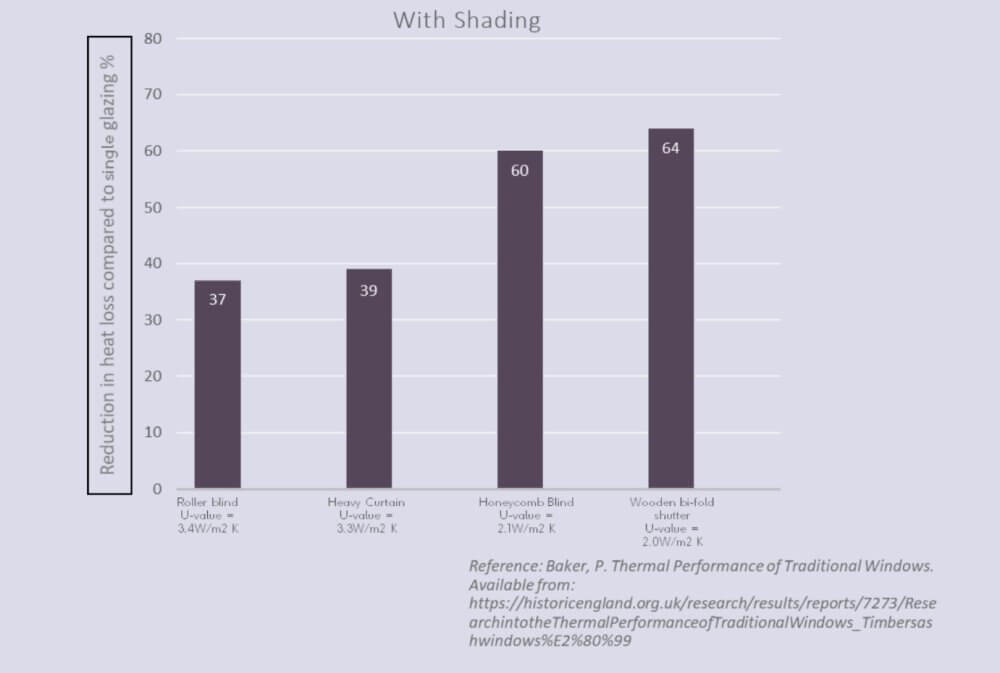 It clearly shows that when installed onto single glazing, wooden window shutters can reduce heat loss by 64%. When this is compared with the reduction of heat loss from roller blinds and curtains (37% and 39% respectively), there is no question that wooden shutters offer the best thermal efficiency of any window dressing.
But don't just take our word for it, our customers are in agreement too!  In fact, in a recent survey, we asked our entire customer database (all 9,315 of them!) if they thought their window shutters help prevent heat loss, and one in two respondents said yes, they had noticed a reduction in heat loss since having their window shutters installed.
In 2021, 56% of ShuttersUp customers said that since having their shutters installed, they had noticed a definite reduction in heat loss from their home.
Full details of our survey and the results can be found here.
Many respondents also commented that they do a better job than their old curtains or blinds – check out some of our customer comments below:
"Yes, we have noticed our house has been much warmer in winter since having the wooden shutters. So not only do they look great but, they are very effective too. A very good investment – very pleased!"
"Yes agree. We had them closed a lot when it recently snowed, and we could definitely feel the difference."
"We have definitely noticed the difference & regularly turn the heating off! It's great!"
"Yes, working at home next to the window, when I open the shutters in the morning, I can noticeably feel the cold, something I hadn't considered when getting them. An added bonus!"
"100%. I can open the windows full whack and not notice any heat loss."
"Having Shutters on the windows is one of the best things I have done for the house, they are not so draughty, definitely feel warmer and keep the area around the windows so clean".
"Yes, we noticed a dramatic difference in heat loss after installing the shutters. Shutters also help us manage the heat in the summer months more effectively."
"Yes!! It's amazing how you feel the change in temperature when you open the shutter!! We open the shutter for our cat, as she loves to lie on the windowsill and look out into the street and when the shutter is open you really notice a draft coming through".
"Yes. Shutters were fitted in bedroom window specifically for this purpose."
"Agree-definitely reduction in draughts".
"Yes, significantly from day 1 the difference was dramatic."
"Yes, most certainly. When you walk towards the window you cannot feel the coldness so much and they are good for security purposes".
"My shutters have definitely reduced at least 95% of the cold transferred from the glass in my windows".
"Yes, our front room is much warmer since installing shutters and we have not needed to double glaze the sash windows."
"Yes, definitely. It is also easier to control airflow through the property when windows are open."
"Yes, very much so. Although I have double glazing you can feel the cold trapped behind the shutters."
"ABSOLUTELY YES!!! Even though I was told this was a benefit before purchase, I never realised to the extent of how true and beneficial this is. Thank you!"
"I have noticed that the lounge where we had the shutters fitted is warmer than it used to be and there used to be a breeze which has now disappeared!"
Why wooden shutters? Not only is wood a natural insulator and therefore, energy efficient, it is a time-tested, high-quality, sustainable material that has been admired in homes for generations.
If you already have shutters at your windows, maybe you just need to consider the way you are using them in order to maximise their heat retaining benefits? In the morning, ensure your shutters are opened to harvest free solar energy and close them again at dusk to help retain the heat and maximise energy.
If you are considering new shutters, we would be happy to chat to you. As BBSA members we will be able to talk you through your options as well as the associated energy saving benefits of our products. We craft all our shutter panels bespoke for you and your requirements meaning there is not a window too small, large or a shape that we can't work with (another unique benefit compared with finding roller blinds or curtains). We are passionate about our work and the customers we meet – our shutters are Made For You.
Get in touch!