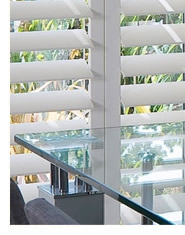 If you are looking for the perfect dressing for your windows, then bespoke shutters are a practical and stylish solution for any room of the house. Shutters are the top choice when it comes to adding luxury to your windows and home for many reasons. Shutters are a durable, long lasting solution, which are also easy to maintain and clean. They are fantastic for insulation in the colder months and airflow in the warmer seasons, which make them great all year round. Last but not least they look fantastic and can be custom made to fit all tastes and room decors. As with all other important decisions for your home, picking the correct shutters takes some thought and advice from shutter experts. We can give you all the information you need to help make an informed decision, but there are some points to think about in the meantime.
Which rooms will they be going in?
When deciding on the style and material of shutters, it is important to pick some based around the room they will be going in. Not only do they need to look right, but they have to be fully useable. Some of your rooms may have irregular shaped windows and require some of our Special Shape Shutters for the perfect fit. For some rooms you may wish to have Custom Colour Shutters for example in a child's bedroom or games room. For rooms such as bathrooms and kitchens we have PVC shutters which are perfect for rooms where they will be in contact with moisture and water.
For the perfect fit don't rely on DIY!
With so many window shapes and styles of shutters available, it can be really hard to get a perfect fit with standard shutters. By having our experts create made to measure shutters and fit them, we can guarantee a mm perfect finish with no gaps and a finish that will stand the test of time. We have fitted many different types of bespoke shutters to even the most awkward shape and size of windows, so you can rely on us to make sure your shutters are the perfection that you expect.
Make your Shutters unique!
We have so many styles, materials and colours to pick from that your shutters really can be completely bespoke to you. Whatever room they will be going in, you can give us your ideas and make your perfect shutters become a reality by picking the Colours and Finishes for your shutters. The possibilities are endless, which is what makes custom made shutters the perfect solution for your home!
Get in touch!