Our shutters are commonly designed and installed to windows for the majority of our clients, but did you know that they can also be installed on doors and act as room dividers? We have installed shutters for customers looking to cover their patio doors, French doors, wardrobes, archways and created the perfect room dividers. We can create these shutters in the same style as your window shutters when carrying out the installation creating the ultimate look and functionality throughout the whole house. Door shutters are becoming more popular with our customers as a way of creating the perfect look to traditional French doors and patio doors that often look rather bland as standard. As with all our shutters they are created bespoke to the door and are created with a cut-out around the handle and will still open in the same way as our window shutters, with the added use of button catches to stop them from accidently opening when the door is opened and closed.
Using Bi-Folding door shutters we are also able to install long runs of shutters on tracks which can cover openings and large areas acting as a divide or layer between floor height windows. The panels are able to fold back to the end of the track and pulled fully across. A large number of panels are able to be hinged together to cover a wide area. The louvres are fully adjustable to allow complete privacy, full lighting or anywhere in-between. As an example, this style of track system door shutters have been the perfect solution for families looking to close off cinema rooms from living rooms and dining rooms.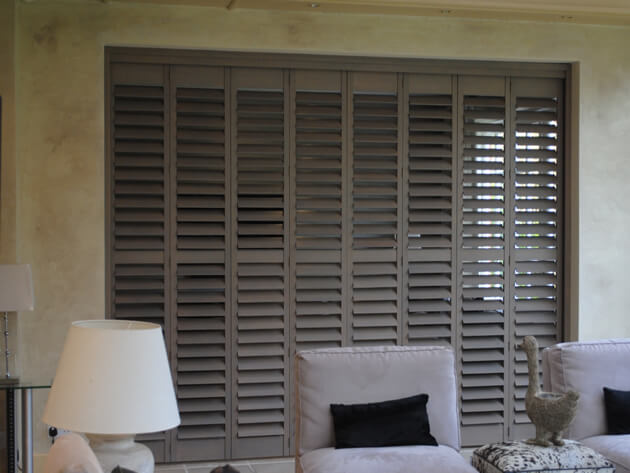 We also offer By-Pass shutters which instead of folding in a hinged concertina they instead glide in front or behind each other to give access. These are very popular with wardrobes and again as a partition or a divider. As with our window shutters we can create door shutters in a multitude of different styles, with tier on tier being very popular for its strength and ability to adjust a top and bottom section. We have a large range of different materials which we can discuss with you depending on how and where they will be installed. They can be finished in many paints, stains and even custom colours depending on your preferences, with many optional extras that can be picked out and used to make your shutters even more unique!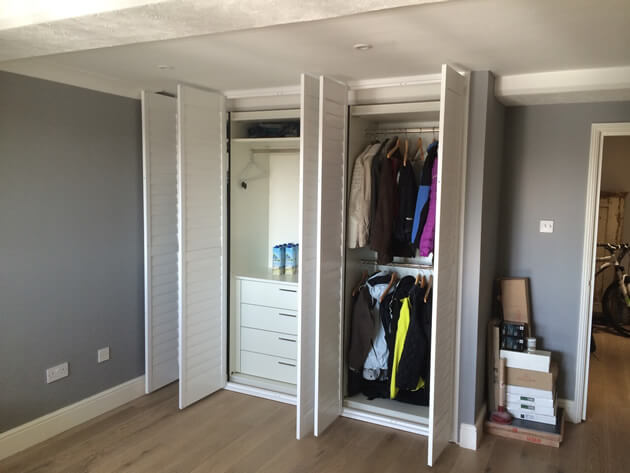 Get in touch!