Waterproof Shutters Perfect for Bathrooms and Kitchens
Many customers come to us when they are rejuvenating their bathroom or kitchen for water resistant shutters to add to their existing room or as part of a makeover. When changing the look and feel of your bathroom or kitchen there is no better time to add shutters. Our Java Range of shutters are made from high grade ABS and are 100% waterproof making them the ultimate window dressing for all bathrooms, wet rooms and kitchens. As with all our shutters they are bespoke made to your room and offered in a choice of colours to suit all interior designs. Shutters are the only window covering that can be perfectly matched to high gloss units and bathroom suites. Not only do our waterproof shutters look the part, they are great for privacy which is a major priority when having shutters fitted in a bathroom. Their flexibility allows for complete privacy or streams of light to enter, fully adjustable using the tilt rod and louvres. Because this range of shutters is 100% waterproof there is no need to worry about moisture or water touching the shutters and also operating them with wet hands. With a made to measure fit and finish the shutters also act as a great insulator keeping in warmth from the bathroom and the cold out! Equally in a kitchen setting they can be easily adjusted with an open window to stop the build-up of condensation from cooking.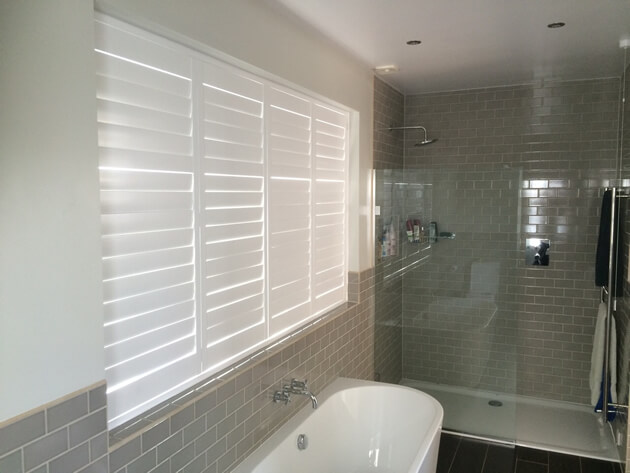 Bathrooms and Kitchens are both areas where families spend a lot of time and are also two of the most important rooms when adding value to your property. Many buyers look to the quality of these rooms when looking to buy your home and a trendy bathroom or kitchen combined with our stylish shutters make a fantastic impression! Because the Jave Range is made from ABS rather than a material such as MDF they will not warp or crack from humid rooms and moisture.