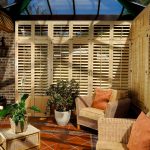 Many home owners believe that windows are the focal point of their house and this places a great importance on the blinds and curtains that are used to frame the windows. Plantation window blinds are a tremendous way of recapturing a sense of spirit and style from days gone by while combining them with modern fitting and design techniques. If having reliable yet alluring window blinds is important to you, the plantation option may be the one that is right for you.
One of the best things about plantation window blinds is that they provide a warm and traditional sense of style to a home. More and more home owners are eschewing modern style designs to return to the timeless decor but the beauty about doing it with new products is that the products are better made and are built to last. Many home owners would opt for the classic style with respect to many items within their home but this would bring a number of issues to the fore. Modern made products have a greater level of reliability, which is always essential when looking to customise your home in the best possible manner.
There is no doubt that plantation window blinds are able to provide a value for money that many other blind products are unable to compete with. These blinds can be more expensive than some of the options available but their classic design and ability to block light when required whilst retaining heat in a room means they are more effective than many alternative blinds. Choosing the right option for your home is not always about finding the cheapest option, it can be about finding the option that provides the most benefits at a price you can afford.
When it comes to value in your home, it is inevitable that people will start to think about the value of their home should they decide to sell it at a later date. This means that anything which can be added to the house which will raise its price is going to be of interest to the owners. Plantation window blinds are a good example of this because even though they will incur an outlay for the current owner, it is something that can greatly impress potential buyers. Even if it doesn't add value to a home, the fact that it could make the house look more attractive to any potential buyer could be enough of a reason to justify the expenditure.
However, not every home owner is obsessed with creating value and making sure that they will be able to sell their home for a profit. There is a lot to be said about enjoying your home and making it look as attractive as possible. There is also a lot to be said for making yourself feel right at home and plantation window blinds have the ability to do this. They can provide a great deal of privacy for the home owner without decreasing the sense of style of a home. This can often be a difficult compromise to reach so it is of interest to many home owners when it can be found.