Interior window shutters have been around for centuries and are still loved as much today for their versatility and style as they were hundreds of years ago. They can block out light in the summer to keep your home cool, as well as help to retain heat in the winter by serving as an extra heat trapping barrier to your windows. Plantation shutters are a timeless and practical window dressing that, when well maintained, will last you a lifetime. So, with all that in mind, how much do shutters cost?
The cost of bespoke shutters will depend on lots of different factors, including your chosen style, finishes, window sizes, and the materials you opt for. Therefore, providing a one-size-fits-all price is not possible. However, to install plantation shutters to the front of a typical three-bedroom semi-detached property in Kent, you will need to budget between £2.5-3.5k through to £4.5-5k depending on the specifications you choose.
Below, we have outlined the specifications and prices quoted for a recent install on a semi-detached property in West Wickham, Kent. As you will see, the price quoted was for:
Manufacture and installation of window shutters for three windows at the front of the property, and one large window at the back.
An integrated room darkening blind fitted to the large bedroom window at the front.
Full height shutters with a mid-rail from the Cuba range. The Cuba range is a mid-budget range where the frames are made up of robust MDF and the shutter panels are made from real hardwood.
Colour: Pure White shutters and hinges.
Beaded finish.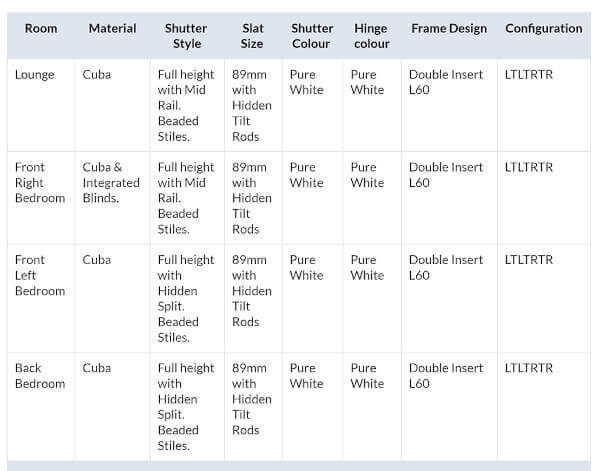 The total of this order, including VAT and installation, was £5,020.70. This included a 20% early bird discount that was running at the time of order (February 2022). The image below shows a breakdown of the quote and includes the prices quoted for other shutter ranges based on this customer's specific specifications and requirements.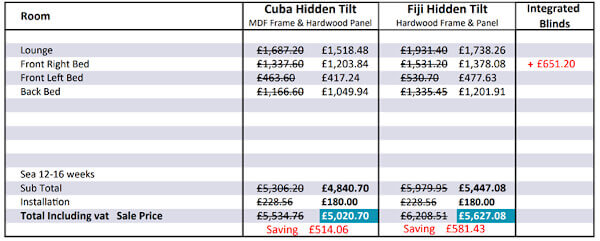 50% deposit is paid upon ordering and the final balance is due two days prior to installation.
While curtains and blinds may be slightly cheaper in the short term, you are likely to change them three or four times whilst living at a property. In comparison, shutters only need to be installed once and they will last you for decades. Plus, there will be no ongoing dry-cleaning bill to pay for.
Shutters are excellent at preventing heat loss too and could help you reduce your energy bills during the winter months. Check out our 'Are window shutters worth it' blog for more reasons why we believe interior shutters are worth their weight in gold.
The best way to find out how much bespoke window shutters will cost for your property is to book an appointment for an obligation-free quote. If you are worried about the cost, there are financing options available to you.
How long do I have to wait for my shutters?
Upon ordering, our standard lead time is 12-16 weeks. Quality custom craftmanship takes a little longer to perfect and window shutters are no different.
For more information on our shutter styles and to see further sample quotes, visit our interior window shutters article or get inspired by our client installations.
Get in touch!